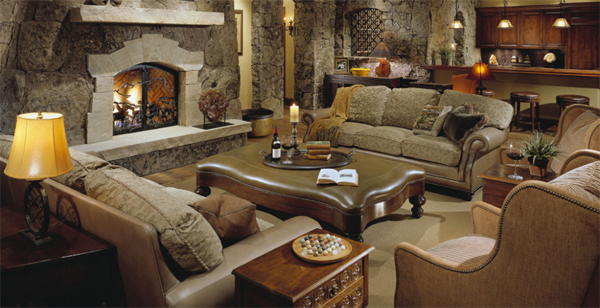 Since the early days of the Cro-Magnon, men have sought retreat into a personal space, searching for a place where they can toss their spear aside and heal their wounds. Tens of thousands of years later, not much has changed in that respect. Men are still seeking sanctuary in a cave that they can call their own. Light up a cigar and bust out the poker chips – it's time to help your man outfit his own Man Cave!
Modern Man Caves run the gamut from dark and dingy to garish and gleaming. They're the kind of place where the lingering smell of testosterone and nacho cheese can fill the air without catching any objection from the womenfolk. Intended to be a place for seclusion, men will retreat into their cave together where they are able to freely flaunt their extraneous Y chromosome and talk sports incessantly for hours on end. You will want to create a space where a man can get a moment to himself in his own home, to get away from the family and into an area that he can be entirely comfortable.
Even though I may not be technically allowed in a Man Cave, that won't stop me from giving you tips in making this a favorite hideaway. Essentially, you want to surround the Cave with the essence of all that is man. Don't feel forced to limit the decor to generic sports or car motifs. While these can all be phenomenal additions, the Man Cave should harness and exhibit the individual man's favorite hobbies. Don't try to please yourself when outfitting the Man Cave or it will have a throwback and all your decorating efforts will be disregarded; you want him to think it is his Cave, but we know the real secrets.
For example, if your man is a hunter, try mounting a show-stopping piece of taxidermy as a focal point. Not only will this keep visitors in awe, but they will instantly concede to his alpha male status. Beer enthusiasts may feel the need to install a keg or tap system. The Man Cave makes for an ideal place to sit back and enjoy a cold-mugged beer with friends or on the rare occasion you might get a special invite to join in on the raucous fun (I know, you would rather be anywhere else)! However, it's all about designing the space around his passions and making all the guys supremely comfortable in the Cave.

When it comes time to fill the Cave up with furniture, try not to overdo the décor. Make sure to leave enough room to sprawl out. Good grief, you don't want to hear the yelling when the remote is lost in a pile of junk, do you? That sounds terrifying. Two bigger ticket items that you'll likely have to spring for in the Cave are a couch and a television. Those are two fairly universal elements of the Man Cave. If you're working with a budget, try scouting a local second-hand store for some hidden gems. As long as it's comfortable, it's Cave ready. You can go back and perfect the smaller details in time.
Unlike primitive Man Caves, newer Man Caves don't necessarily have to be pitch black. This, however, should definitely be an option at any time. Nobody wants to deal with wayward glare while watching a game on TV or even be reminded that neighbors are living next to this fortress of solitude. If your Man Cave is above ground, try putting up a set of light-blocking blackout shades to seal the noisy crowd into the bunker. Too bad you can't make it soundproof, especially if the Man Cave is near your own space. Maybe even consider getting his favorite team printed on your window treatments. If your Cave is really big league, seek out a motorized shade option so he won't even have to get out of his couch groove to shut out the sunlight – what's one more remote, right? Try to let time stand still and let him have these moments to forget about the day-to-day. Everyone will be happier.
Remember, the Man Cave is more than a grotto of guttural sounds; it also needs to evoke the Man's state of mind. When I solve that puzzle, I will let you know, but you can try these few ideas: choose furniture with a focus on comfort, mind the motif that puts him at ease, and play up the hobbies that are his passion. Above all else, use your intuition and all those things you know about him, that he does not even realize, to create the unique flavor of your man and he can savor Man Cave life at its finest.