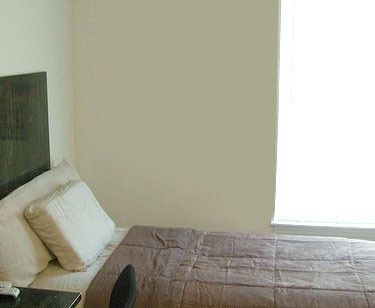 Robert sent us this photo of his room along with a request for advice: "My bedroom faces east and the sun streams in at 6 am. I work the nightshift at the ER and my head is already pounding when I finally get to bed at 4 am. What can I do? Help or I will have a seizure from lack of REM sleep!"
Comfortex® SlumberShade: Virtuoso Blackout

Yikes, that window is bright! We suggested to Robert that he put up blackout blinds in a light shade to complement the dark colors in his room and create. Anyone can block out the sun and get a good night's sleep with blackout blinds, which block 99% of all incoming light. When shopping for blackout blinds you should know that there is a difference between blackout and room darkening window treatments. Room darkening window treatments use material that will significantly darken a room, whereas blackout blinds combine blackout material with a tight fit in the window to prevent light from seeping in through the sides. Blackout blinds block the most light to help you achieve the darkest room possible. There are a lot of different types of blackout window treatments, and the blackout effect can even be achieved by adding a liner to shades that normally let in a lot of light, such as panel tracks and woven wood shades.

For the best blackout experience, we suggest the SlumberShade from Comfortex. The official window shade product of the National Sleep Foundation blocks out light and air leaks all around the window and the shade. SlumberShades combine Comfortex's Insulating Blackout Cellular Shade fabric with light blocking sidetracks to help create a comfortable, dark setting for sleeping. For your room, we think the shade would look great in a light basil color to complement the darkly stained wood on your desk and bed frame. Consider lightening up your bedding with a cream or canvas-colored comforter and adding some photos or artwork on the wall for a relaxing room where you can feel totally at ease, and wake up refreshed and ready to save lives!