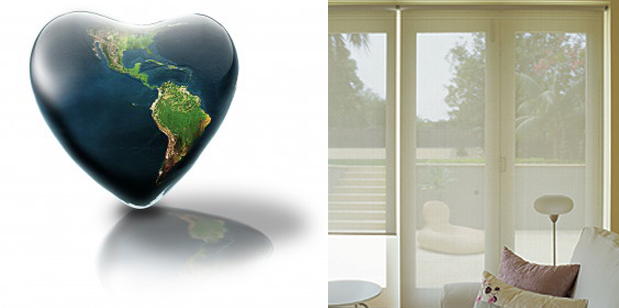 In honor of Earth Day, we have compiled a few tips and products to help you make your home a little greener.  These products won't only make you feel a little less guilty next time you forget to bring your reusable shopping bag into the grocery store, they will also help save you money by conserving energy and look wonderful covering your windows.
Solar Shades are a great tool to filter light and keep the heat out. The SilverScreen solar shade from Comfortex is extremely energy efficient due to its silver aluminum backing. This reflects the light back outdoors while the 4% openness of the shade's weave still allows view-through.
Insulating Shades help keep the temperature stable indoors and also help block drafts coming in from older windows. This energy efficient benefit can be found in the form of cellular shades or lining options. Double cell cellular shades offer the highest degree of insulation with two rows of honeycomb shapes pockets to trap air. These shades also come in blackout which further aids in temperature control by blocking the sunlight. Another route for insulation is to take advantage of lining options. For example, Blindsgalore Designer Roman shades offer the option of two blackout liners and a thermal sateen liner. The blackout liners block up to 100% incoming light and the thermal sateen liner provides protection from the heat and cold.
Natural Shades are the ideal eco friendly material for home décor. Sustainable due to the speed at which they grow, bamboo, reeds, and grasses provide a casual yet tailored feeling when made into window treatments. Also available with liner, privacy and room darkening options help to customize the shade to your space.
Exterior Shades
protect your home from sun damage and extreme temperatures by blocking the light before it even has a chance to heat up your windows. These treatments may be installed on the outside of your windows or be used for shading decks, patios, or sunrooms.