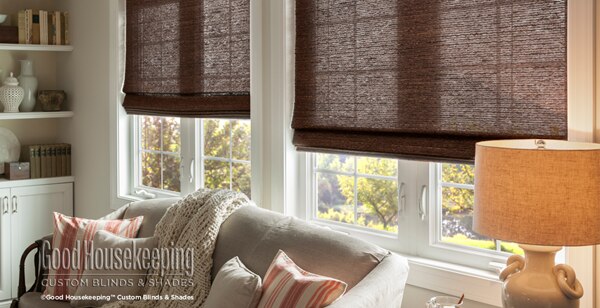 Our Good Housekeeping line has been such a hit, so we were thrilled when they announced an expansion to the collection. The new additions include Vertical Blinds and Woven Wood Shades.  These can fill a need in most homes and with the designer colors and textures, they are not only functional, but stylish as well.
Vertical blinds are ideal for covering large picture windows, sliding glass or patio doors.
Always considering the issue of safety, all Good Housekeeping Verticals are cordless, with only one wand to control the rotation and traversing of the blinds.
Woven wood shades have become very popular these days and rightfully so. They add a natural element to any room while still maintaining a tailored look.
These new Good Housekeeping Woven Wood Shades come in a range of colors and textures to suit most interior styles.
With a choice of options including fabric lining and lift styles, these are fully customizable to perfectly fit your window and control the light as you need.
Once again, a brand we all know and trust has created an exciting and dependable product.