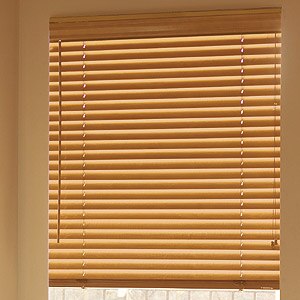 The following is a list of the most common questions we get about wood window blinds:
Q: What kind of wood are they made from? Are they all Basswood?
A: For the most part wood blinds, or the slats of wood blinds, are made from Basswood.  Basswood is a North American hardwood.  There are a couple of other choices though including Ash and Bamboo wood blinds, but they are much less common.
Q: What is a valance?
A: Though this question is not strictly limited to wood blinds, a valance is the decorative piece at the top of the window treatment that covers the head rail.  It could be a made from wood, or fabric.
Q: What are valance returns?
A: Valance returns are part of the valance that covers the sides for outside mounted blinds (not mounted in the window casing, but above the window).
Q: What is a flush mount?
A: When the blind fits precisely in window casing, without sticking out.
Q: Why does my blind stick out from the window?
A: Because they didn't check mounting depth? Before you choose a blind, make sure that the headrail (the mechanism at the top of the blind) will fit within your window casing.  All window treatments will provide a "minimum mounting depth."  Check these dimensions against your own window.  It's only takes a couple seconds to measure from the edge of the window casing to the window itself, then compare to the minimum mounting depth of the product you want.
Q: What is routeless?
A: The simple answer is that the blind slats have no holes in the slats where the strings would normally be. With routeless blinds, the lift cords run along the outside of the blind slats. Routeless blinds offer better privacy and light control.  You should only choose routeless for inside mount, that way the slats stay in place better. Routeless is not a good choice for homes with children or small pets, in that case standard routed blinds are more durable.
Q: What are cloth tapes?
A: These are optional decorative tapes used to cover the strings. These offer a more finished look and they can also help to coordinate other decor colors.
Q: Why are there dark spots on my slats?
A: This come from imperfections in the wood. It is not uncommon for there to be knot holes on the wooden slats.  This sometimes makes people think they are defective or there is some problem with the wood.
Q: Why are the ends of my slats not painted or stained the same color as the slats?
A: All of the wood blinds we carry are painted or stained on the ends of the slats.  There are cheaper manufacturers that might not; another reason not to buy cheap blinds.