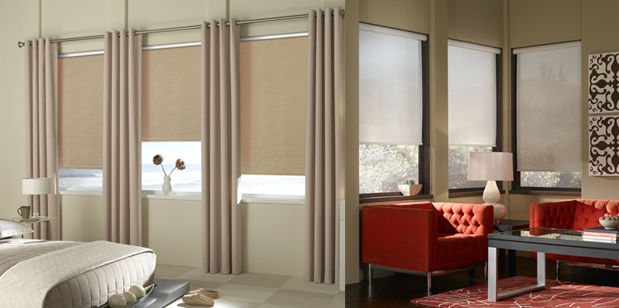 Window shades are often mistakenly categorized as blinds. "Blinds" and "window blinds" seem to be catch-all terms that most people use to describe any type of window treatment. The text below will explain exactly what constitutes a window shade and how it differs from a window blind.
First, a window shade consists of a single, continuous piece of material or multiple materials woven into a continuous sheet that gathers or rolls at the top of the window and releases when pulled downward. Shades are manufactured to your measurements and fit  your window exactly.
Blinds are made of multiple slats, which are long, thin individual pieces of material. These slats stack closely together either horizontally or vertically when fully open to allow in maximum light.  Horizontal blinds are held together by cords and cloth tapes, vertical blinds hang from a horizontal rail. In addition to sliding up or to the side to be fully open, slats can also be rotated to adjust light control when the slats are fully or partially over the window.
Window shades are available with a traditional pull cord and usually at least one cordless option. The most common form of cordless operation is a spring-loaded bottom rail which is controlled by gently pressing up or down. Motorized operation is another cordless option available on select shades.
The most popular or common types of window shades are roman shades, roller shades, sheer shades, cellular shades, woven wood shades, pleated shades, solar screens and outdoor shades. Each type of window shade has a unique style and function to meet a wide variety of home decor needs.