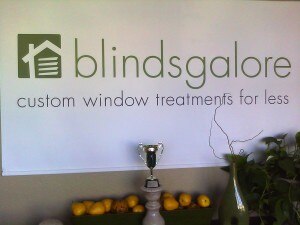 Boiled Denim, managed by Tony V. from the sales department was victorious in the 2011 Blindsgalore Fantasy Football Challenge beating the Rum Hams, managed by Jim C. from customer service by a final score of 122-93. Picking up Carolina's rookie QB Cam Newton early off the waiver wire proved to be a savvy move that help Boiled Denim make a late season run to the Championship. Boiled Denim was a 7 point underdog going into the weekend but thanks to big days from Newton, Brandon Marshall, Reggie Bush, and Frank Gore Boiled Denim would not be denied.
The Rum Hams were destined for defeat when their QB Tony Romo left after one possession with a hand injury giving the Rum Hams a big goose egg at the QB position. Coincidentally Boiled Denim traded Tony Romo to the Rum Hams week one of the season. Is it possible Tony Romo and Tony V. are in collusion in an attempt to guarantee a Boiled Denim championship?
It was a great year and we had a lot of fun. As champion, Tony was reward with a trophy, gift card, and a year's worth of bragging rights.
Will Boiled Denim repeat in 2012?
Regular Season Standing
Rank Team W-L-T Pts For Pts Against Manager
1.Boiled Denim 7-6-0 1323 1152 Tony (Sales)
2.Rum Hams 8-5-0 1165 1078 Jim C (Customer Service)
3.BG Cheerleader 9-4-0 1238 992 Lance (Merchandising)
4.Charger Power 11-2-0 1192 931 Rob
5.Tampa Bucin' 8-5-0 1315 1226 Galye (Marketing)
6.CaliHeat 7-6-0 1163 1209 Stephen (Customer Service)
7.Silver Backs 7-6-0 1229 1107 Mary (Sales)
8.Laces Out 8-5-0 1035 1037 Jason (IT)
9.Primetime 7-6-0 1138 1149 Daniel
10.The ctorX Fury 6-7-0 1218 1306 Matthew (IT)
11.O'Doyle Rules! 5-8-0 1045 1237 Jim M. (Merchandising)
12.Will Work for Links 4-9-0 1099 1274 Jeff (Marketing)
13.Tdog4Life 3-10-0 11125 1256 Tyler (Marketing)
14.Dan 1-12-0 816 1148 Dan (Marketing)