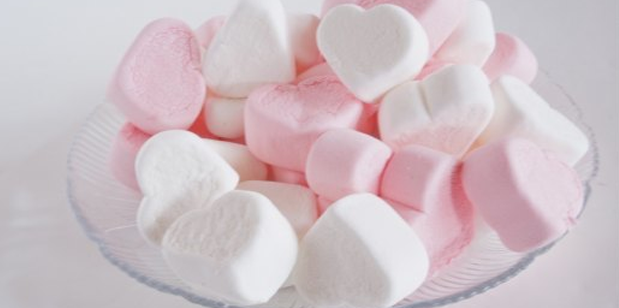 Ingredients:
3 (¼ oz) packages unflavored gelatin
2 c. granulated sugar
2/3 c. light corn syrup
2 tsp. pure vanilla extract
Confectioners' sugar, sifted, for coating
Nonstick cooking spray
Directions:
Grease  a 9×9″ baking pan with cooking spray. In an electric mixer bowl with a whisk attachment, sprinkle gelatin over ½ cup cold water; let stand for 10 mins. Combine sugar, corn syrup & ¼ c. water in a saucepan and bring to a boil over medium-high heat; boil rapidly for 1 min. Remove from heat. Slowly pour the boiling syrup into gelatin with mixer on high. Mix for 12 mins. Add vanilla extract, mixing until well combined. Spread gelatin mixture into pan using greased spatula. Let stand 2 hours. Remove marshmallows from pan. Cut marshmallows using a sprayed knife or sprayed heart-shaped cookie cutter. Toss marshmallows in confectioners' sugar in a large bowl.