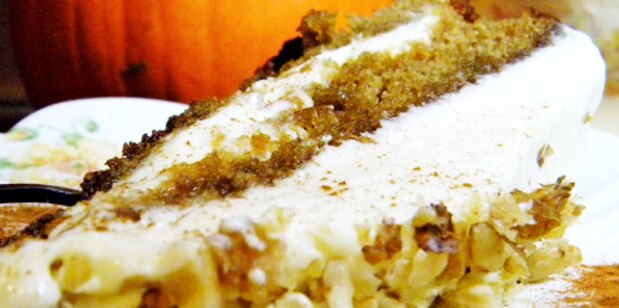 Ingredients:
2 c. whipping cream
¾ c. powdered sugar, divided
½ tsp. vanilla extract
1 box ginger snaps
1 (8-oz. pkg) mascarpone cheese
1 (12-oz. can) pumpkin
1 ¾ tsp. pumpkin pie spice
1 bar english toffee
3 oz. espresso or strong coffee
3 Tbsp. dark rum
Directions:
With an electric mixer, whip together cream, vanilla and ¼ c. sugar. In a separate bowl, mix pumpkin, mascarpone cheese, ½ c. sugar and pumpkin pie spice. Mix together espresso and dark rum. In a 9-inch-diameter springform pan, layer gingersnaps, drizzle with espresso mixture, spread on pumpkin layer, then whipped cream layer. Repeat layers. Chop up toffee and sprinkle over top of the whipped cream layer. Refrigerate overnight to set.