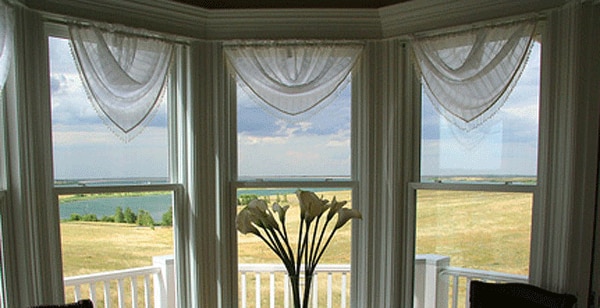 As much as I love our fantastic array of all styles of window treatments to design your way for a decorative, yet functional window covering, the DIY part of me is always yearning for a unique way to enhance the light and space that windows offer. For me, finding chic vintage or scrap fabrics or cast-off "objets d'art" (just means any interesting shapes, materials, or utensils) that are begging to be refashioned onto a window, is a scavenger hunt I love. Finding cool new looks for that blank canvas that stretches across a window, can even change with the seasons or the holidays. Maybe you just want to dedicate one window in your home that reflects the changing moods of life. All you need is a little ingenuity, maybe a needle and thread, or some ribbon, and a collection of just about anything and a rod and some hooks and you are on your way to a personalized creative window treatment idea.
I have collected a variety of ideas to easily change your view and add a bit of spice and variety to something every house has- plenty of windows and light and a glittering space to embellish!
Vintage, faded, or embroidered tea towels, napkins or aprons make a casual and simple window treatment. So country chic!
Cast off beads, buttons or scraps of fabric, cut-out shapes or other materials, cascade down a window in a random pattern of delight.
Kitchen objects, old or new, create an endless variety to add coolness to any steamy cooking adventures.
Your favorite sports fan can declare his favorite teams with these "rah, rah" pennants.
For your quirky hobby enthusiast or antique lover, a printed mail letter shade or an elegant leaded glass panel adds interest to any library or den.
If you want to get fancy and add a printed design to your window shade for whimsy or elegance, here are some fun ideas to consider.
Not to ignore the outside of your house, I love this metal sculpture creating an unusual mood and a striking accent to this intriguing window. I wonder what is happening inside?
No matter what, these unique window treatments should spark some DIY thoughts and encourage you to invent your own creative window treatment ideas.  Be on the lookout for future posts as the upcoming holiday season offers so many ways to use your imagination for a spectacular window display.  For even more inspiration, lots of other decorative styles are found in our "Ultimate Guide to Window Treatment Ideas."