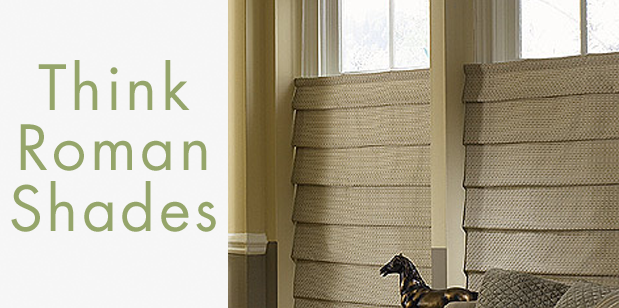 Roman window shades combine the beauty and elegance of drapery with the functionality and easy operation of a window shade – a winning combination.
Fabric choices – to some extent, the sky is the limit here. You can choose from a wide range of fabric types, styles, patterns and, of course, colors. Choices include: solids, striped fabrics, patterns, weaves, textured fabrics and even tone on tone. Fabric types range from polyester blends to linen, cotton, to faux suede and more.
Style options – roman shades are available in two basic styles: flat fold and hobbled (also called tear drop). Which you choose will depend, of course, on your tastes. That said, between the two, flat fold roman shades offer a more uncluttered, contemporary look, while hobbled roman shades are more elegant and luxurious.
Advanced features – roman shades are available with the following optional features: cordless lift, top down bottom up and motorized lift. Cordless means the normal lift cords are removed and instead you raise or lower the shade by pushing up or pulling down on the headrail. This is a nice feature but consider your ability to reach the headrail to operate the shade i.e. windows that are up high or obstructed. Top down bottom up is a nice privacy and light control feature, that allows you to raise the shade from the bottom, lower it from the top, or both. Motorized window shades allow you to raise or lower the shade with the push of a remote control button.
Opacities – roman shades are one of the few window treatments that come in a full range of opacities (how much light is transmitted through the fabric) including: sheer, semi sheer, semi opaque, opaque and blackout. That means you could have roman shades throughout your home, while satisfying the light control and privacy needs of each room.
Put it all together – fabric choices, textures, colors, style options, features and opacity options – you've got one beautifully functional window treatment.