Pleated Shades
Pleated Blinds & Accordion Shades
Filter By:
Brand
Fabric Pattern
Light Control
Material
Product Line
Safety
Type of Window
Pleated Blinds & Accordion Shades
A cellular shade look at a nice price
Single piece of fabric with slat-like effect
Casual, light look
Add a liner for more privacy
Pleated shades are constructed with a crisp, folded fabric that cascades down the front of your window. Semi-opaque and sheer fabrics will provide the ideal level of light control and the shades will make a soft, airy addition to your décor. While these shades provide some insulation, the benefits don't match those of a cellular shade despite the similar look. Add style to your décor with custom pleated shades created with a patterned and solid color material. You can also customize your perfect pleated shade with a cordless, motorized, or top down bottom up lift. Blindsgalore always recommends a cordless or motorized shade for a clean, clutter-free look that's safe in homes with children or pets.
Custom Pleated Shades
The crisp folds of custom pleated shades will bring a touch of subtle elegance to any room in your home. Pleated shades, also known as accordion blinds or concertina blinds, are a minimal, easily-adjustable window treatment available in many colors. The shade pleats can be constructed with a light-filtering fabric to provide soft, filtered light that will make any living space feel bright and airy. Best of all, pleated shades fit snugly against the window frame so that they won't take up valuable floor space like curtains. Whether your new accordion shades are going in your windows, in your skylight, or in your RV, Blindsgalore guarantees a look you'll love.
What Are Pleated Shades?
These folding window shades are built using a pleated material, available in sheer and semi-opaque fabrics. Pleated window treatments help provide privacy while allowing natural light into the home. They're also among the most economical choices for your windows. The style of these accordion blinds creates a neat and uniform appearance that adds depth and texture to the room. Our blog has even more information about how to use pleated shades in your home.
Benefits of Light Filtering Accordion Shades for Windows
Light-filtering accordion shades are designed to allow maximum amounts of natural light into your home while ensuring that it filters out harmful UV rays. Harmful UV rays can damage and fade your furniture and create glare on your TV screens. During the day, these treatments will block direct light while still providing your room with a soft glow of natural light. At night, you'll get moderate privacy, though lights inside your home may project a silhouette on the shade that's visible outside.

With an adjustable top-down, bottom-up feature, light-filtering accordion shades are designed to lift and lower from the top and bottom of the shade, giving you increased privacy and versatility. These airy accordion fabric blinds add sophistication and a modern edge to any room decor. With a tailored design for any sized window, accordion shades will be the perfect addition to your home.
What to Consider when Selecting Pleated Shades
When selecting pleated shades, you want to pick the perfect product for your space. Pleated shades, or "accordion shades", are a great way to add texture and dimension to any room. Plus, they are an effective way to control light and privacy while still providing a finished look. With pleated shades, you'll have plenty of color and design options. Be sure to consider all details before making your final selection. Everything from fabric texture and color to placement will make a huge difference in how your home looks and feels.
Pleated Shades for Skylights
If you're searching for an inexpensive way to cover your skylight, look no further. Pleated fabric shades are an excellent, and economical, choice to cover these hard-to-reach windows. Installation is simple and so is operation. Simply push or pull the handle integrated on the bottom rail of the shades to lift or lower them into the perfect position. For additional light control, consider including a customizable light-blocking liner to your shade.
Pleated Window Blinds for RVs
Pleated shades are often considered the smartest way to cover windows in your motorhome or recreational vehicle. Choose between room darkening or light filtering fabrics, or enjoy the best of both worlds with a day/night shade. Day/night shades include both a light-filtering fabric (for the daytime) and a light-blocking fabric (for nighttime). If you'd like to learn even more about using pleated shades in your recreational vehicle, please visit our blog.
Customizable Options for Pleated Window Treatments
Cordless Pleated Shades
Cordless pleated shades are the perfect choice for homeowners upgrading their interior design without compromising on convenience and safety. Designed to be stylish and practical, these window treatments offer an easy installation and operation without needing any cords or strings. Simply lift the shade into position and it will lock in place. The pleated fabric creates a unique light-filtering effect that adds texture to any room while at the same time preserving privacy, blocking out direct sunlight, and reducing glare. With cordless pleated shades, you can transform your home in a few minutes with minimal effort. See a cordless pleated shade in action below.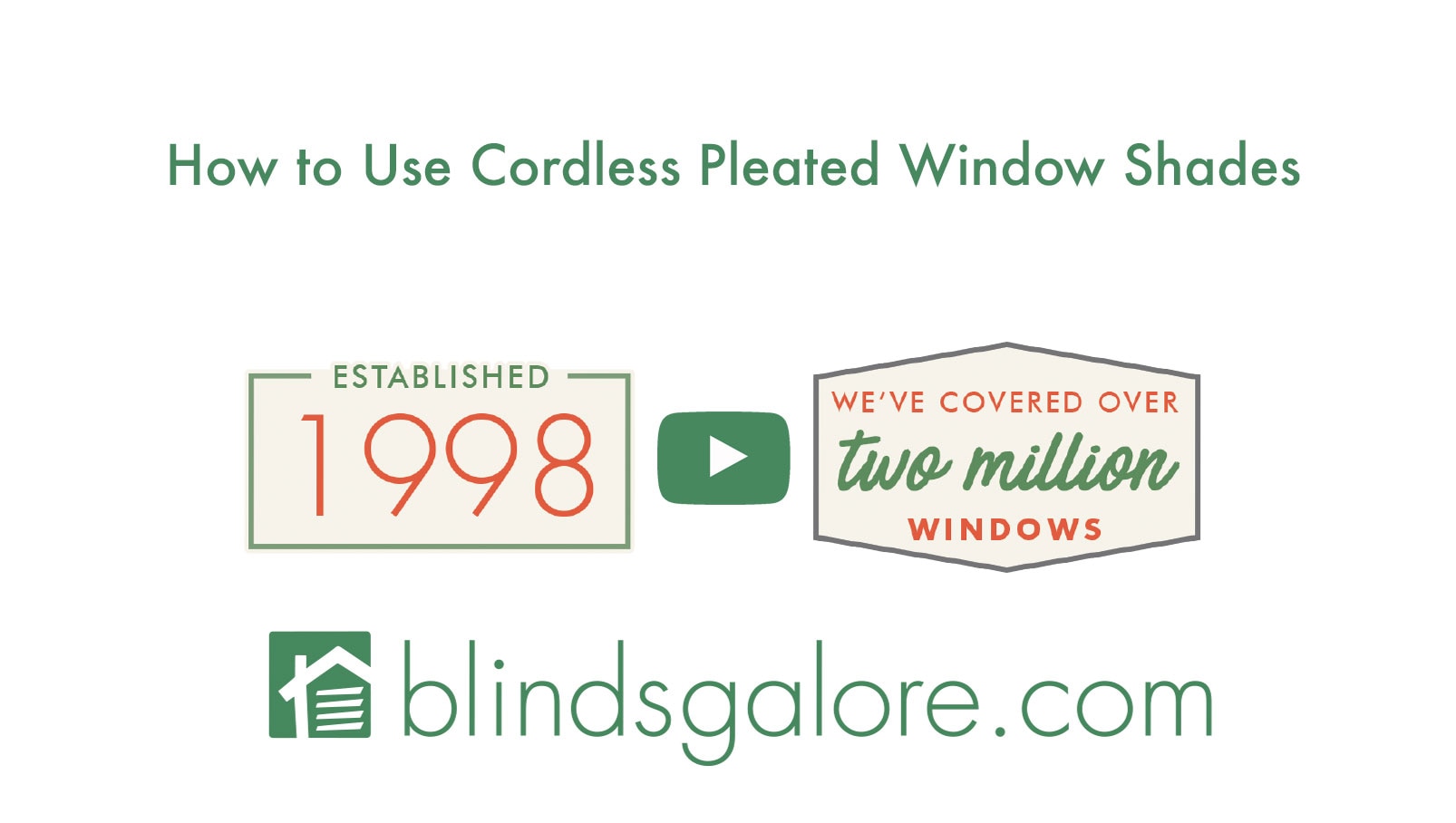 Top-Down / Bottom-Up Lift
Thanks to advances in technology and design, it is now possible to customize pleated shades with a top-down bottom-up lift to give users ultimate peace of mind and comfort. This style of lift will give you the convenience of lowering your pleated shade from the top to let in more light without sacrificing privacy, or lowering it from the bottom like a standard shade. Custom-designed pleated shades offer plenty of options to tailor your windows in a way that best suits you.
Motorized Control
Motorized pleated shades allow homeowners to adjust their light levels with the simple push of a button. Think about how nice it would be to shut out the light without leaving your bed. A motorized lift makes it possible to create the perfect sleeping environment with ease or leave your guests gobsmacked as all your shades raise in unison without even lifting a finger. Plus, these beautiful custom pleated shades come in an array of colors and patterns, allowing for great customization options. Achieve the desired ambiance without getting out of bed with quality motorized custom pleated shades.
Accordion Blinds vs. Accordion Shades
To put it simply, accordion blinds and accordion shades are just alternative names for pleated shades. If you're looking for an eye-catching, clever way to cover your windows in style, these accordion style shades are the perfect solution. Unlike traditional blinds and shades, accordion designs feature wide cloth or paper panels that can open up from either side of the window, depending on your style of lift. These shades provide privacy and variable light control, depending on the chosen fabric. Day/night pleated shades can provide versatility in varying light levels throughout the day. Enjoy basking in full light for those sunnier afternoons or closing them completely for a fully shaded room on days when you need time away from your windows. With accordion blinds or shades installed in your space, you'll be sure to appreciate the unique look it offers any room. If you're looking to cover something like a patio door, we recommend our accordion vertical blinds to achieve a similar style.
Help Measuring and Installing Your Pleated Window Treatments
Watch this video for instructions on how to measure your windows for custom pleated shades. You can also find a helpful measuring guide for your pleated shades in our help center.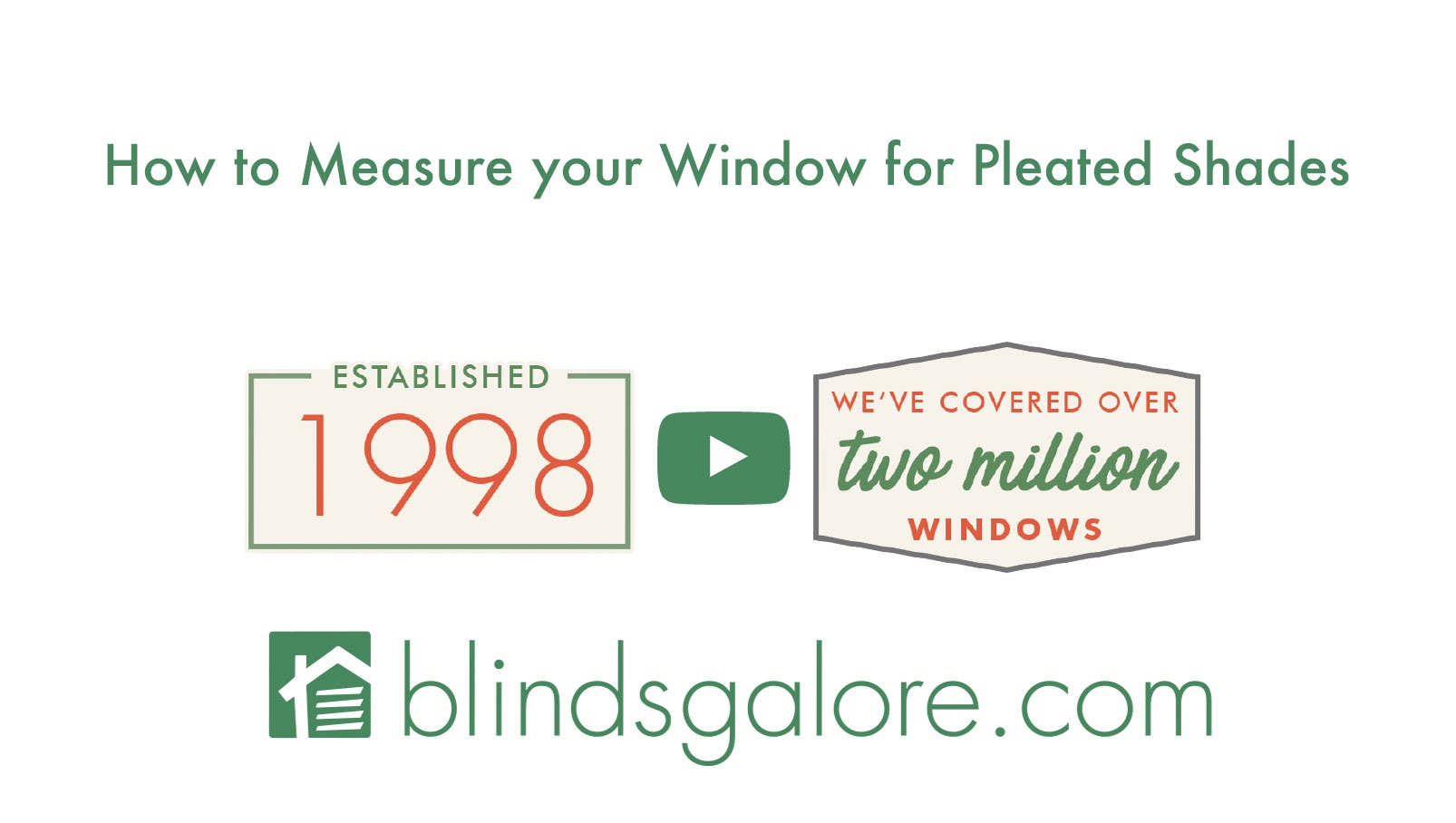 You can find helpful install guides on our installation page.
If you have any questions about measuring, customizing, or installing your custom pleated shades please reach out to our in-house team of experts. We'll be happy to help you over the phone (877.702.5463) or via email (customercare@blindsgalore.com).
If you'd like to book a virtual design consultation with our in-house designer please book an online appointment here.
Pleated Blinds & Shades FAQ
customer reviews for pleated shades