Roman Shades
Custom Roman Shades and Blinds
Filter By:
Green Products
Light Control
Material
Popularity
Product Line
Safety
Type of Window
Custom Roman Shades and Blinds
Custom fabrics for every taste
Fabric shades with the look of drapery
Material folds up seamlessly accordion style
Many choices of materials and patterns
Elegant feel, simple construction
Insulated, darkening, filtering or sheer
Roman Shades combine the beauty and softness of a fabric drape with the ease and practicality of custom shades. Blindsgalore offers the two principal styles: flat fold or teardrop style. Flat roman shades are made of a continuous piece of material that hangs flat on the window, providing a smooth fold that gives a room a simple, casual, look. The teardrop or hobbled roman shade has a series of cascading folds that ripple down the window, creating a more traditional, sophisticated look. Top down bottom up, cordless, motorized and all levels of room darkening make the roman shade one of the most versatile and popular window treatments. Roman shades can be bright and cheerful or can effortlessly blend in to create a relaxed and comfortable ambiance.
Custom Roman Shades for Windows
Roman shades, also known as Roman blinds, are a classic window treatment option that can add style and function to any room in your home. These shades are made from a single piece of fabric folded in a concertina style when raised and flat when lowered. There are several Roman shades, each with unique features and benefits.
What Are Roman Shades?
See why the luxurious, folded fabric of Roman Shades make a beautiful addition to any space, matching both modern and classic décor.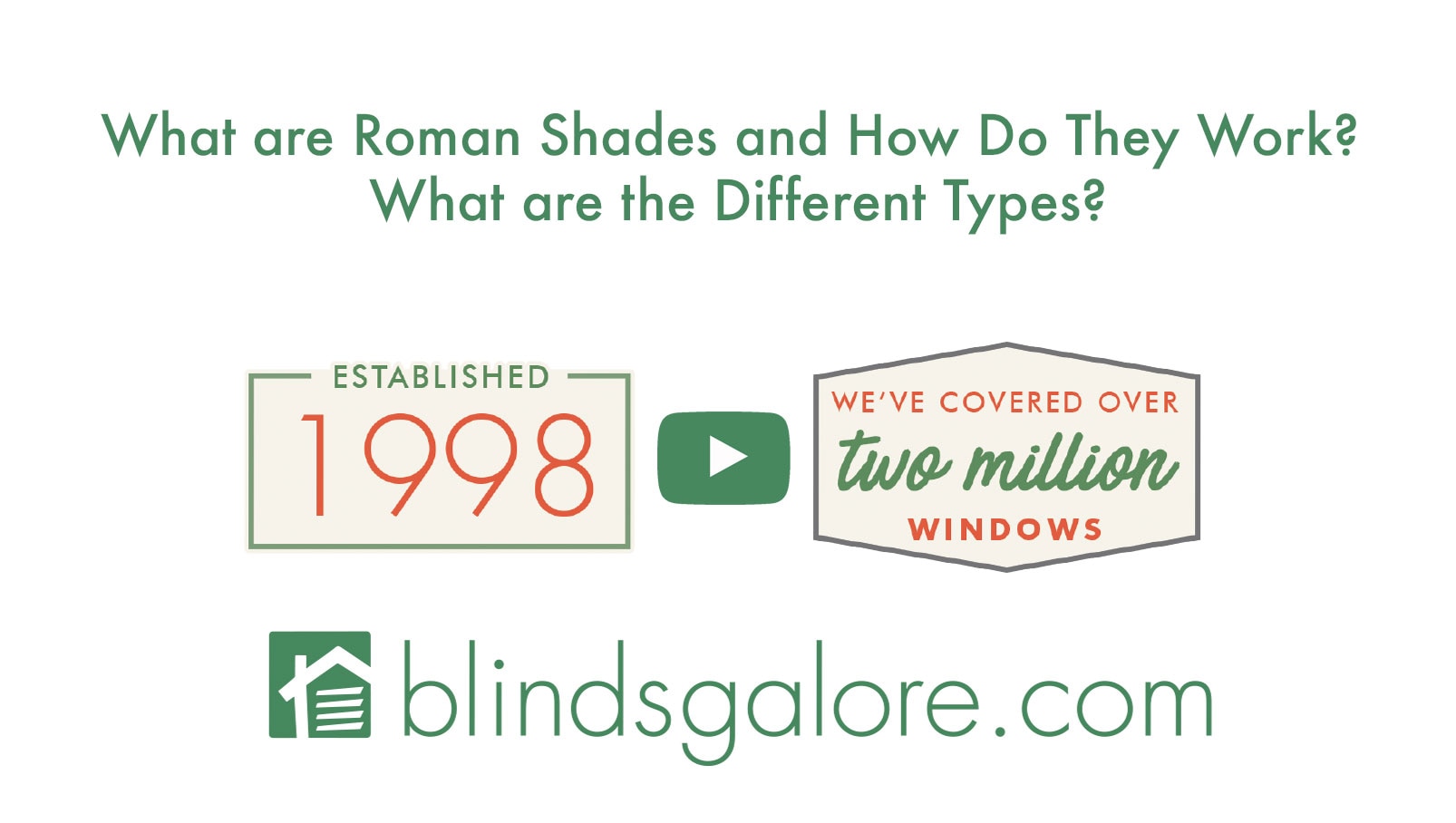 Types of Roman Shade Folds
There are several different types to choose from when customizing your shade.
Flat Fold:

Hangs flat with a hidden bar at the base, appealing to a minimalist look. Ideal for prints and patterns. Also called a Seamless Fold.



Relaxed Fold:

A loose-lift design with a slight curve (think "smile") at the bottom. Also called a European or Casual Fold.



Plain Fold:

Clean pleats with seamed fold lines, each backed with a sturdy bar to strengthen the shade. Raises evenly. Also called a Classic, Flat, or Knife Fold.



Hobbled Fold:

Larger looped pleats that carry the fabric all the way down the shade, which can be raised into a larger loop. Also called a Waterfall, Soft, Teardrop, or Looped Fold.
Find out more about the different types of Roman Shades.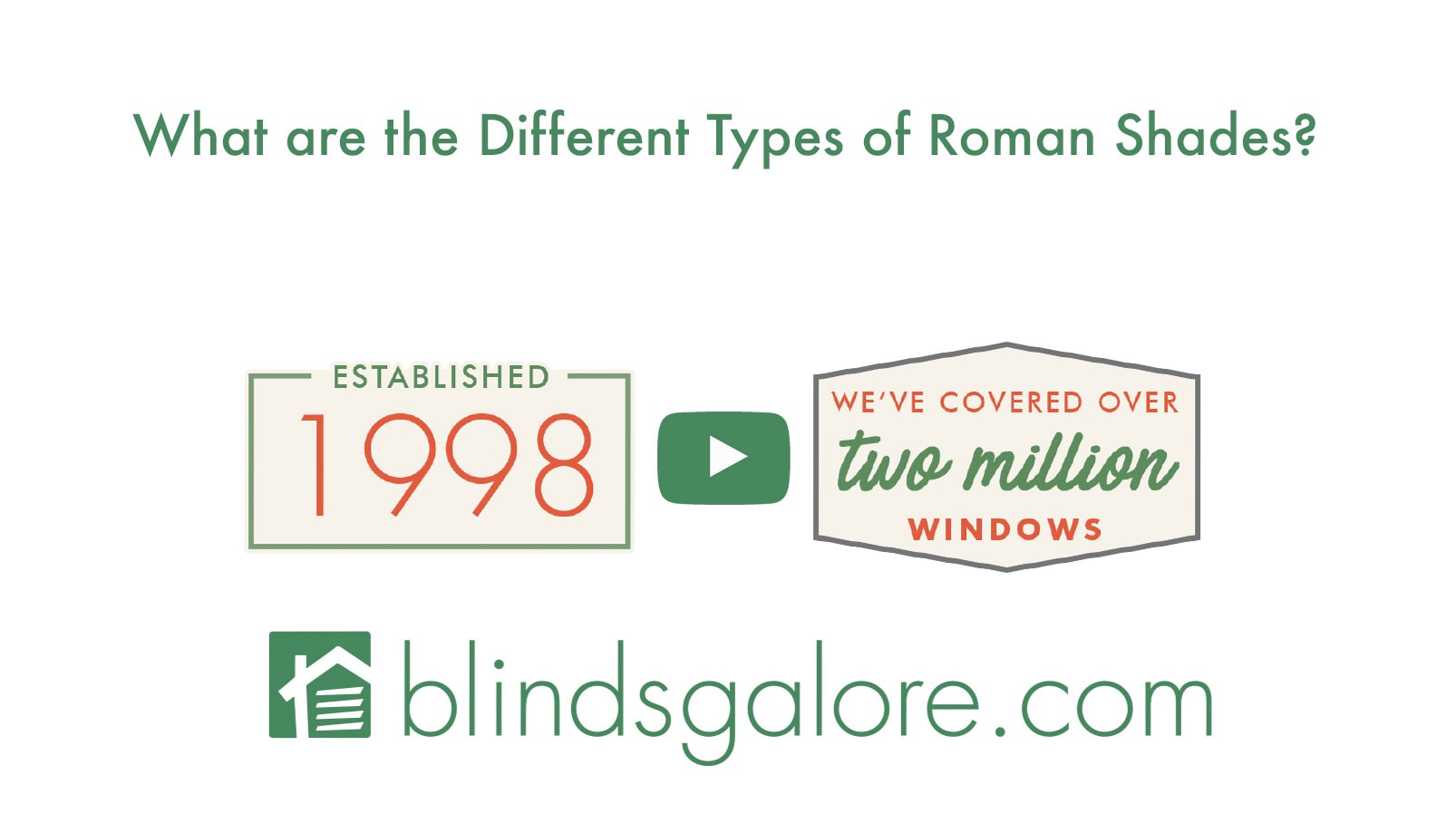 Lift Types for Custom Roman Shades
When customizing your Roman Shade, you will be able to select from a variety of different lift options. Choose the one that best fits your space and needs.
Hidden Pull Cord Roman Shades
Raise your shade with a small tab on the underside of the shade. A single pull will raise or lower your shade and help lock it into place. The tab is hidden for a clean appearance and can be positioned on the right or left side of your shade.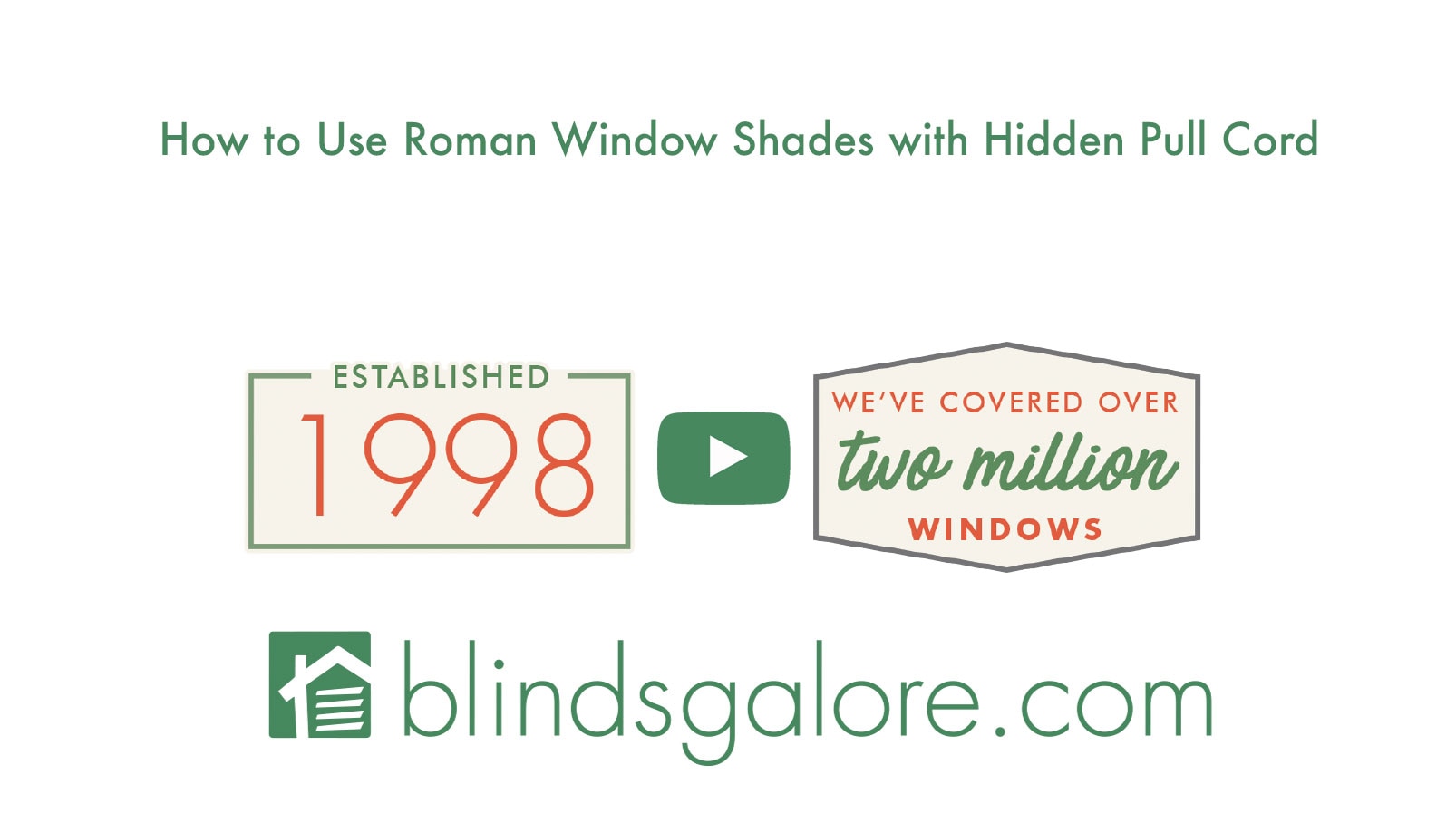 Cordless Roman Shades
Enjoy a cordless lift for a look that's safe in homes with small children or pets. Simply raise or lower your shade using the hand grips on the bottom rail. Cordless Roman Shades will usually not have a valance.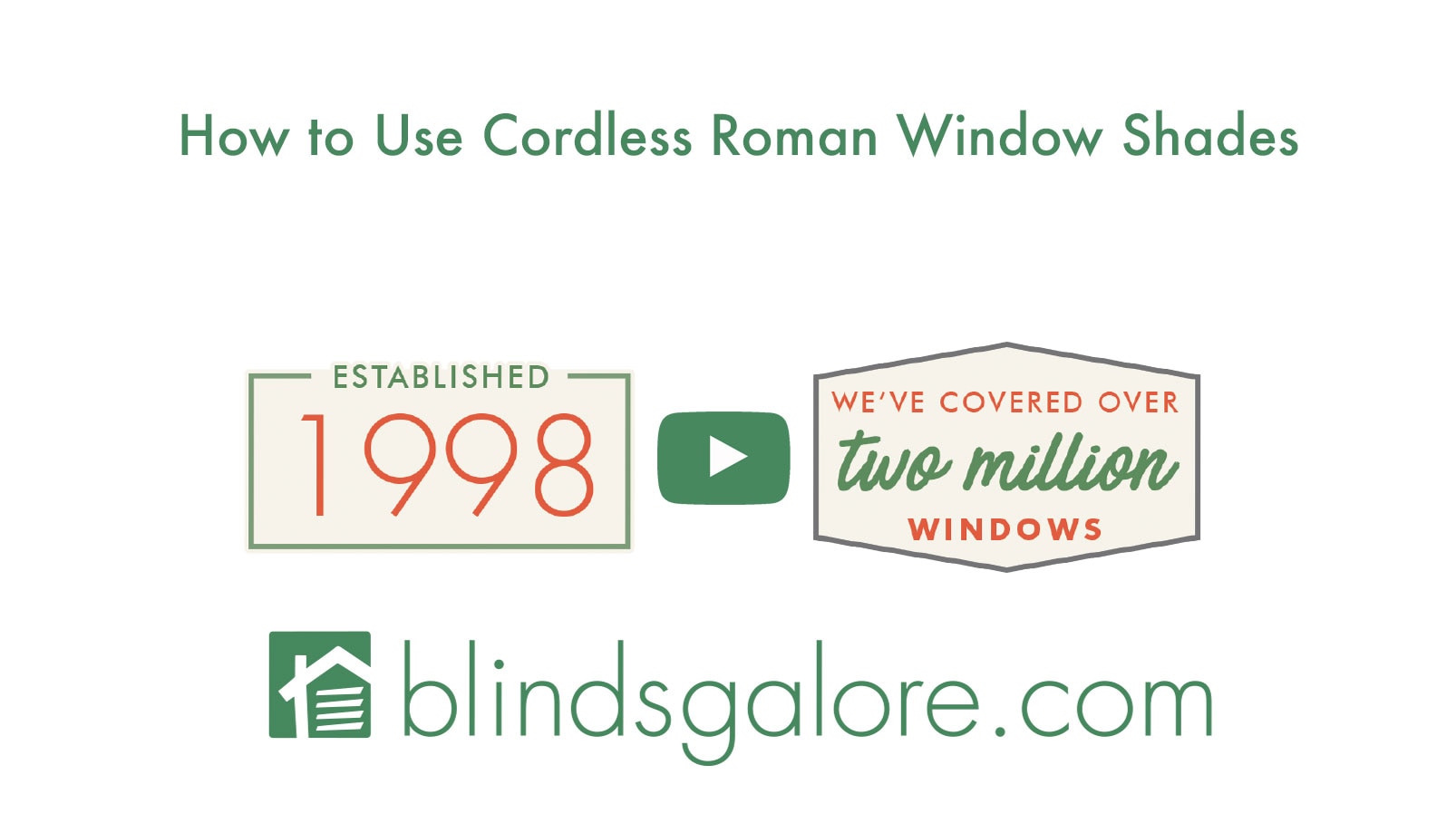 Top Down Bottom Up Roman Shades
Raise or lower your Roman Shades from the bottom or the top with this unique lift option. One set of cords will operate the top half of your shade and another will operate the bottom half. Perfect for versatile privacy and light control.
Cordless Top Down Bottom Up Roman Shades
Enjoy a cordless version of a top down, bottom up lift that allows you two operate the top half and the bottom half of the shade independently. Perfect for homes with small children or pets.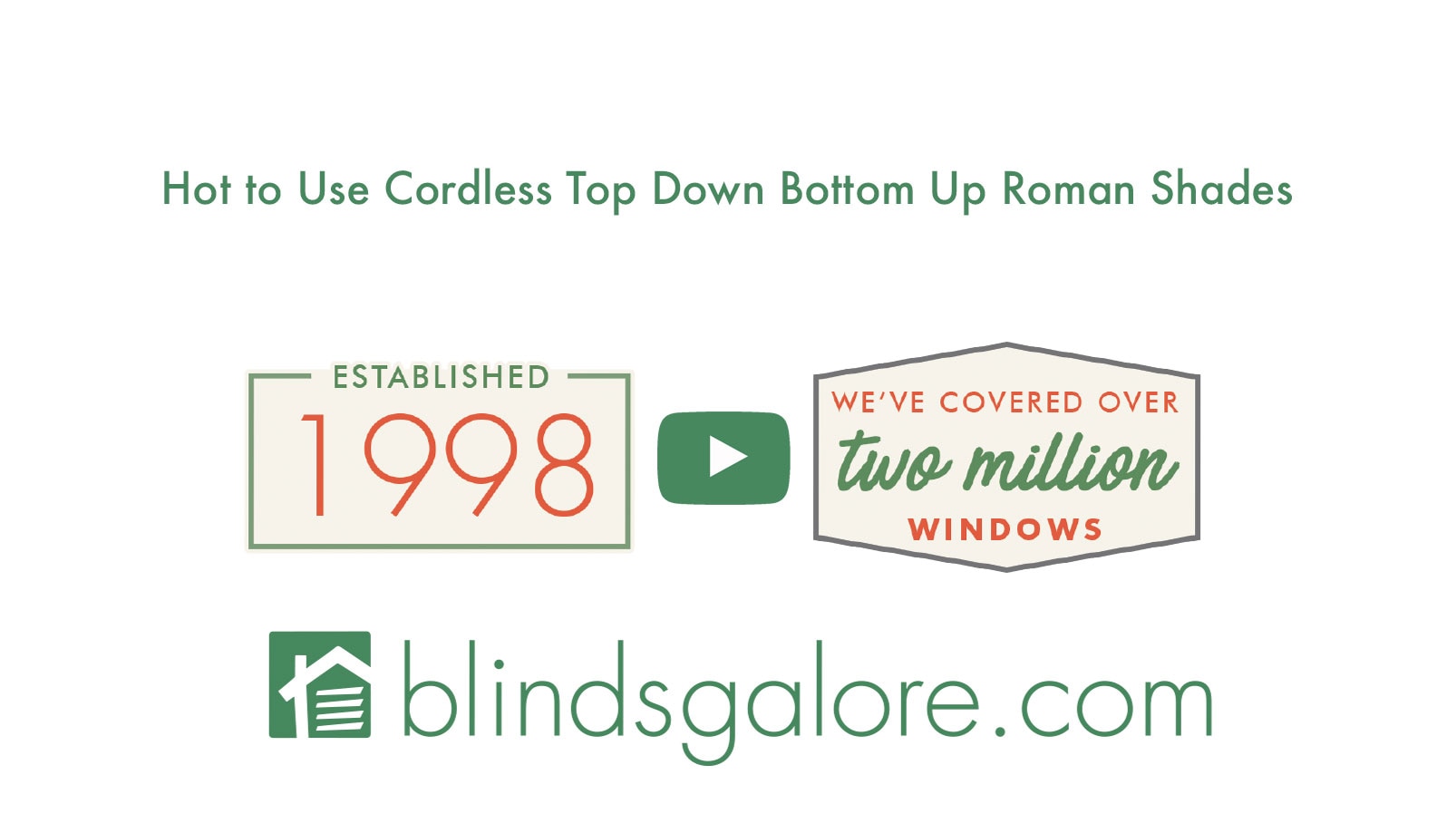 Magnetic Roman Shades
Blindsgalore has created a unique Roman Shade with magnetic pleats. These shades stay perfectly in place and are completely cordless. Enjoy simple installation and even simpler operation.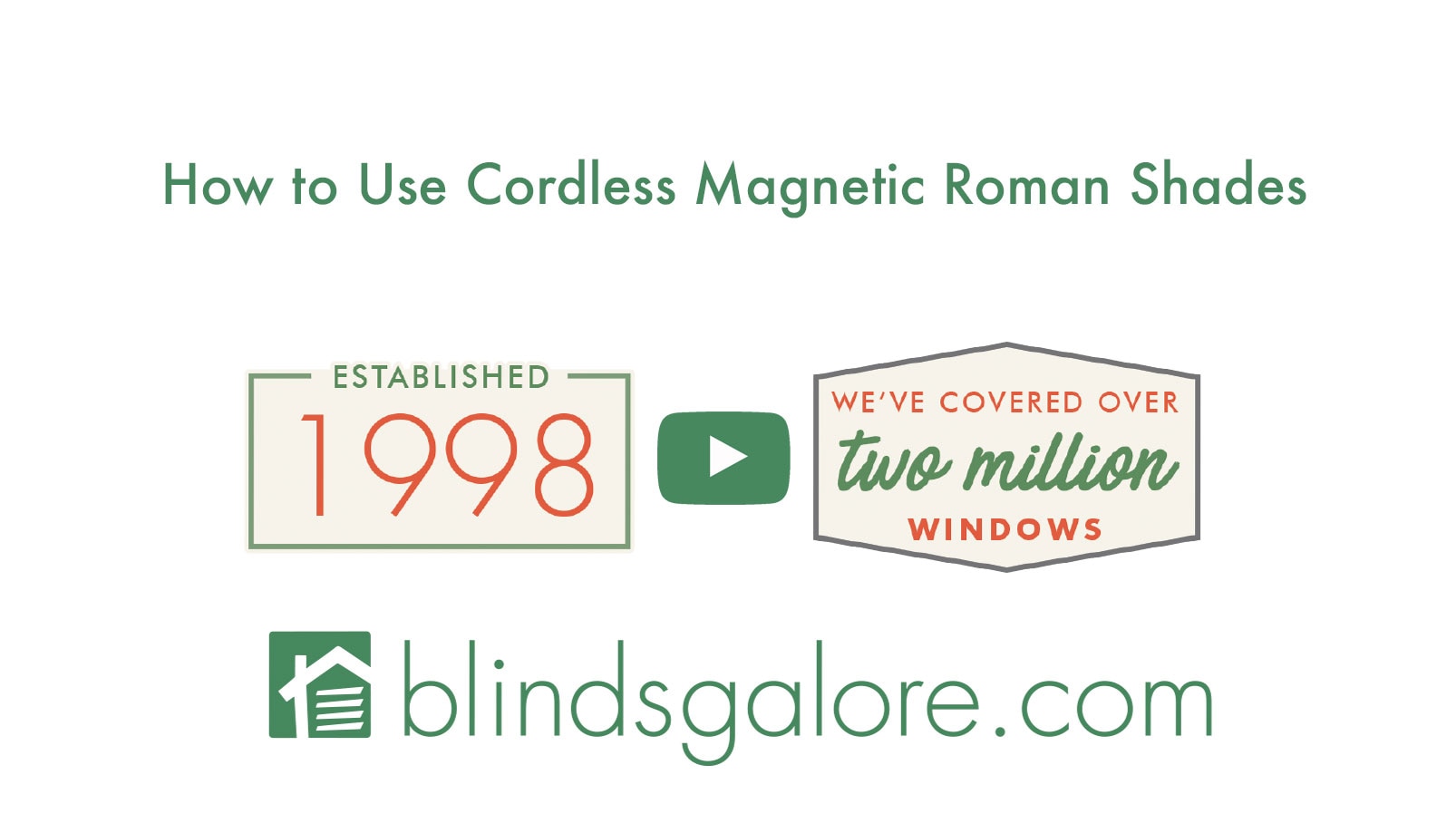 Motorized Roman Shades
For the ultimate in luxury, include a motorized lift option for your Roman Shade. Motorized products are always cordless, giving you a clean, clutter-free shade that you can operate with the push of a button. Some motorized shades can even be linked to your smart home or smart devices with a home automation option.
Roman Shades for Windows in Different Rooms
With the variety of patterns, prints, colors, and customizable options available to you, it's possible to make our linen Roman Shades a feature in any room of the house. Read our blog to find out more ways to get Roman Shades to fit your style
Roman Shades for Living Rooms
Roman shades are a popular choice for living rooms because they add style and function to the space. They can be used to control the amount of light that enters the room, as well as provide privacy. When choosing Roman shades for your living room, it's important to consider style first. Classic Roman Shades will be a great choice if your living room is more formal, while Relaxed Roman Shades will be better if your living room has a more casual vibe. You can also choose decorative accents to help your custom roman shades match your existing living room décor.
Roman Shades for Kitchens
If you're looking to add some intriguing to an otherwise dull kitchen, Roman Shades are an excellent choice. Patterns, stripes, and prints can all be used to introduce additional décor elements to this area. If you decide to install a linen Roman Shade in your kitchen, we recommend including a water repellant liner. Just imagine the soft, pleated look filtering the light above a tub sink in your kitchen. Beautiful!
Roman Shades for Bathrooms
Similar to installing a roman shade in your kitchen, our design experts suggest customizing your shade with a water repellant liner. This will help protect your shade from humidity or accidental shower splashes. We also recommend relaxed roman shades in bathrooms to avoid moisture getting stuck between the pleats.
Roman Shades for Front Doors
Our custom fabric Roman Shades can be created as small as 12 inches wide, making them a viable option for front door sidelights. Since front door roman shades will usually be smaller and longer than a traditional window, this may be one of the more affordable Roman Shade options. Another perfect way to add style and intrigue to the space surrounding your front door.
Liner Options
Each of our Roman Shades can be configured with different liner options. A liner is an additional piece of fabric attached to the back of your shade. Customizable liners include room darkening or blackout liners for better light control, thermal liners for UV and temperature control to create insulated roman shades, or a water repellant liner for high humidity areas such as a bathroom or small kitchen.
Decorative Accents
Depending on which types of Roman Shade you are customizing, you'll be able to select a decorative accent to add the finish touch to your cloth blinds. These can help blend the décor in your room together.
Edge Binding:

This will add a band of color on the outside edge of your shade to add a finishing touch and prevent the edges of your shade from fraying.



Inset:

This is a purely decorative band that borders your shade, but not on the edge. Your inset color will act as an outer border for your shade.



Matching Fabric Valance:

Some Roman Shades will give you the option to create a matching valance using the same material as your shade, ideal for patterns or prints. You may also be able to purchase matching yards of fabric to create additional décor as you see fit.
Custom Roman Shades for Your Home
Roman shades are a classic window treatment option that can add style and function to any room in your home. These functional fabric shades are easy to install and maintain, making them a great choice for those looking for a low-maintenance window treatment option with a high-value look. With the right Roman Shades, you can transform any room in your home and enjoy the benefits of beautiful window treatments for years to come.

Roman shades are known for their elegant, timeless appearance and versatility. They are made from fabric materials, which can be customized to match any room's style and color scheme. If you choose a pattern or a print to make your room pop, we recommend a flat fold to better display your print. Roman Shades are also easy to operate and can be made motorized or linked to your smart home. The heavy fabric is also perfect for blocking or filtering light, and providing an excellent level of privacy when closed. If you are looking for a stylish, functional window treatment option, look no further.
Measure and Install Instructions for Roman Shades
Watch the video below for a quick look on how to measure your windows for inside our outside mounted roman shades.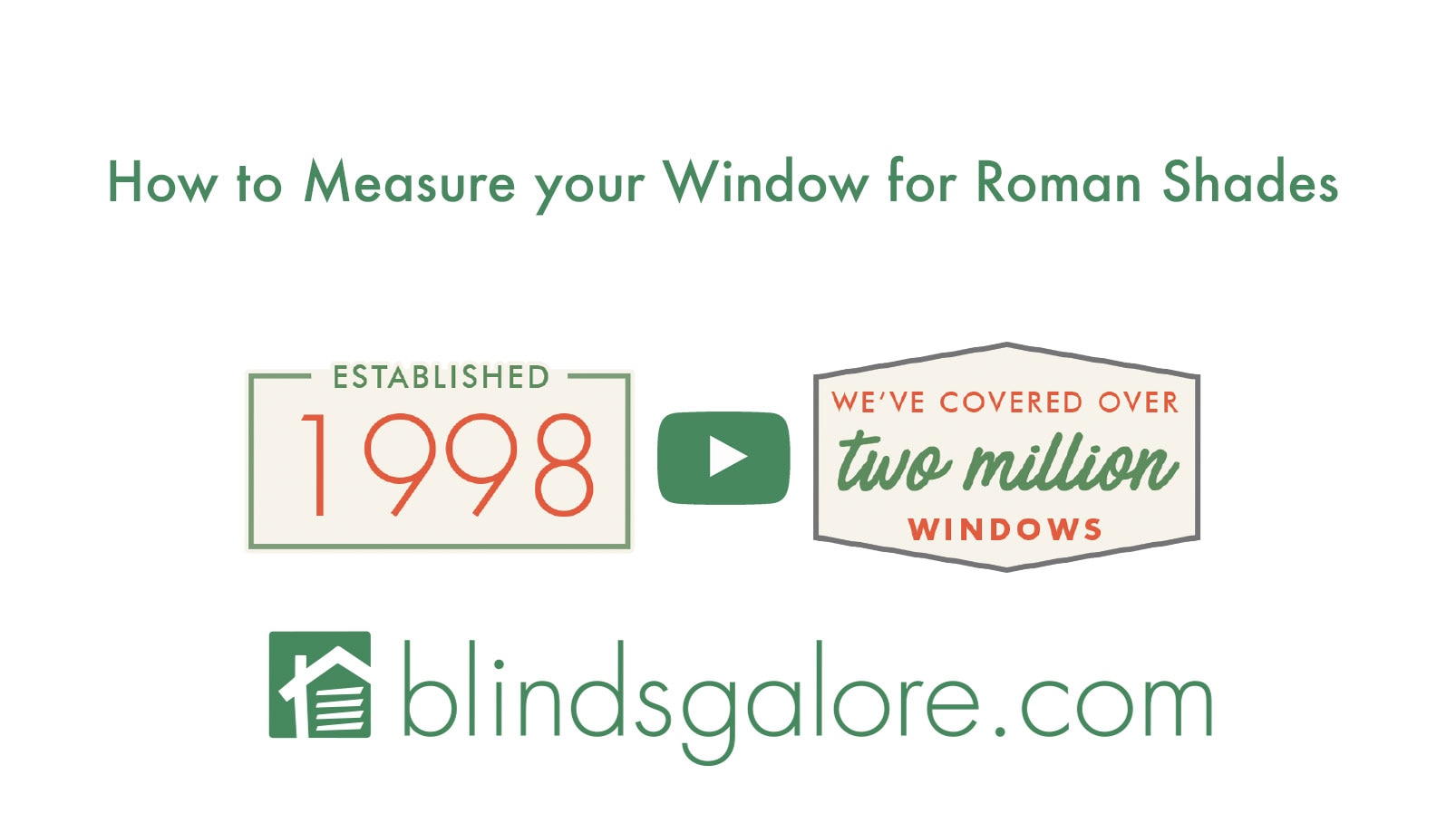 Our installation page has helpful guides on how to install any brand of custom roman shades.
If you need any assistance measuring, installing, or customizing your new roman shades, please reach out to our blindsgalore design experts. We can help you over the phone (877.702.5463) or through email (customercare@blindsgalore.com).
If you're interested in scheduling a virtual design consultation with our dedicated virtual designer, you can book an appointment here and discuss window covering solutions over webcam.
Watch a happy customer install her own custom, cordless Roman Shades.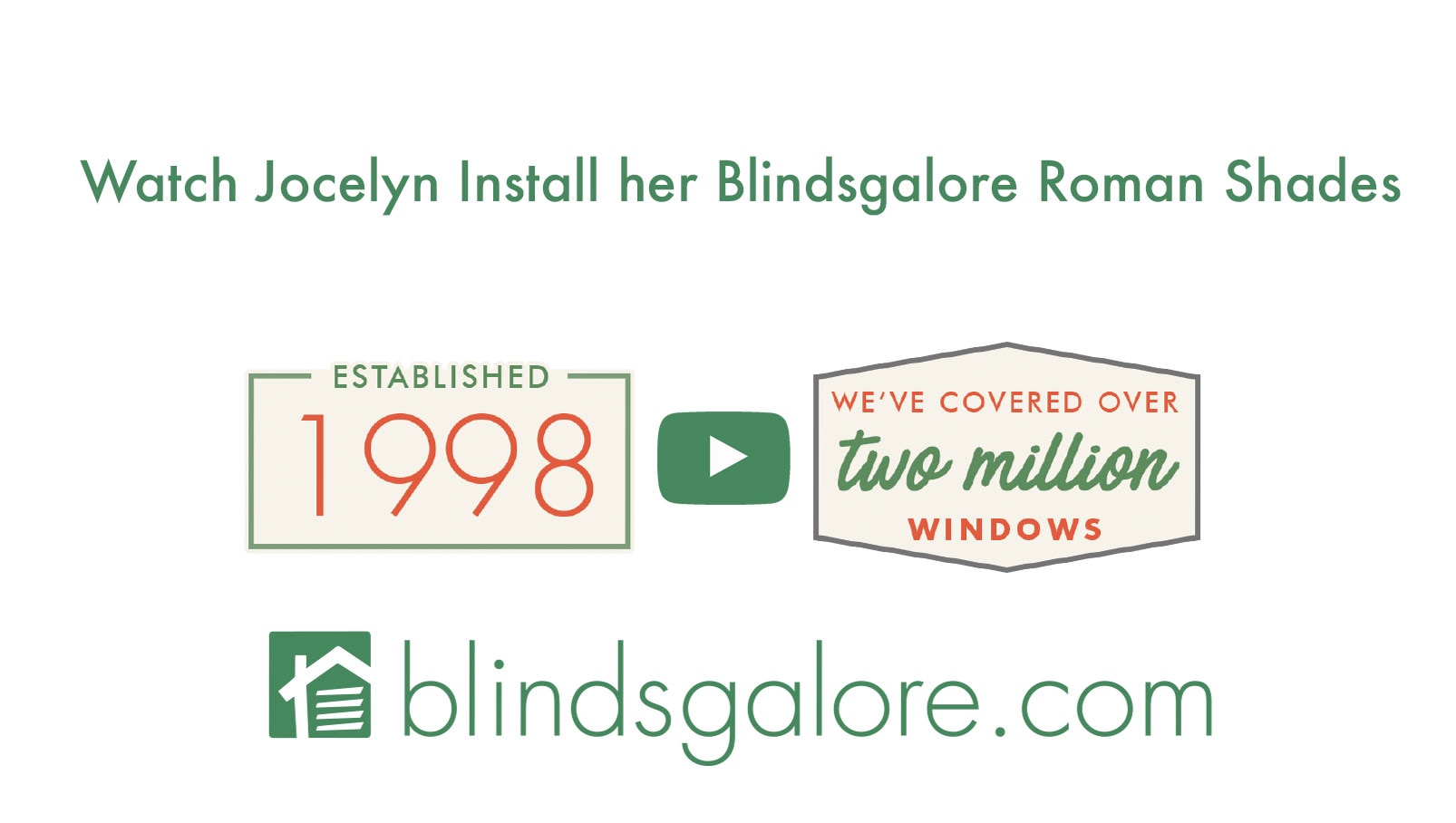 customer reviews for roman shades