Solar Shades for Windows
Solar Shades for Windows
Filter By:
Fabric Pattern
Motor Control Option
Popularity
Product Line
Safety
Solar Shades
Reduce glare and limit solar heat gain
"Window sunglasses" block UV rays
Preserve your view to the outside
Improve your home's energy efficiency
Solar Shades are a perfect choice for media rooms and coastal homes. Block harsh, incoming light without losing your view by choosing between several screen openness factors, ranging from 3% to 15%. This will let you choose exactly how much light you'd like to let through your windows. The smaller the number, the less "open" the screen is. For maximum view-through, choose a higher openness number. For greater light blocking, consider a smaller openness number. Solar shades are also available with a variety of lift options, including cordless, motorized, and smart home compatible. While they won't provide complete privacy at night, their minimalist nature allows them to pair easily with drapes or curtains.
Benefits of Solar Shades and Screens
The sun's rays can be a great source of light and warmth, but they can also be a source of too much heat and glare in your home. Solar Shades are the perfect way to block UV rays and cut down on glare, without losing your view outside. It's one of the best shades for windows during a bright sunny day. These functional, sun-blocking solar roller shades will shield you from distracting glare and are a perfect choice for media rooms and coastal homes. Rooms with solar screens will also stay cooler in direct sunlight.

Solar Shades are available in several screen openness factors, letting you choose exactly how much light you'd like to let through your windows. Custom solar shades are available in a wide range of solid colors, as well as patterns and even fabric weaves.
What Are Solar Shades
Learn more about how solar shades can help you block the heat without blocking your view. Think of them like sunglasses for your windows.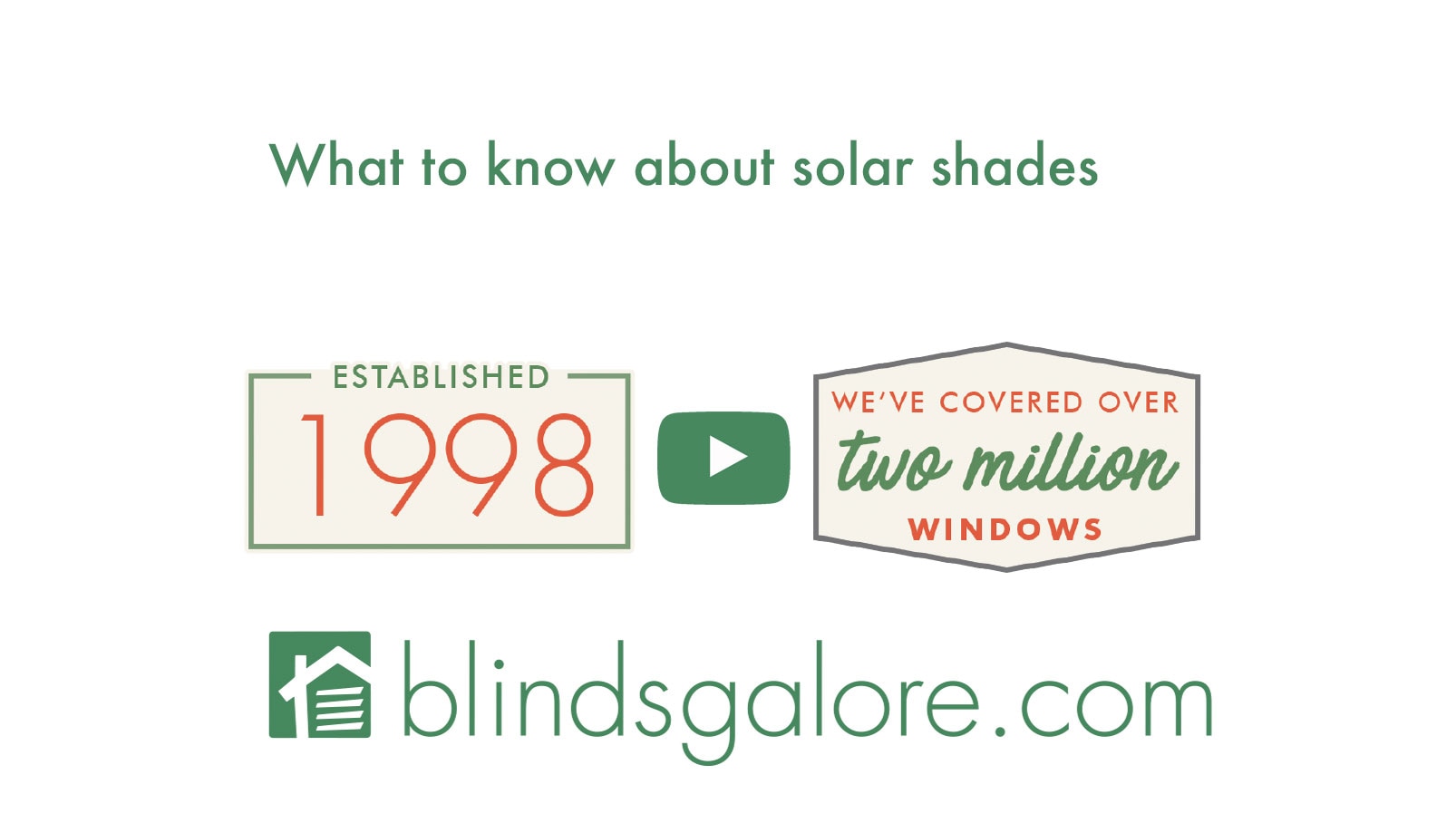 Solar Screens for Windows
Solar screens for windows are popular for people looking to reduce their energy costs and can make a difference both inside and outside of your home. These one-of-a-kind screens are made from a durable, UV-blocking material that reflects the sun's rays away to keep your home cooler in the summer and can lower your cooling costs. Solar screens are also great for protecting your furniture and flooring from fading.
Solar Shades and Blinds for Indoors
Solar fabric shades are made in a variety of colors, textures, and patterns, making it easy to enhance or blend with your existing décor. These house window sun screens are also perfect for layering, as their minimal appearance will hardly obstruct your windows, making them a perfect addition to existing window treatments or drapery.
Solar Shades and Blinds for Outdoors
While solar shades are the perfect sun shades for home, they don't have to be limited to indoor use. When combined with an outdoor space, these solar roller shades can help you create a private oasis. You can even install them on the exterior of a window to help block glare if indoor space is limited. Tie down brackets will help keep your solar blinds secure and prevent them from flapping in the wind and the durable shade material will stand up to the elements of nature.
Features of Solar Shades and Solar Blinds
Solar shades and screens offer a variety of features to create a comfortable, energy-efficient environment in your home. Solar shades are designed to reduce the amount of solar radiation entering a building and, when used on your patio or balcony, can create a shaded, private outdoor space.

These unique solar blinds are available in various fabrics, styles, and openness factors that can maximize energy efficiency. We recommend using a lighter-colored material for indoor use to better reflect incoming heat and a darker shade outdoors to create a more private environment. Openness factors are also available at various levels depending on the amount of view you would like to maintain, which is especially beneficial in areas with sky-high views.

Remote control motorization is another feature that can be incorporated into solar shades and screens to maximize convenience. Motorization will allow you to control multiple shades and screens with a single remote. Some shades can also be linked directly to your smart home and smart devices. Home automation will allow you to set up timers that will open or close each shade on your schedule. This feature can help you save energy by minimizing the amount of direct sunlight entering the space when it's not needed.

Watch popular DIYer @EastCoastDIY over her motorized Solar Shades from Blindsgalore.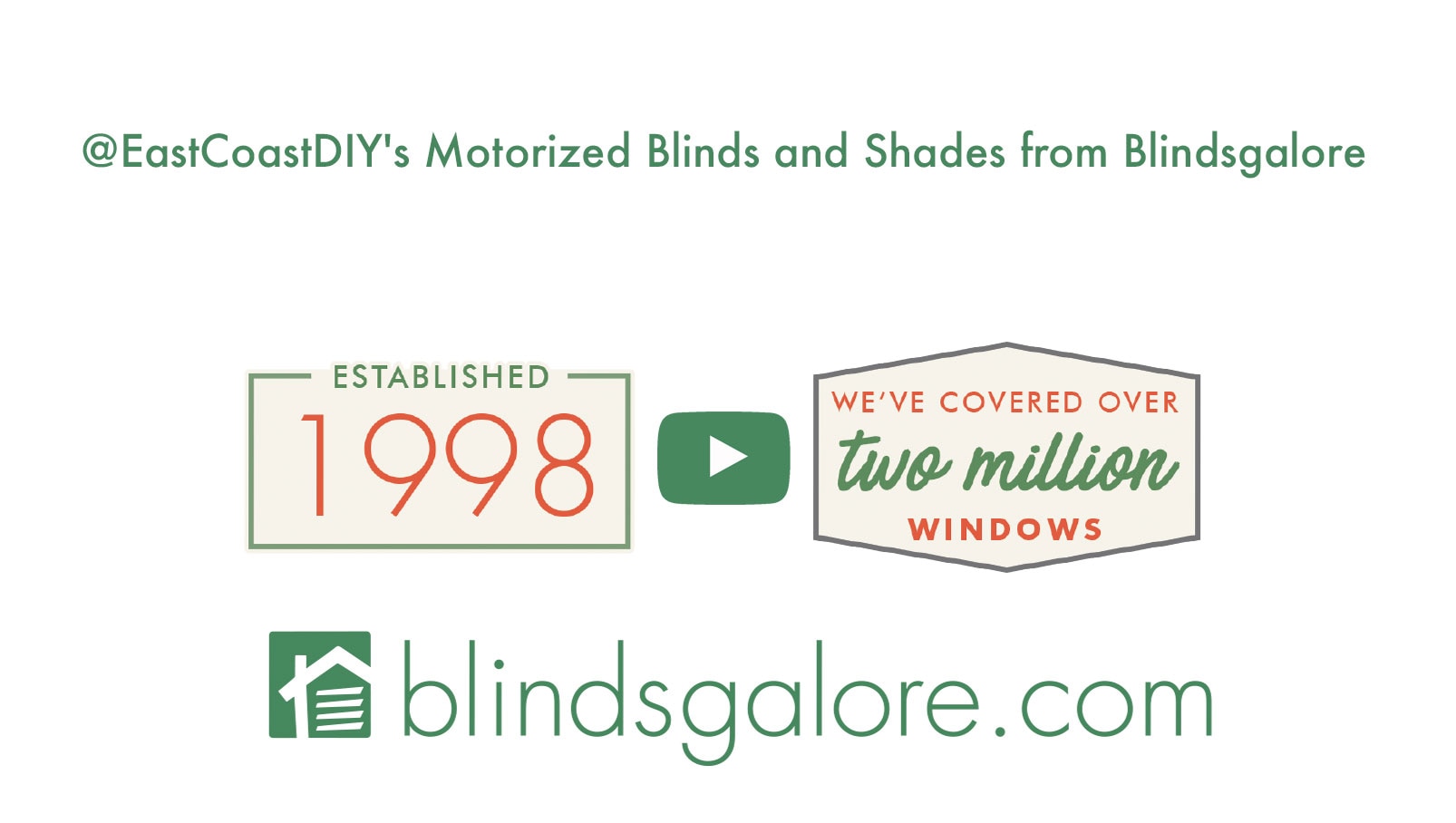 Solar shades and screens offer a wide range of features that make them an excellent choice for any home or office space. With their ability to provide insulation from heat, protection from UV rays, adjustable view options, automated control systems, smart sensors capabilities, and more – solar shades and screens provide an ideal environment for any environment while also saving energy costs over time.

Learn even more about the different types of solar shades here.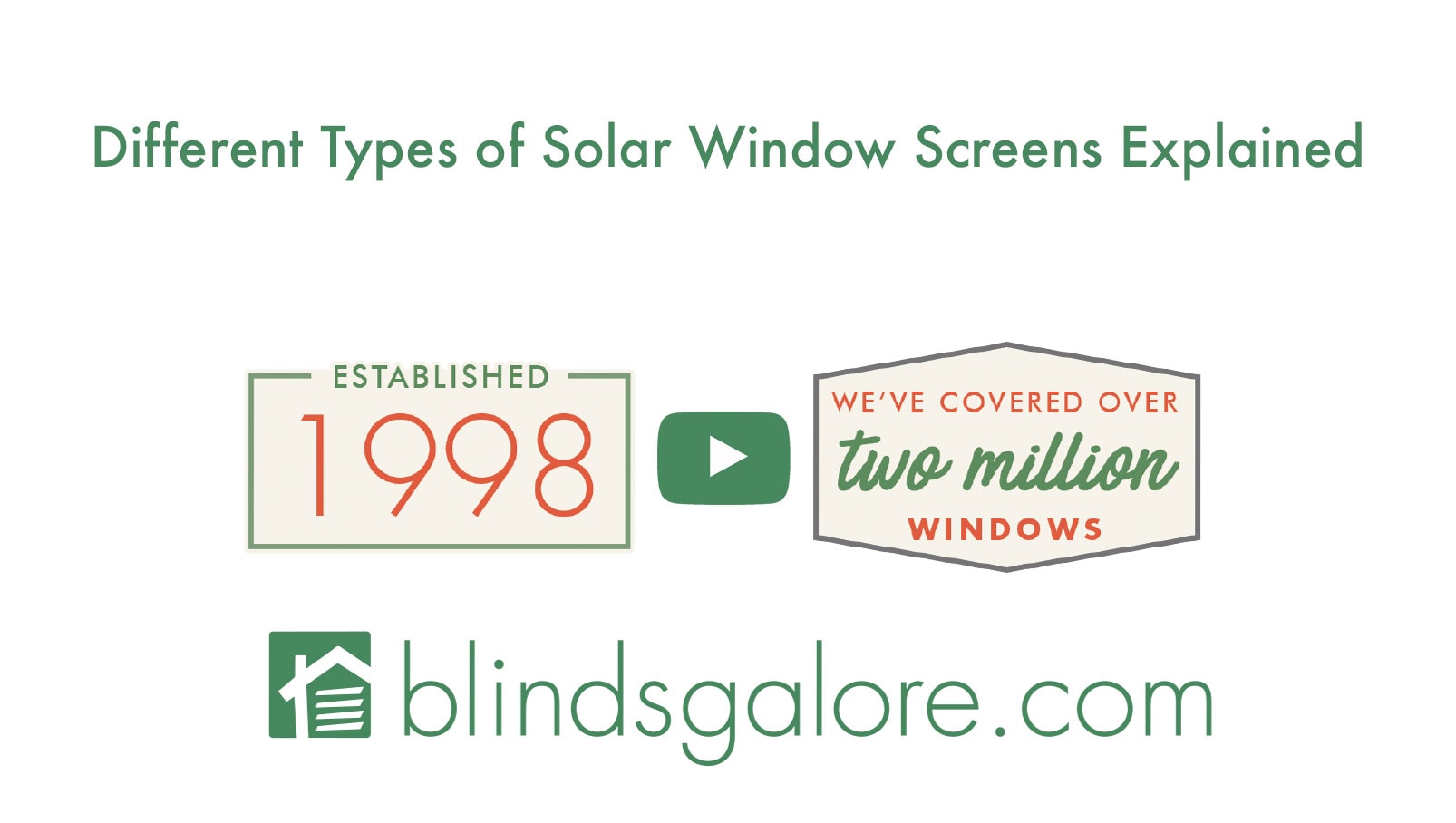 How to Block Heat With Solar Shades
These UV solar screens are the perfect way to block incoming heat without losing your view. When summer time hits, you'll want sun blocking for windows.
Sun Blocking Blinds
These sun blocking shades are an excellent option for homeowners who want to prevent the sun's damaging rays from entering their homes without removing natural light. They can be used in almost every room, from living rooms and bedrooms to bathrooms and kitchens. Sun blocking blinds can also be customized to fit your decor and come in various colors and patterns.
What to Consider When Selecting Your Solar Shades
Openness Factor
The majority of solar shades are available in a range of openness factors. The openness factor, which usually scales between 0% and 14%, will determine how much light your shade lets in and how much you can see through the material. With 0% openness, the shade will completely shut out light and be impossible to see through. At 14%, the shade will still be able to stop harmful UV rays, but you'll be able to see almost entirely through the material. The smaller the number, the less open the shade is.
Shade Placement
Solar shades are a versatile style of window treatment, with benefits for almost every room in the home. We also have a selection of solar shades made specifically for RVs and Motorhomes. If you're looking to create a shaded space in a garden or patio, please view our available outdoor shades.
Customizing Your Solar Screen
Lift
Standard: Operate your shade with a continuous cord pull mechanism that can be configured on the left or right side of your window. A standard cord clutch can be attached on the wall for easier operation.
Cordless: Raise or lower your shade with a simple pull on the bottom rail for smoother operation and a more streamlined appearance. Cordless solar shades are also safer in homes with pets or small children.
Motorized: Add motorization to your cordless shade to raise and lower your shade with the push of a button. A single remote can operate multiple shades. Motorized solar shades can also be linked to your smart home.
Roll Style
Standard Roll: On standard roll solar shades, the fabric will hang off the back of the shade, closer to the window, for optimal light control.
Reverse Roll: The fabric on solar shades configured with a reverse roll will hang off the front of the shade, hiding the top of the shade and eliminating the need for a valance.
Decorative Accents
Bottom of Shade: The bottom of your solar shade will be weighted to ensure it stays in place. Customizable options include a matching fabric-wrapped bottom rail or decorative hem bar. Shades without a bottom rail will usually have a pleated piece of matching fabric.
Valance Options: Depending on the solar screen you choose, you may have the option to include a valance when customizing. A valance is a decorative piece at the top of your shade to help hide the fabric roll of your solar shade. There are several different styles available, including ornate wood pieces and color-coordinated cassettes. You will also have the option to not include a valance.
How to Measure and Install for Solar Shades
Our video below will teach you everything you need to know about measuring your windows for new solar shades.
Our installation page has helpful guides for how to install any style of window covering.
if you'd like to discuss solutions with our in-house team of design experts, please don't hesitate to reach out. We can provide assistance with measuring, customizing, or installing your new solar shades over the phone (877.702.5463) or through email (customercare@blindsgalore.com).
Schedule an online appointment with our dedicated virtual designer for a private, one-on-one design consultation via webcam.
customer reviews for solar screens