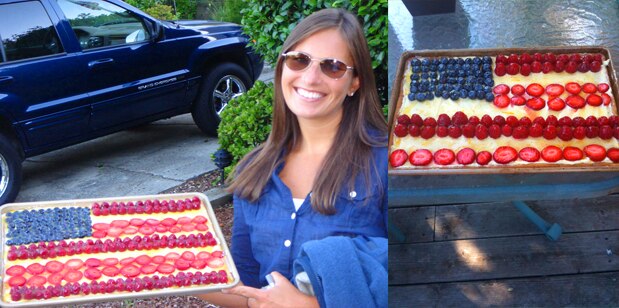 Firecrackers, fun and fabulous "get- togethers" are all a part of a bang up Fourth of July celebration. At my house, my traditional Fresh Flag Tart makes a colorful and delicious appearance and I am sharing with you this easy and foolproof recipe to indulge the sweet part of this raucous holiday. Not only is this an easy dessert, but the custard base creates a perfect palette for you to top off the tart with any red and blue berries in the design of our great American Flag. The cookie crust tart is topped à la American style with fresh blueberry or blackberry stars and luscious red strawberry and red raspberry stripes. Every year the flag is composed in a little bit different pattern, depending on the whimsy of my little faithful "pastry chefs. Have fun
with this recipe, as no matter how the masterpiece turns out, it will delight all.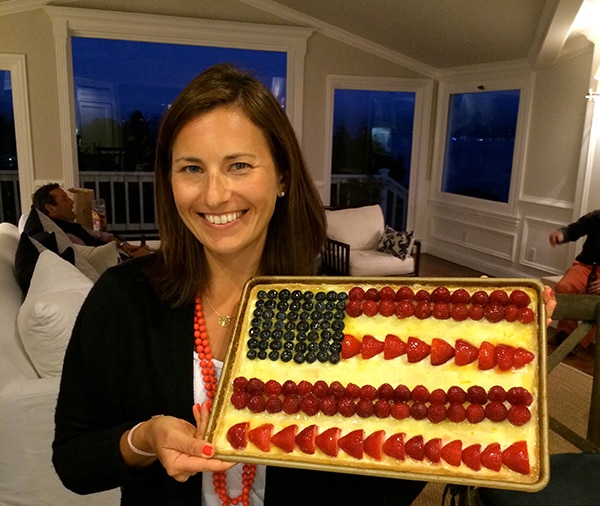 Fresh Fruit Flag Tart

Cookie Base
1 package sugar cookie dough
8 oz. cream cheese, softened
1/3 cup sugar
1 tablespoon vanilla extract
2 tablespoons orange rind
Fresh fruit of of your choice in
colors of red and blue

Glaze
1/2 cup sugar
1/4 cup fresh lemon juice
1/4 cup fresh orange juice
1 Tablespoon cornstarch
1/3 cup water
pinch of salt
1/2 teaspoon freshly grated orange rind
1/2 teaspoon freshly grated lemon rind

In a 1/2 baking sheet pan, 18"x 13″, spread very thinly the cookie dough, by pressing down the dough evenly to the edges of the pan. Bake according to the directions on the dough or until browned and cooked. Cool.

Combine cream cheese, sugar, orange rind and vanilla in a bowl and cream gently. Spread on cooled cookie crust. Refrigerate to set while you make the glaze.

Glaze
Combine all the glaze ingredients, except for the rinds, in a saucepan and stir well to combine. Bring to a boil and stir until thickened. Remove from the heat and add both rinds. Cool.

Remove tart from the fridge and arrange the selected fruit in a pattern of blue stars and red fruit stripes. Design as you like to create your own American Flag.

Brush fruit gently with glaze for a glistening finish.

Refrigerate until ready to serve.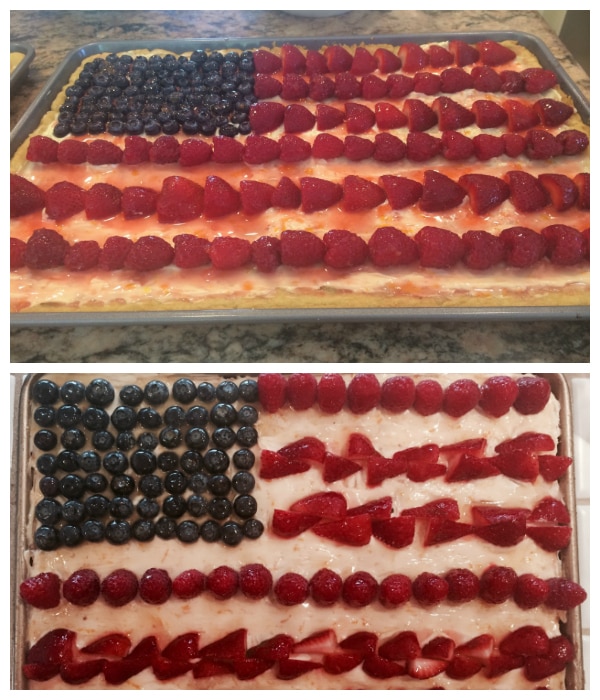 I love decorating tarts as much as I love helping you decorate your windows.
Have a safe and scrumptious 4th!