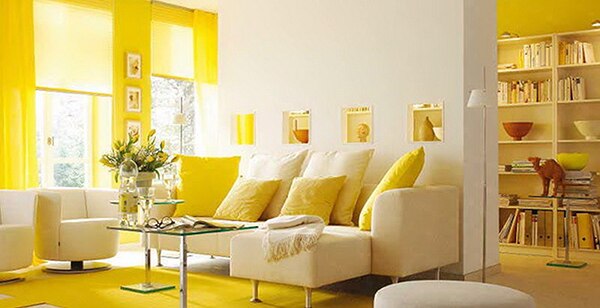 Even though our number one seller in window treatments is white or any ivory or off-white color, I am always rooting for color. When I propose color, most competent and confident friends I know start twitching and fretting. Did you know that on the fear scale from 1-10, with 10 being sky diving naked while speaking in public and that using bright color in a home is a 12!  Don't be afraid of color as bold hues can lift spirits and spark a shot of interest to a bland space. I am not promoting big swaths of shocking fuchsia, neon yellow and peacock blue, but a temperate and considered approach to adding color in your home. If you are tentative about how to build in color, chase after some of my easy rules to ease you into a bright mood.
Start With A Neutral Base
If you start with a neutral canvas on your walls and basic furniture, pops of color can ease into your space. Use a few large bursts instead of small little accents of intricate patterns that can get lost and dilute the effect.  One oversize bright piece of artwork zaps a wall quickly and heightens and add drama. A cushy colorful armchair makes a stunning sole statement or a grouping of barstools brushed in primary hues line up brilliantly down a table.  With calm background colors, you can more easily change up the shots of colors as your tastes shift or enhance your palette as you become a warrior of color.
Play With Color Chunks
Think of the artist, Piet Mondrian, whose canvases are filled with big blocks of bright colors that intersect together in unexpected combinations. Some ideas for thinking in blocks: cover a set of chair cushions in the same or contrasting complementary colors, redo a couch in a blast of color or paint an accent wall or a reading nook. The back splashes in your kitchen or the back wall of any cabinets or bookcases that have a glass front can add brilliance and totally change the look of a room. A bank of window treatments in dazzling shades is my favorite way to make your home shine, as the sun glows in during the day, and at night, the blocks of color gleam.
Look For Unexpected Places
If you are unsure and want to experiment, find an out-of-the-way spot such as a laundry room or a bathroom or an alcove that offers the chance to go a little wild and see what happens. How about a multi-colored checkered floor, big bright clothes baskets or a shocking pink bookcase. Be whimsical and brave when no one else but you, the dog, the heroine in your novel or the dirty laundry are looking (maybe laughing, too)!
Bring In The Outside
Vivid colors on your patio, deck, porch or garden seep into the inside through your doors and windows. Don't neglect the outside when you outfit these spots with painted furniture, a patterned or striped floor, detailing around the windows and doors or a row of sunny pillows. Your garden can burst with golden poppies, crimson geraniums, sky blue morning glories or any astounding flower power color. Hanging lanterns or garden orbs and gelaming pots all bring in color from the yard.
Be Tame
If you are totally timid about color, surprise yourself with little bits of color for small accents- one bold pot, a vivacious pillow, a dip dyed stool, an orange ottoman or the most radiant bouquet of flowers you can find. As you bestow more and more color in little ways, you won't be able to resist the joy it brings.
Free up your home to "cha cha cha " in color!
Featured Image Source: PTI Image