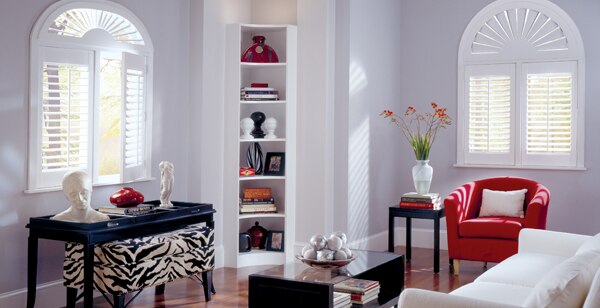 Vertical window blinds and horizontal window blinds are effective at reducing summer heat. On hot summer days, close window coverings on the east, west, and south-facing windows to keep out the sun's rays. You can keep the blinds on the north side open if desired because they do not get direct sun in summer, assuming you're in the northern hemisphere. Further, window treatments with a light-colored backing help reflect the sun's heat back outside.
Other options include blinds and louvered shutters on which you can tilt the slats up or down to direct sunlight back outside. Also, the slats offer flexibility in the summer. Unlike shades, you can adjust the slats to control light and ventilation. For example, when completely closed and lowered on a sunny window, highly reflective blinds can reduce heat by fifty percent on average. They can also be adjusted to block and reflect direct sunlight onto a light-colored ceiling. A light-colored ceiling will diffuse the light without much heat or glare.

Outdoor Solutions
Outdoor sunshades can significantly reduce cooling costs inside your home and create a pleasant atmosphere for your patio, deck or sunroom. Outdoor sunshades are made with solar screen fabric, which stops the sun's heat before it strikes your window, reducing heat transfer and keeping your home or business cooler. Sunshades also reduce glare and help block damaging UV rays without losing your view.
Blindsgalore offers discount outdoor shades from Coolaroo and Bali. When you lower these blinds completely, these sunshades provide complete shade. If partially raised, the blinds allow more daylight to enter through windows. Interior window coverings can help keep your home cooler in the summer. However, it is even more effective to block the sun before it hits the window by shading the outside of the window with outdoor sunshades.
Window Coverings for Cold Weather
When the weather turns cold, insulated window treatments can help keep warmth inside. A curtain or shade lined with thick insulating fabric will keep heat in as long as it fits snugly within or around the window. Cellular and Honeycomb shades can also keep your home warmer.  Both these types of shades have double or triple layers of accordion-pleated material that traps air between the layers.
Energy-efficient window coverings can lower your heating and cooling costs. Window coverings can also protect furniture, floors, and carpets from damaging ultraviolet rays. Energy-efficient window coverings also reduce your emissions of climate-changing greenhouse gases. If you choose durable products, you'll also reduce the resources needed to cover your windows over the lifetime of your home.