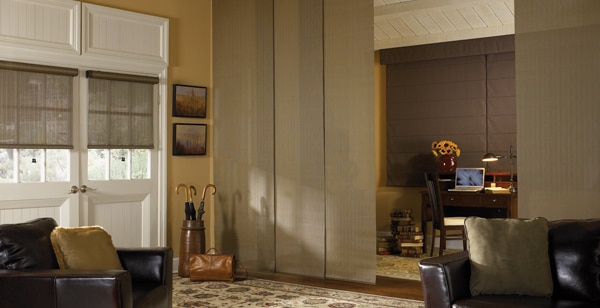 I was just in Salt Lake City, Utah on a mini vacation and the place we stayed had really bad blinds that didn't close properly and were just junky looking. I notice these kinds of things, so I was inspired to write a post about how to make your guest room (or your lodge) more welcoming and restful with the right kinds of blinds or shades.
To get the most privacy from your blinds and shades, you will want to look for blackout shades or shades that offer a privacy liner as an option. These blinds will block out the most light and offer the highest level of privacy, whether your home is secluded or in the city. With so many different styles available today, you don't need to sacrifice style for privacy. Most of the most popular high-style blinds and shades have a blackout version available.
Many people have vacation homes in Utah, and if you are one of those lucky people, you may be looking for quick and affordable blinds and shades. Enter roller shades. Roller shades have been around forever, but you may not know that today's roller shades are available in thousands of stylish fabrics, with patterns and colors to match any décor. You can even order custom roller shades featuring any graphic you choose: a photo, logo or other image.
Pleated shades are yet another option that will allow you to have privacy and blackout. Like roller shades, pleated shades are an affordable option. Their beauty lies in their simplicity: simple pleated shades with a classic look. If the holes for the cords bother you, look for shades with a no-holes option: these shades are operated with hidden cords on the back side of the shade for a neater look with less light leakage.
If you plan to order new wood or faux wood blinds, consider the routeless upgrade, which eliminates the cord holes. Instead, the cord is attached at the back side of the shade so the slats close tighter for more privacy. Plus, it offers a much cleaner appearance.
If you don't want to buy new blinds or shades, drapery can add an additional layer of privacy to your existing blinds or shades. One of the great things about adding some drapery panels is that you can transform the look of your room instantly and easily, and switch out the look seasonally. There are endless styles available, from ready-made drapery at your local store to intricate designer fabrics ordered through interior design showrooms or online.