Winter's chill is coming soon, making it the perfect time to get a head start on winterizing your Outdoor Roller Shades. Outdoor Shades are known for their durability, but proper care will help them last a lifetime. If you've ever wondered how to clean and care for your shades, look no further. Follow our tips to help prepare your outdoor space for the most wonderful time of the year.

If freezing weather is on the horizon, we recommend removing your Outdoor Shade and storing it in a dry location. To do this, first raise the shade completely. Next, find a slot on the edge of the headrail (usually left side) opposite of your controls. Next, insert the head of a flathead screwdriver into the groove and lightly push down to release the locking clamp and remove the shade. To prevent a hard freeze on the remaining brackets, wrap a rag over the bracket, cover them with a plastic bag, and secure the bag and wrapped brackets with a zip tie.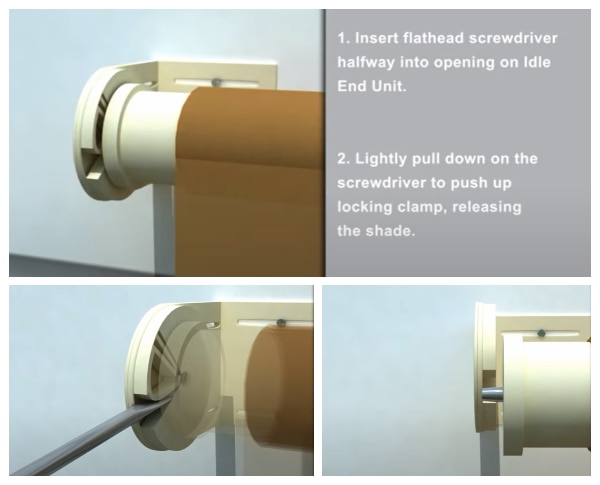 If you ever need to clean your Outdoor Roller Shades, use a shop vacuum with a brush attachment to first remove any dirt or dust. Any sticky debris can be easily hosed off (no pressure washing). More stubborn areas can be cleaned with Dawn dishwashing detergent and gently scrubbing with a medium bristle brush. Be sure to always let wet shades air dry in the down position. Also, please be careful not to use caustic or acidic cleaners as these could permanently damage the fabric.
If you haven't heard about Dawn, it is my go-to cleaning soap as it contains "a powerful surfactant" which just means Dawn has superpowers to cut grease and grime. Dawn is also non-toxic and is biodegradable. Be sure to use the original Blue Dawn for your window shades. Another secret: Use it on your dirty running shoes if you like to keep the colors bright!

As always, we recommend rolling up your Outdoor Shades completely when they're not in use. Especially if you're not home. This will help preserve your shades and keep them protected from any inclement weather. It's also a good idea to inspect your shades monthly for any grime or buildup and to ensure that your shades are centered on the headrail. Centering your shades will prevent the sides from getting caught up in the roller mechanisms and possibly fraying. If you need to re-center, completely unroll the shade, grasp the longer side of the fabric, and slide it over to create equal distance.

We hope these tips help you get a head start on your holiday season. It's easy to forget about these shades, and your whole patio in general, when they're not in use. Make sure you get to them before winter does! Proper maintenance of your shades will keep your outdoor space looking spectacular all year round.