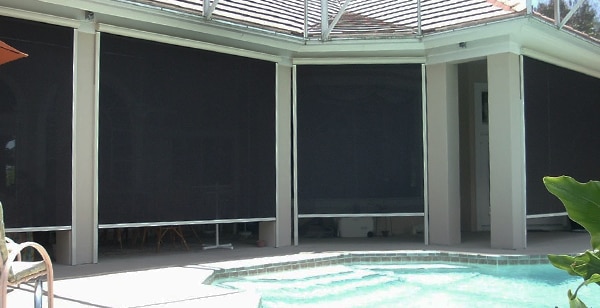 Right now, the sun is becoming an issue in many areas like Florida, and we are getting a lot of calls from our customers there about how to solve the problem. In Florida, everyone wants to spend time outside on the patio or porch, but the sun's heat and glare can make it too uncomfortable to be enjoyable. Adding a few simple outdoor solar shades can make your patio, porch or other outdoor space much more pleasant. Solar shades are effective because they reflect the sun's heat and rays to keep your space cooler, but their open weave still allows breezes to pass through. When shopping for solar shades, there are a few key points to remember:
Openness factor: this refers to the amount of light being blocked by the shade. For example, a shade with 8% openness factor keeps 92% of the light from passing through. Of course, the higher the openness, the more view-through you will have.
Color: the color of your shade is an important consideration. Darker colors are better for allowing visibility than lighter colors; darker colors also keep out more heat. So, if you have a great view from your Florida porch or patio, you may prefer a darker solar shade for your space.
Operation: most solar shades arrive with a standard cord chain loop, but motorized operation is available from many manufacturers. Motorized solar shades are a great choice if you are covering windows that are difficult to access, or if you simply prefer the convenience of remote control, one-touch operation.
Other uses for outdoor solar shades include using them as an additional way to save on energy consumption for windows that receive a lot of that direct Florida sun. Used this way, solar shades can help prevent heat gain and fading of your interior furnishings, and make your existing window treatments last longer.