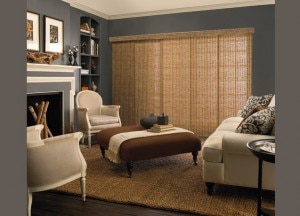 A color historically represented in business suits and storm clouds, gray has recently surfaced as a fresh and invigorating neutral. Living directly in the middle of white and black, it does a fabulous job of representing an approachable blend of the two. Gray is frequently used in print and other media for its ability to highlight all others colors paired with it.
One surprising feature of this color is its capacity to blend with natural fibers. The woven materials in these rooms bring a warm balance to the cooler grays. Check out these images, they may inspire you to bring a little (anything but dreary) gray into your life.
In addition to being a great solution for covering a sliding glass door, these panel track blinds add an eclectic element to an otherwise traditional room. The gray walls anchor the space while the natural look of the area rug and window treatment add warmth.
A softer feel is using gray as an accent like these cellular shades. The crisp white walls open up the room and by using the top-down/bottom-up feature of these shades, light is still allowed in while maintaining privacy.
A pale, sophisticated gray is used on the walls of this elegant, yet casual dining room. The faux wood blinds are very versatile in their application and best of all, simple to maintain.