The beauty of a room is its windows, allowing us to take advantage of nature's artwork outside and the shifting rays of light. How to frame that artwork is at the discretion of the designer and it's my opinion that one of the best options to frame a window is Drapery.
When it comes to interior design, the Drapery you choose can make a big impact on the overall look and feel of a room. It's easy to write off this popular window treatment as an afterthought; buy some white panels at your local home décor store and call it done. It can be that simple but you would be doing your windows and room a disservice. There is so much more to Drapery than a ready-made set of panels.
Fullness

Simply defined, Drapery fullness is the ratio of fabric used to size of the window. The greater the ratio, the fuller the drape, creating an elevated look that provides light and sound absorption. The most common fullness for Custom Drapery is 2x fullness, calculated by multiplying the width of window or window rod by two. This fullness is recommended to avoid the look of a stretched sheet when drawn, a common shortcoming for ready-made panels.
Headers
Did you know that the top of a curtain has a name and purpose, dictating how the fabric drapes and its fullness? This isn't something most of us think about when selecting Drapery, but deeply impacts the look and feel of a space.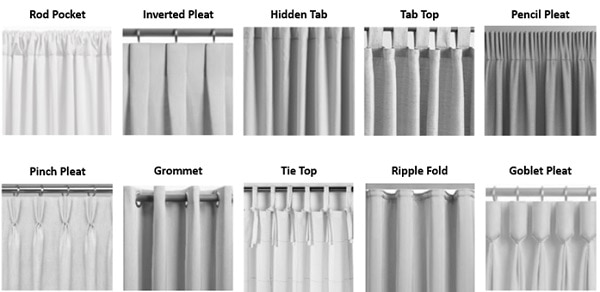 Grommet
Popular for their modern and clean look, as well as their ease of use, Grommet Drapery is defined by the metal grommets sewn into the header. They are typically made of stainless steel and come in a broad offering of metal finishes. Grommet Drapery is the most universally recognized and flexible, adapting to a broad offering of design styles and décor but would recommend placement in historical and period homes.

Tab Top
Also known as classic tab, this Drapery style features loops of fabric along the top of the drapes. This timeless style is easy to install and eliminates concern for window rod size and accuracy. Tab Top Drapery is well-suited to country design styles, such as French and English.

Hidden Tab
Popular for their minimalistic style, Hidden Tab Drapery has loops sewn on the back of panel header, similar to the belt loops on trousers. This method of installation allows the rod to slip through the hidden tabs and create a clean fabric line without visual distraction. Hidden Tab Drapery is a perfect solution for spaces designed in minimal and contemporary styles.

Pole Pocket
Easily identified by the pocket sewn across the top of the panel, this Drapery style is easy to install although limited by the depth of the pocket and its friction when drawn. Pole Pocket Drapery works well with traditional design styles as well and vintage and "granny chic" décor.

Pleated
This Drapery style is exactly as it sounds, swaths of fabric gathered to create a uniform pleat across the top of the Drapery. There are multiple types of pleated styles, such as pinch pleat and box pleat. The pleat style is defined by how the fabric is gathered and if it is visible on the panel face or sewn on the back to create a flat face. All Pleated Drapery utilizes hooks to hang and are either attached to rings or set in a track system, both resulting in a smooth draw to open and close. Pleated Drapery is best suited for more formal and traditional design settings.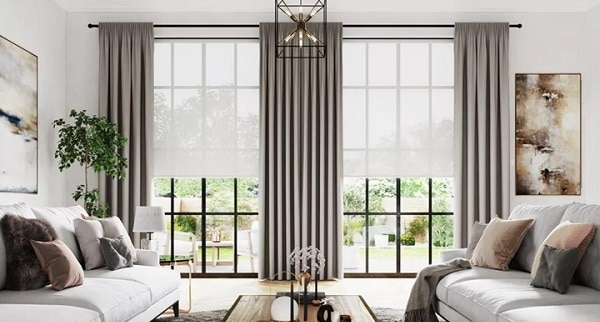 Flat Panel
Also known as ripple fold, this Drapery style is modern and sleek due to the simplicity of its design. Lacking a complex header, Flat Panel Drapes fold neatly and take up less space when opened, maximizing view and natural light. Similar to Pleated Drapery, this style utilizes hook pins to hang, allowing them to glide smoothing on the draw. Due to the simplicity and clean line, Flat Drapery works best on large windows and sliding walls, such as those found in coastal homes and urban spaces.

Length
The way in which drapery is hung and the final length can impact the overall look and feel of a room. Each style has its own set of pros and cons and the style that best complements each particular look.
Hover
Drapery that hovers is exactly as it sounds; a panel that stops an inch to half an inch above the floor. This is my favorite length, not only for its practicality, but for its sharp, clean finish, making it suitable to almost any design style. When a panel hovers the floor, it creates an ease of drawing the panels, flexibility in room placement and cleanliness. By not touching the floor, this style preserves a clean room as dirt, dust and animal hair can easily be swept up.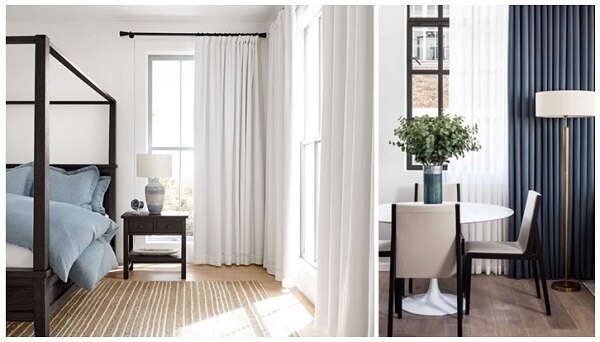 Breaking
This hem option, also called a Trouser Break, is designed to rest on the floor, with a slight break in the bottom similar to the break of a pant leg when it rests on shoes. Breaking length Drapery is best used in less trafficked areas such as the bedroom and is a perfect fit for interior design styles like Traditional, French Provincial and Commonwealth.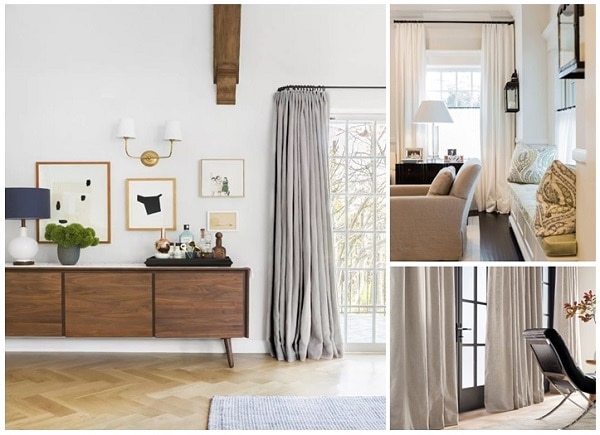 Puddle
The winner of most dramatic length goes to Puddling. Extending multiple inches onto the floor, this length of Drapery adds flair to a room, but is also the least functional with high maintenance. Similar to breaking length, Puddle Drapery is best placed in rooms with less traffic as they gather dust and dander easily. It is well suited to elevated design styles like Regal, Romantic and Rococo.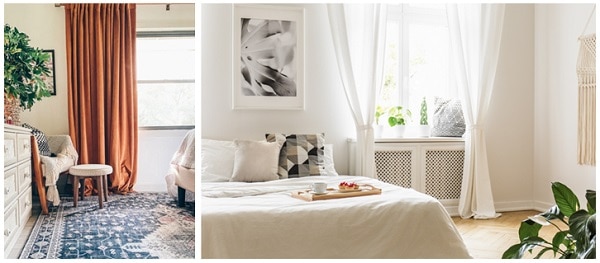 Liners
Adding a lining to Drapery Panels has many benefits, including extra insultation for energy efficiency, light control, color fade protection and noise reduction. Adding a lining to Drapery will also impact how it hangs and the overall appearance of volume.
Unlined
Ideal for spaces where a light and airy look is desired, Unlined Drapery is best suited for lightweight fabrics, such as sheers and linens. They allow natural sunlight when drawn, while providing some privacy. For true privacy, particularly at night, it's best to pair Unlined Drapery with a large shade or set of blinds.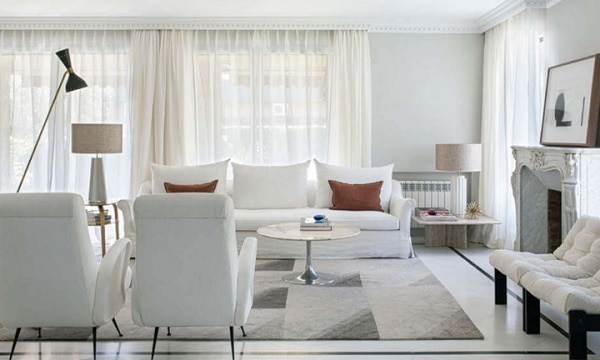 Standard
Traditionally available in white and cream, standard liners improve the drape on window panels by adding extra fullness and weight, creating a more substantial look. This type of liner will also increase light filtering properties, provide a neutral street-facing color and protect the fabric from sun fading.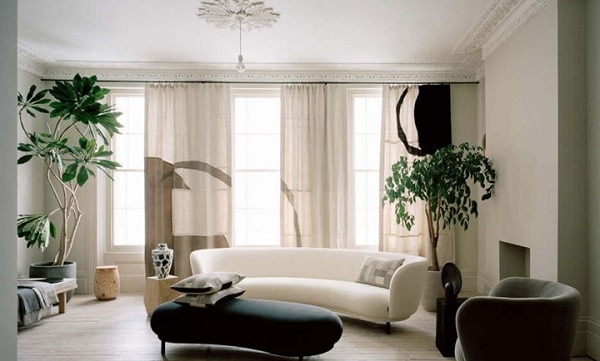 Blackout
As the name suggests, this type of liner is designed to block light from passing through. While no window treatment will block 100% of incoming light, Blackout Drapery is a prime option when seeking light blocking treatments. It improves privacy and is ideal for rooms where near total darkness is desired, such as a bedroom and media room.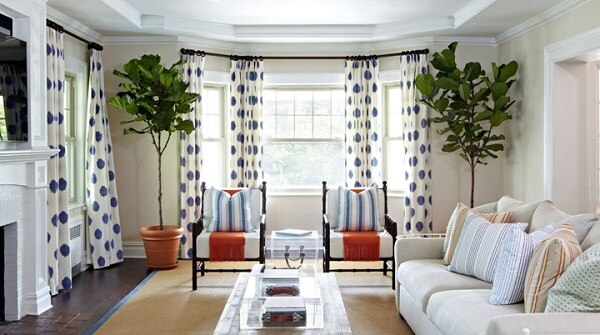 Thermal
The best option for insulation, Thermal Liners are designed to maintain a comfortable temperature in the home. While not a full blackout option, this liner type will block more light than a standard liner and minimize sun fading.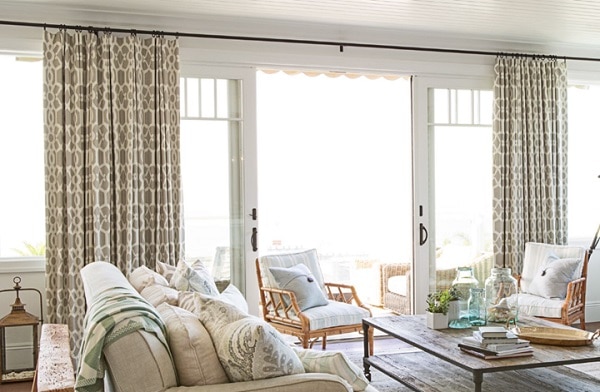 Whether you call them Curtains or Drapery, this window treatment is more complex than one would think. With knowledge and a touch of creativity, the possibilities are literally endless when dressing any window in your home. The visual impact can be subtle or loud, but one thing is certain, this universal window treatment is a match regardless of décor, style or room placement.