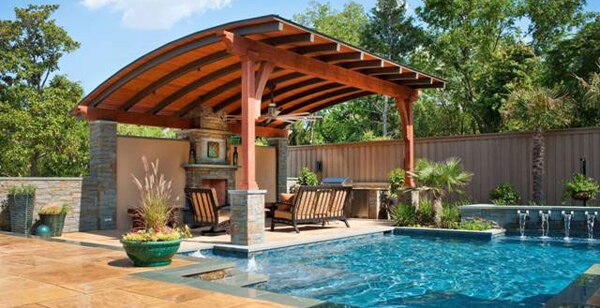 We've made it past Memorial Day and summer is upon us once again. As the days stretch on and the temperature continues to rise, I'm suddenly itching to revive my outdoor space for entertaining and relaxing with friends and family. The trend of treating your backyard or porch as just another room of the house is holding strong and every year there are more and more options available to help design the ultimate outdoor retreat.
Take a break from analyzing your living room furniture arrangement that still feels off, the gallery wall in your hall that seems a bit lopsided, and the area rug under your dining room table that's not the right size. Instead, take some time to focus on your neglected outdoor space. Your backyard or patio design should be easy, welcoming, and comfortable.
Nothing is more refreshing than having your morning coffee outside and then winding the day down by dining al fresco later in the evening. Unfortunately a well-intentioned meal on the porch can easily be made quite miserable if the sun is beating down on you and your guests. For relief from the blazing sun, installing an outdoor shade can make those sun drenched areas shaded, cool, and very livable. Sleek outdoor roller shades easily install to a roof overhang or a pergola. When not in use, the shade rolls up out of sight for a clean look and easy maintenance. When in use, exterior solar shades block UV rays and provide shade while still allowing for air flow. The durable shade material and hardware are designed for outdoor use and may remain outside year-round.
As with any interior space, outdoor décor can be used to create numerous different styles and arrangements for various needs. When decorating your outdoor space be sure to take into consideration not only how it looks, but also how you need it to function for your intended use. Similar to how you would approach an interior space, there are a few key design elements that apply to all outdoor living areas, regardless of the final style.
Comfortable Seating
You and your guests only want to spend time in an area that's comfortable so why not invest in some furniture made for outdoor living. There is every kind of chair imaginable as well as sofas, rocking chairs, and benches. Something to rest your feet on, such as an ottoman, is always a bonus.
Shade
It's hard to enjoy the great outdoors if you're being pelted with the hot summer sun. Equally irritating is being blinded by the setting sun. Exterior solar shades and outdoor drapery work wonders in blocking the sun and adding style to your deck, patio, or porch.
Plants
You are outside after all, bring some potted plants up onto the deck or add a couple succulents in a decorative bowl to a table top. Vertical gardens are also stunners and especially ideal for a smaller outside spaces.
Lighting
Outdoor lighting creates the best ambiance for summer nights. Whether you prefer colored glass lanterns, ceramic candle holders, or solar powered paper lights, having some glow around your gathering area will only enhance the space.
Below are a few design plans incorporating all four of these elements to create a variety of retreats to inspire you to Take It Outside!
Eclectic Veranda
Coolaroo® Outdoor Sun Shades: Urban Life Series / Rug / Hanging Lanterns / Sofa / Stool / Charcoal Planter / Blue Planters / Succulent Box / Sunburst
Cheerful Porch
Coolaroo® Outdoor Sun Shades: Beachside Series / Rug / Blue Lanterns / Orange Lanterns / Chairs / Accent Table / Pillows / Tray / Planter 1 / Planter 2
Sophisticated Lanai
Coolaroo® Outdoor Sun Shades: Beachside Series / Chairs / Pillow / Pillow Set / Bar Cart / Rug / Planter / Wind Chime / Lanterns
Spunky Balcony
Blindsgalore Signature Drapery Panel: Sunbrella Outdoor Curtain / Arrow Light / Portland Lantern / Solar Lanterns / Hanging Planters / Rocking Chairs / Ice Bucket / Tray / Tablecloth / Bench / Planter
Comfortably enjoy the season with family and friends in style.