Bathrooms demand attention in our homes as they cater to our unique needs of our personal habits. Besides the normal things we do in the bathroom, many of us read, get dressed, text or talk on the phone, watch TV and even sing, and, of course, we do innovative thinking or endless dreaming. We spend about 30 minutes daily in our bathrooms and the increasing trend of creating a spa-like feel in our bathrooms, allows us to design this spot to complement the entire look of our house.
I am thinking of 6 popular design styles and the materials you might want to incorporate into your bathroom, along with the type of window treatment that would enhance each particular style.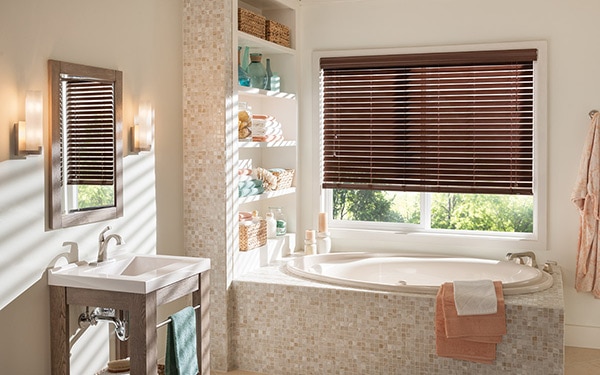 Modern
A modern bathroom is exemplified by clean, sleek lines with few cabinets or clutter or architectural detail. Polished materials, simple lighting and pleasing colors exude an open, airy space with unadorned hardware and no fussy or elaborate elements. A minimalist approach is a key word here. On your windows, rollers, woven woods, cellulars and romans are four of my go-to window treatments for a modern, bright and orderly look. Each of these styles fit precisely into or above the window frame and exude simplicity which can easily slip into a modern bathroom. Strive to select refined fabric materials and patterns to match a modernist approach.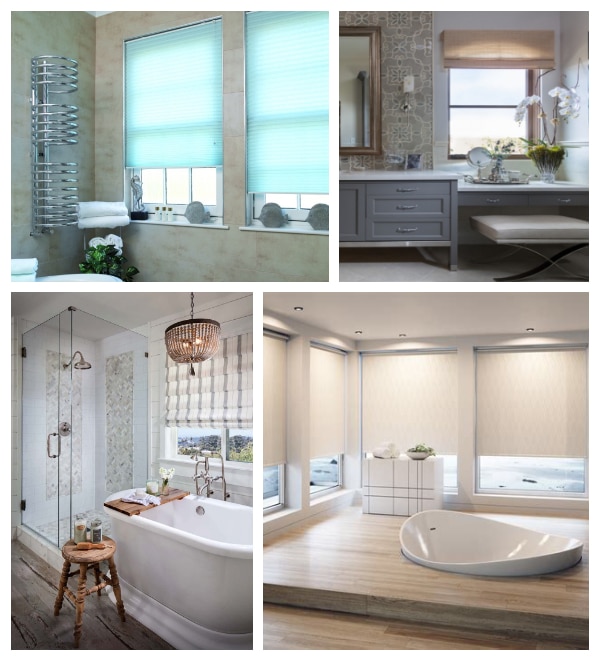 Traditional
Don't think that traditional means old-fashioned or frumpy. Classic is always what comes to mind here with details that suggest character and elements that are time-worthy, elegant, and warm with strong effects. Marble, burnished wood, sophisticated tile work and muted grays appear in a traditional bathroom. Shutters in either a dark or white wood composite is always a smart choice or even a colorful printed roman shade can give a vibrant lift to a traditional bathroom. You can be loose with this style as long as you portray this ideal, timeless traditional look. Just be subtle but powerful with the window treatments for a complete bathroom design in this flawless style.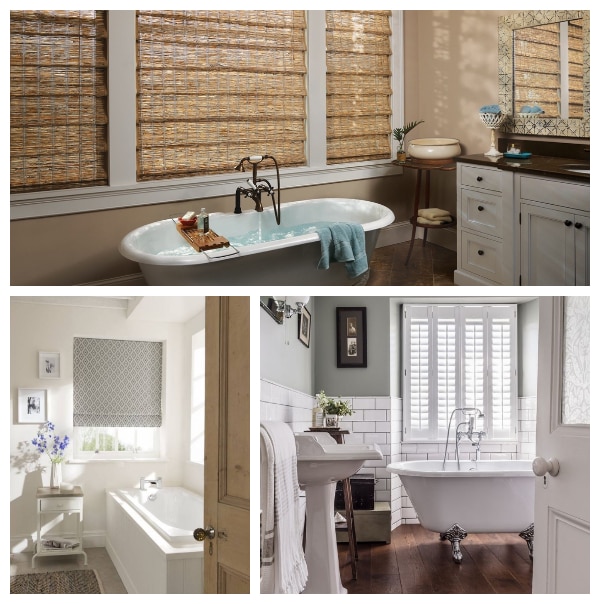 Eclectic
For you free spirits who love a mishmash of all things: a bit of bohemian, a bit of retro, a bit of vintage and a bit of whatever, your bathroom is a collage of colors, patterns, finishes and whimsical accessories to mix and match. You just like to throw in a bit of everything, from country wallpaper to a garden stool to distressed cabinets. On your windows, rollers can be printed with fun designs or a brilliant cell shade will amp up your bathroom personality in a bold style. Anything goes here as long as it showcases the gypsy in you.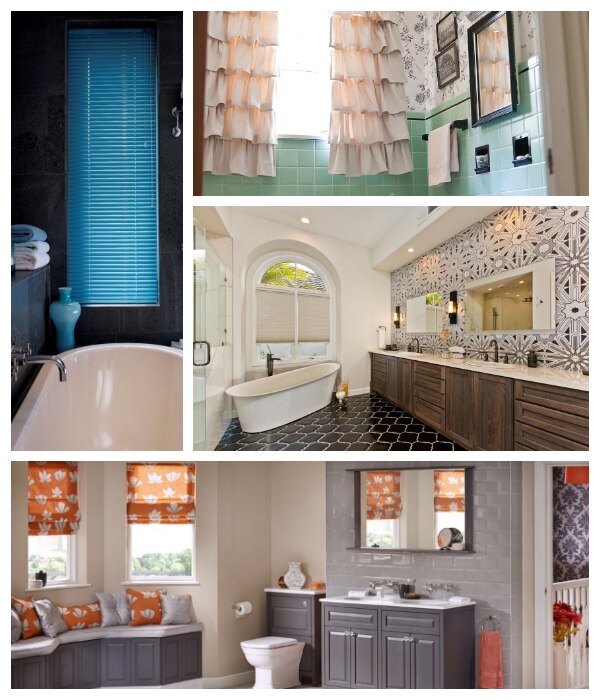 Farmhouse
Farmhouse is one of the hottest trends today and the bathroom, too, loves to show off this style that is loaded with simple materials but in a big way with reclaimed wood, oversized sinks, large framed mirrors, antique lighting, and freestanding bathtubs. Light and white with accents of wood and a feeling of" back to the barn" in a refreshing way, exemplify this design. Your best bet to carry out this theme in the bathroom is with shutters or faux wood blinds that blend in seamlessly with this relaxed but simple look. Woven woods add a delicate texture and an organic feel to this homey look. Farmhouse is our yearning for a natural life in this "over-teched" world.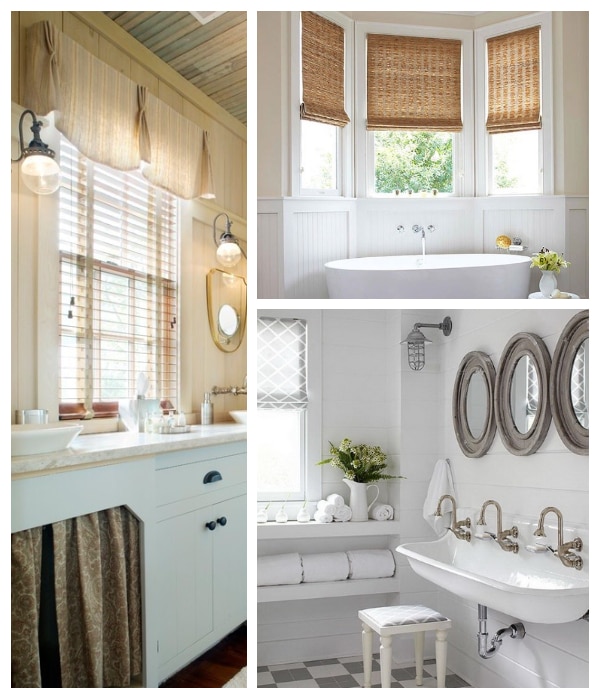 Coastal
On the other side of the country is the coast, making beachy bathrooms just as popular. The call of the soothing waves and splendid sun can be replicated to create a "blissed out" feeling. Coastal bathrooms are easy to style as accessories from the beach, from shells to sand filled jars and assorted coral may be all you need to "beachify" this space. With the addition of a blue seascape and a hooked shell rug, the ocean is in your bathroom. White shutters on your windows complete this look to frame your space or a printed roller shade will add interest to this calm palette. Woven wood blinds easily transition into the whiteness of coastal bathrooms to give a textural appeal to this harmonious and tranquil place. Your window treatments should exude this peaceful effect.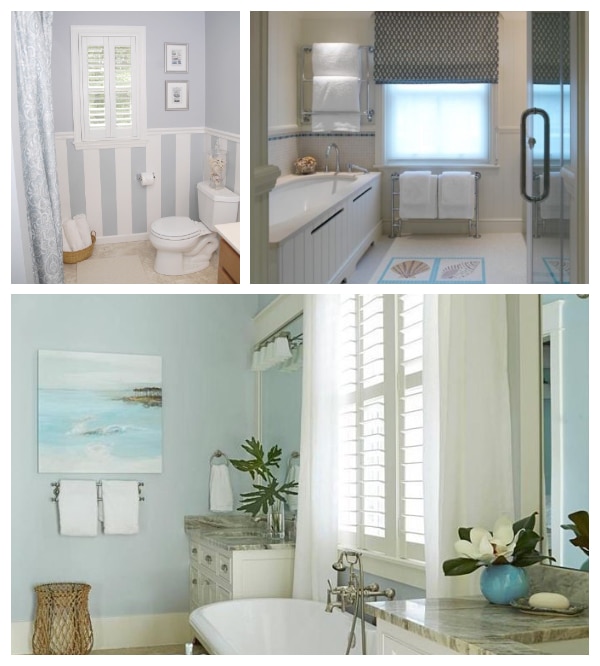 Mediterranean
If you are into deep color, intricate patterns and exuberant details, the excitement of the Mediterranean vibe wakes you up each day. Bright mosaic tiles, lush accents, arched doorways, lavish mirrors and bronzed finishes fill up your bathroom with decadence. You love to lounge in an embellished space with over the top decorative details. Dark, heavily textured woven wood blinds fit in perfectly with this elegant bathroom style. Yet, when the designs become overly ambitious, a serene, structured shutter gives relief to this highly active look. This breezy, outspoken Mediterranean personality is not shy. A boisterous bathroom is what you crave here.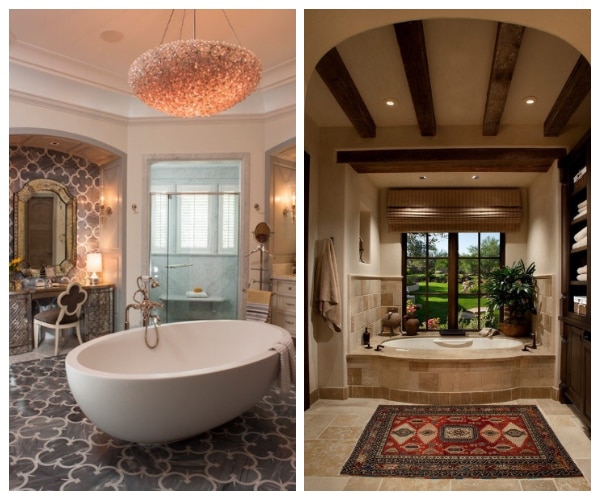 This special room is also a mirror of ourselves. After all, Cleopatra in 50 BC had such an elegant space, furnished with a marble tub where she luxuriated in milk and honey baths. Marie Antoinette, too, spent much time getting dressed in her outrageous outfits and grooming routines and Marilyn Monroe and other Hollywood glamour stars are associated with the bright light bulbs in their bathrooms. We are just as special. That time in the morning, getting ready for the day and the evening, before a special event or winding down before bedtime, illuminate our feelings.
Why not infuse our bathrooms with a colorful personality!