Your home should be the safest haven for your children. At least, in our own homes, we can be vigilant and mindful of any potential dangers lurking to harm our curious and fragile youngsters.  Even though we, as parents, have the best intentions in maintaining a safe home, numerous hidden dangers can be overlooked. In a few precious minutes our idyllic, safe home can turn into an unfortunate and harmful place. Let's be overly careful at home as our hectic lives can lead us to be remiss in securing peace and safety.
Don't forget, corded window blinds and shades pose a safety hazard in all home with small children or pets. Let us help you find a child-safe, cordless option that perfectly matches your decor.
The Home: A Statistical Danger Zone
Although it's hard to believe that your home could be dangerous, there is a wealth of statistical evidence that supports this concept. The Center for Disease Control (CDC) states that more than 9,000 children die each year from home-related accidents and injuries, with another 8.9 million being rushed to emergency rooms from these same occurrences. By examining the most dangerous areas of the home, as well as the most common causes of death and serious injury, you can eliminate the possibility of these outcomes in your home.
We care about you and your loved ones, and in an effort to help you recognize potential threats to your family's safety, we've developed a comprehensive resource that will help you safeguard your family against unknown threats. From window coverings to electrical outlet maintenance, here are 50 ways to keep your home safe and secure for you and your children.
1. Magnets
Recently, 19-month-old Annaka Chafin swallowed seven small magnetic balls from her brother's toy necklace. The magnets connected to one another in her bowels, causing a perforation, which went septic. She did not survive this preventable injury (Jayne O'Donnell, "CPSC May Ban Tiny Magnets That Killed a Child," USA Today).
Unfortunately, this is not an isolated incident. A recent study published in the Journal of Pediatrics cited over 2,700 visits to the emergency room for children who had ingested magnets. This is triple the number of these types of magnet-related incidences in the previous decade.
What You Can Do
• Remove all small magnets from your child's playroom.
• Keep any refrigerator magnets out of the reach of children. Even alphabet magnets can be pulled out of their plastic coverings and ingested.
• Use flat magnetic strip-style magnets whenever possible. These are much weaker than square or round magnets and are more difficult to ingest.
• High-powered magnets are the real danger. Keep them out of reach (and out of sight) and teach children they are only for use with an adult present.
2. Button or Coin Batteries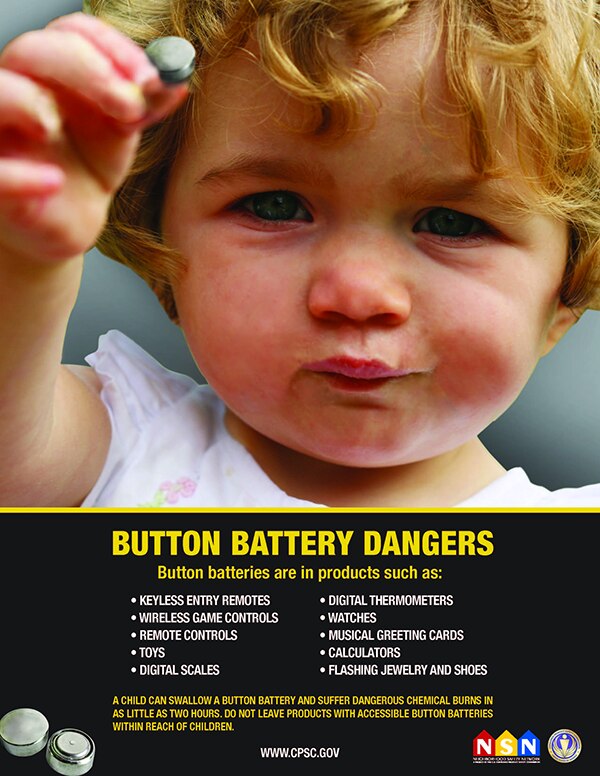 Source: US CPSC
A recent introduction into toy manufacturing is the addition of small coin-style batteries. These batteries can easily be eaten by children, which is then broken down by the acids inside their stomachs, causing deadly alkaline poisoning. Over the last decade, the number of coin-battery ingestions has increased by 900%, leading to over 2,700 emergency room visits and numerous deaths ("Injuries From Batteries Among Children <13 – 1995-2010," CDC).
What You Can Do
• Recognize electronic devices that use coin-style batteries. Keep them out of reach of children unless an adult is present. Some of the most common are:
• Singing greeting cards
• Remote controls
• Watches
• Hearing aids
• Digital scales
• Thermometers
• Calculators
• Children's toys
• Light up buttons
• Use thick tape to cover up battery areas where coin-batteries are housed.
• Invest in adult-only battery access. Purchase toys that have a coin-battery slot that is protected by screws to hold the casing in place.
• Lock loose batteries away or dispose of them properly. Most batteries can be thrown away with the normal trash.
• Don't store used batteries together. Some of them may have a small charge left, and could connect with other batteries to cause electrical fires.
3. Swimming Pool Toys
While you might be aware of the drowning danger that a swimming pool presents to your family, you might not know how dangerous pool toys themselves can be. Pool toys can be an attraction to small children, especially when left around a pool that is unsupervised. In addition, many parents use toys like "water-wings," "noodles," or "inner tubes" as water safety devices, which are not rated to save a child's life.
What You Can Do
• Put away securely any water toys immediately after pool use.
• Purchase and use a safety-rated life vest for children who don't know how to swim.
• Never allow a child to use a "noodle," or other water flotation toys unless they know how to swim.
• Erect a barrier around your pool so that small children can't get in without an adult.
• Don't let swimmers hyperventilate before holding their breath underwater. This can cause an underwater blackout that can lead to drowning.
Be vigilant when installing window treatments as cords that dangle can create a hazardous event as young toddlers and active children are attracted to cords that are not properly installed.  The Window Covering Safety Council (WCSC) highly recommends that all blinds and shades be equipped with a cordless option. A cordless window treatment is simply operated with a gentle push or pull on the bottom rail to position the shade to any height. No hanging cords clutter the window, creating the chance of mishaps. Motorized window treatments also provide extra ease of operation and ensure ultimate safety with just the press of a button or a tap from your smart phone. If the position or large size of the window prevents a cordless or motorized lift option, the WCSC also approves the use of continuous cord loops for child safe window treatments. This option features a clutch-assisted lift control with a looped cord that is securely anchored to the wall that remains the same length, regardless of the placement of the shade. Always take extra precautions to install safe window treatments in all the environments where children and blinds and shades interact. Really, cordless window treatments are the safe choice for all your windows!
What You Can Do
• Use Cord-Free Window Coverings. Install cordless window treatments or buy motorized blinds and shades. Select shutters or window coverings that are operated with a wand. Draperies are another good choice.
• Install Tension Safeguards Correctly. Never leave a cord dangling anywhere.
• Retrofit or Remove Recalled Looping Cords. You can purchase a kit to retrofit looping cords from the Window Covering Safety Council.
• Watch Crib Areas. Pull all cribs, changing tables, and chairs away from windows that have blinds.
• Maintain Dangling Cords. Free-hanging cords can be just as deadly as loops if they are a tangled mess. Make sure that your cords aren't knotting, or purchase a cord-keeper like the Safety 1st Window Blind Cord Wind Up.

Source: Dove Blinds
5. Toys
Even toys without batteries or magnets can cause serious life-threatening situations. Small children can use large toys to climb out of cribs, which can cause dangerous falls. Soft, fluffy stuffed animals can also be a suffocation hazard for infants. Children, who have access to their older siblings' toys, can choke on small balls or wheels that are not age appropriate. In addition, heavy toy-chest lids have been the cause of 21 child fatalities since 1973 ("CPSC Proposes Rules for Toy Chest Lids," CPSC).
No matter how old your children are, these statistics mean that you need to take precautions in order to ensure that the toy room is the safest room in your home.
What You Can Do
• Keep cribs on their lowest settings and remove large or overly shapeable stuffed toys. These can be shaped to fit over a young child's nose and mouth, causing suffocation.
• Purchase a toy chest that stays open no matter what position it is in.
• Check older children's toys regularly for loose wheels, small objects, and drawstrings.
• Teach older children to only play with these toys when smaller children are not present, or when an adult is supervising the play.
• Remove toys that are faulty or recalled immediately. The CDC has an extensive list of recalled products that you should check regularly.
6. Bathtubs, Toilets, and Buckets
Although most people think of a drowning in the home in relation to a swimming pool, hot tub, or water-feature (such as a pond), the most dangerous water area is one you use every day. The CPSC released a report that showed of the 684 non-pool related incidences involving children under 5, 85% took place in the bathroom. Another 10% involved buckets of water. Out of all of these drowning scenarios that took place between 2006-2010, 80% of those resulted in a fatality.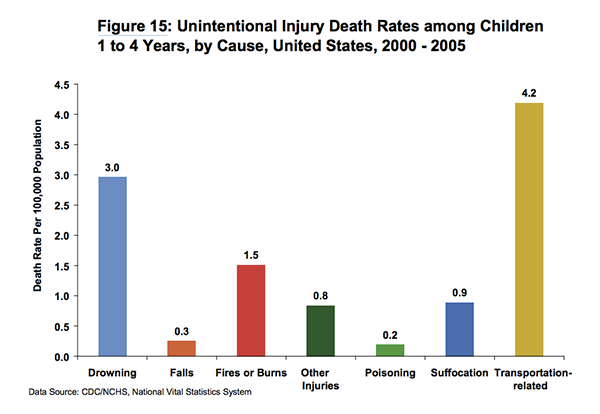 In addition to standing water dangers, water temperature can be a huge problem if not tested first. In a recent study in Injury Prevention, 80% of homes tested had unsafe water temperatures for children. Your bathroom has the potential to be one of the most dangerous places in your home, especially if you have young children.
What You Can Do
• Never leave a child under 5 years old unattended in the bathtub, for any reason. It takes mere seconds for them to drown.
• Close your bathroom doors and toilet seat covers when they're not in use. For toilet-related drowning, it is most often a case of a young child who has accidently fallen into a toilet after finding the door and toilet-seat ajar.
• Use a moderate temperature when starting a bath for a child. Test the water on your arm before placing a child into a bath or shower. If you can't feel heat or cold, the water temperature is safe.
• Eliminate standing buckets of water immediately after use. Never leave cleaning and mop water unattended if children are present in the home.
• Bath seats are not safety devices. Do not leave a child unattended in one.
7. Medicine and Cleaners
In many homes, cleaning supplies, dish detergent and even medicine is stored in easily accessible cabinets. Unfortunately, without the right kind of storage maintenance, these areas can turn into huge risk for children, potentially leading to poisoning. According to the World Health Organization, poisoning caused 45,000 worldwide deaths in children under the age of 20 in 2004 alone.
What You Can Do
• Put all detergents, bleaches, and medicines in high-reaching cabinets where children can't access them.
• Keep household chemicals in their original bottles. Ensure that labels are easy to read.
• Double-check that the child safety cap is engaged when you use a medicine.
• If you are interrupted while taking a medicine, take time to move the medicine to an out-of-reach area.
• Do not call medicine "candy."
8. Falls
Unintentional falls are the number one cause of non-fatal injuries in the United States, accounting for 3 million trips to the Emergency Room in 2002 alone. In a recent study from the Center for Injury Research and Policy at Nationwide Children's Hospital, toy-related falls made up 46% of all toy-related injuries.
But, it's not just children falling that can be dangerous. In 2011, there were 41 recorded fatalities due to heavy furniture (such as televisions, dressers, or appliances) falling on children.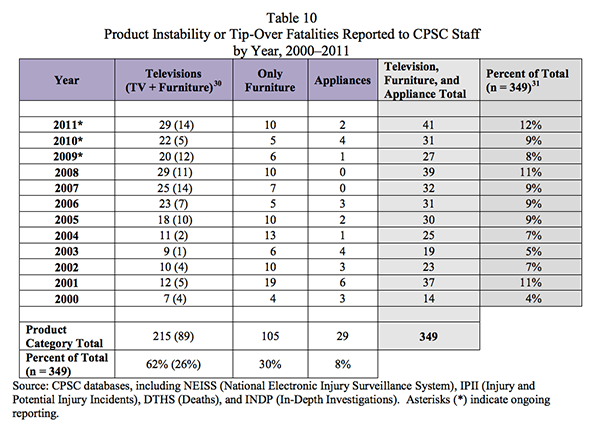 Since injuries due to falling furniture was the highest number on record, the CPC included tipover as one of the Top 5 Hidden Hazards in the Home.
What You Can Do
• Teach children not to climb on furniture. In a study published by JAMA Pediatrics, children's whose parents had rules about climbing on furniture were less likely to have a dangerous fall.
• Mount securely all televisions, dressers, and bookcases to the wall. Older, heavier televisions should be removed completely, if possible.
• Make sure children are securely fastened in high chairs, carriers, and or swings.
• Install safety gates at the top and bottom of stairwells.
• Ensure that all child-accessed windows have safety grates installed. Window screens are not strong enough to keep a child from falling.
• Clean up playrooms after use to ensure that toys don't lead to tripping.
9. Electrical Outlets and Cords
No matter how old your child is, eventually he or she will become curious about how lights turn off and on. According to ChildOutletSafety.org, over 24,000 children under the age of 10 have been treated at the Emergency Room for injury related to outlet and cord misuse. Although almost 90% of these children are under the age of 6, the highest-risk demographic is boys between the ages of 2 and 3 (50% of all incidences).
Electricity is essential to our homes, but outlets can be a danger zone.  Ensure that your children do not have access to any electrical cords or outlets that could result in an emergency room situation.
What You Can Do
• Disconnect electric appliances when they're not in use.
• Never use an electric appliance near water such as a bathtub, sink, or pool.
• Use well-fitting safety caps to ensure that children can't put objects into electrical outlets.
• Check cords for frayed wires or other signs of faulty engineering. Remove and discard immediately.
• Invest in power cord locks, like the one from Family Safe Media. These locks cut off power to electrical devices, making it impossible to turn on dangerous appliances.
10. Guns, Knives, and Pencils
Unfortunately, weapon-related incidences make up a significant portion of in-home injuries and deaths. In a 2013 report from the CDC, over 2% of all child deaths were caused by firearms, accounting for 27 fatalities. Still, many parents don't explain the danger that guns and other weapons pose to them. In the 2012 C.S. Mott Children's Hospital National Poll on Children's Health, researchers found that less than half of parents who own guns have ever talked with their children about gun safety.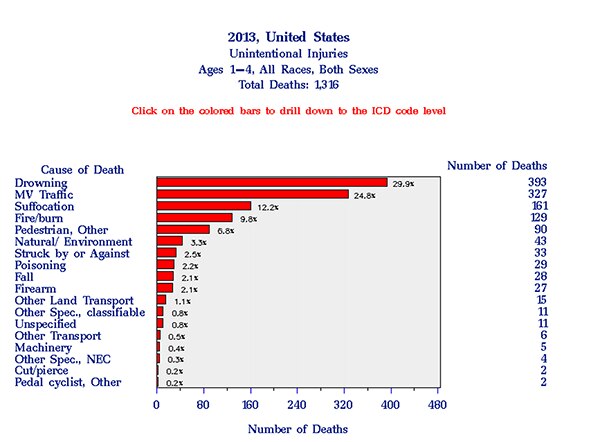 Sharp objects can also be used as unintentional weapons by children who are too young to understand this potential danger or are not being supervised by an older adult. Not only can knives and needles result in injury, but a recent study published by MEDLINE highlights 14 instances where a pen or pencil resulted in an Emergency Room visit or fatality.
What You Can Do
• Talk to your children about gun and weapon safety. Explain proper ways of handling weapons like guns and knives and only allow them to do so under your direct supervision.
• Make access to guns impossible. Keep your guns and other weapons (swords, knives, etc.) locked in a safe where only you know the code.
• Keep sharp objects out of reach of young children. Remove cutting implements, sharpened pencils, pens and other pointed objects to high locations where children can't climb.
• Install locks on drawers where knives, forks, or other sharp objects are kept.
• Consider unlikely sharp objects. Razors, tweezers, scissors, sewing needles, knitting needles, and even high-heeled shoes can be used as accidental weapons in a toddler's hands.
With common sense and by constantly checking these 50 ways to maintain a safe home, you can be assured that your children and loved ones are secure to play, explore and discover the world as it unfolds in the peaceful home that you have created. Be aware of these sudden and hidden problems that could become a preventable accident.
Cherish a safe and happy home and take a look at finding a cordless, child-safe window treatment for every room in the house!