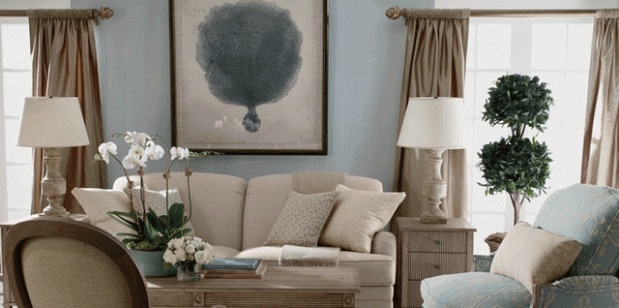 Gone are the days when the living room was off limits and all of the furniture was covered in plastic. Not that anyone wanted to go in there anyway and sit on cold, crunchy couch coverings! Thankfully, how we use our homes has evolved and now living rooms are meant to be lived in. In today's go-go-go environment with screens everywhere and a world of information at our finger tips, it is tempting to be constantly running, fixing, planning, making and checking in when sometimes all we really need is to check out. Having a place to just be is of the utmost importance these days. There is no other perfect place to do this than in your very own living room. There are many considerations when decorating this special room and living room window treatment ideas are among the most important.
As the least utilitarian of all our rooms, the living room deserves a little extra decorating effort. If the room is stunning and comfortable, it will be used and cherished instead of ignored. Style and comfort may both be found in selecting the right furnishings and decorative details. An important component to any room is window treatments, but choosing them for the living room will depend greatly on how you and your family use the space. Consider if your room demands a slightly more formal look for when you entertain and host dinner parties or if a casual look will fit your life of casual reading or playing board games with the family. Whether you need to dress cold and drafty windows or just update old treatments, the right living room window treatment ideas will bring the living room to life and, in turn, bring you to your living room.
Roman Shades
Roman shades will instantly add a soft elegance to your windows.  These run from formal silk to casual cotton to fit your decor style and you family lifestyle.  Of, course if there's children or pets around its always best to go with the cordless lift option so you can relax because your family is safe.  Romans are always fantastic, but remember to consider the back side of the shade if your living room windows are facing the street.
Shutters
Shutters are ageless and are as fitting for a grand estate home as they are for a bungalow beach cottage.  A built in feature, they lend a sense of reassuring permanence in our ever changing lives and homes. Stately and simple, shutters look as lovely from the inside as they do from the outside making them one of the most popular living room window treatment ideas.
Cellular Shades
For a crisp, clean look, cellular shades are a superb choice for living room window treatments. Not only are they insulation super stars, but the color assortment available is enormous. Perfect for a room used for relaxing, their horizontal pleats are calming to the eye and when closed they softly filter any incoming light to lend a warm glow.
Drapery
The blend of style and function make drapery a win-win. With almost any color and pattern combination thinkable, drapery adds layers of texture not only to your windows but to the surrounding walls as well. Ideally paired with another treatment, such as wood blinds or Roman or cellular shades, drapery works as a temperature barrier keeping your warmth from seeping out of the windows. One of the most common living room window treatment ideas used by designers as a dazzling final touch, drapery is a fast and stunning approach to dressing your windows.
The living room is an ideal place to cozy up and look over all the holiday catalogs, take in a few chapters of your latest book, or get lost in conversation with family and friends. It's where we entertain, where we spend the holidays, where we relax. Don't let this space go to waste, get back to living in your living room! Bring it to life and give it a new look with new living room window treatments. This should be easy, now that you are now armed with the best living room window treatment ideas.
For more inspiration regarding window treatments, be sure to read "The Ultimate Guide to Window Treatment Ideas".