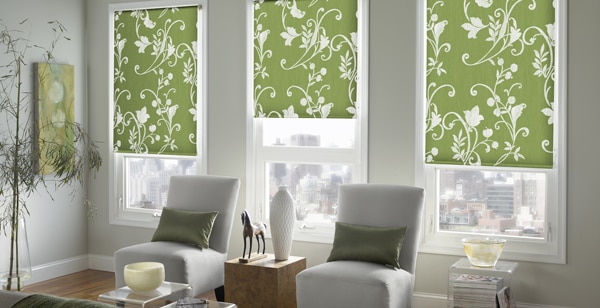 Sometimes it's fun to watch something you normally wouldn't watch on TV like reality shows. I was flipping through channels the other day and decided to watch The Real Housewives of New Jersey. Talk about drama! I started to think about what it would be like to decorate one of their homes. Surely they would want drama even in their window treatments. Why should window blinds be boring?
If I were working on their homes, I would probably recommend a bold pattern along with functionality for the climate. These cellular shades incorporate a contemporary pattern in the fabric to bring distinctive style to your windows. In New Jersey, cellular shades are a great choice because they offer insulation value to keep your rooms warmer in the winter and cooler in the summer. Plus with top down/bottom up, you can still let in the amount of light you like. You don't have to choose between up or down; you can lower or raise your shade to any spot in the window.
Some of the most elegant window shades available, and a favorite among interior designers in New Jersey, are sheer horizontal shades or blinds. I think Kathy would want these in her house. These shades really combine the functionality of a blind with the softness and view through of sheer curtains. The secret is the soft fabric vanes sandwiched between two layers of sheer fabric. When the shade is lowered, the vanes can be tilted to control the amount of light entering the room while still maintaining the view. They are so beautiful, they can stand alone without drapery, and are even available with a room darkening fabric for bedrooms.
To add drama to any room, wood blinds cannot be overlooked. Available in designer stains and finishes, darker tones bring warmth and focus to a room. We like them in the study, den, family room and in bedrooms. You can coordinate them with the other wood finishes in your home, or choose a color in sharp contrast as seen here. The dark wood tone really pops with the surrounding white window trim. We love this look!