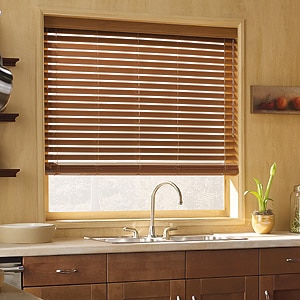 To help you, the customer, this blog post will answer the most common questions we get about faux wood blinds.  For this, I turned to one of our experienced customer service representatives. Here's are the questions and answers:
Q: What is faux wood made out of?
A: There are actually two available types of faux woods, PVC/vinyl and composite wood.  The first is pretty simple. Vinyl faux wood blinds have slats made from solid vinyl.  Composite wood blinds generally have a wood core with a polymer coating.  This provides a more upscale, realistic "wood look."  Between the two, vinyl is cheaper.  Both offer the same durability.
Q: Is faux wood PVC?
A: Covered in the first question. Yes, one type of faux woods are made from PVC/vinyl.
Q: Is this a blackout blind?
A: NO. This is the source of many customer complaints. It is critical to understand that window blinds are not a good choice for room darkening or blackout – just too many light gaps and holes to effectively darken a room.
Q: What is routeless?
A: Notches at the back of each slat take the place of routing holes, allowing for increased privacy and light control, a sleeker look and tighter slat closure.
Q: What are cloth tapes?
A: Cloth tapes are an additional decorating option, and can be matched or contrasted to your blinds.  By covering the route holes and the cords that extend down the length of the blind, cloth tapes improve privacy and light control, making them both functional and stylish.
Q: What is a valance?
A: Valances are the decorative piece used as a finishing touch to hide the headrail of a window treatment.  The valance material typically matches the material of the product unless otherwise stated.  Depending on the product, you may be able to choose the valance style, color, or size.
Q: Why does my blind stick out from the window?
A: Because the headrail of your blind is too big for the depth of your window.  The remedy: before you purchase a blind, make sure the depth of your window casing is sufficient for the headrail of the blind. This information is provided for every window treatment, under the "specifications" tab, minimum inside-mount depth.  It only takes moment to avoid this problem.