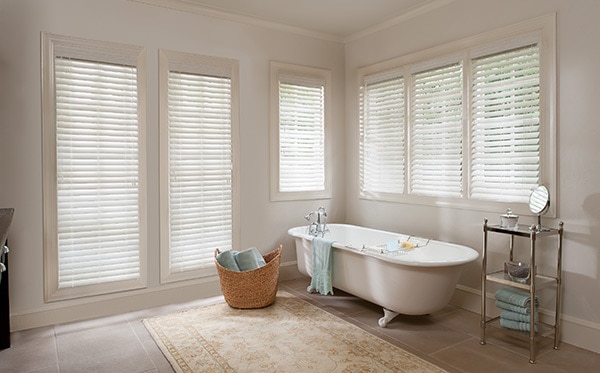 Bathrooms should never be neglected, so don't overlook this important space which demands its own signature style that is decorative, but functional. Window treatments for bathrooms need to meet three requirements: privacy, durability, and light control. I have lived in many places where my bathroom did not even have a window and I can tell you nowadays, I love the natural light, air, and openness that a window provides. Embrace these distinctive windows with these 7 specialty bathroom window treatment ideas.
Roman Shades
Roman shades give you everything you want from bathroom window treatments since they are functional, practical, and make a beautiful statement. These shades allow you to control natural light, add softness to the hard surfaces of a bathroom and help absorb sound. In my opinion, they are the "little black dress" of window treatments because they look perfect with almost any design aesthetic. Color and pattern options are endless, so choose a style and fabric with similar tones already in the room. Don't forget this most important rule when choosing fabrics for a high moisture and heavy traffic area like the bathroom: select a fabric that is resistant to mildew and can be easily spot cleaned. You need a window treatment to be a warrior in this abusive space.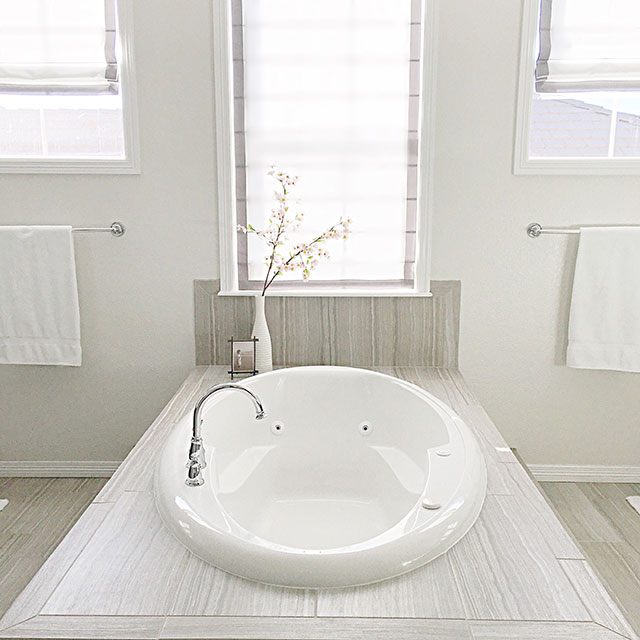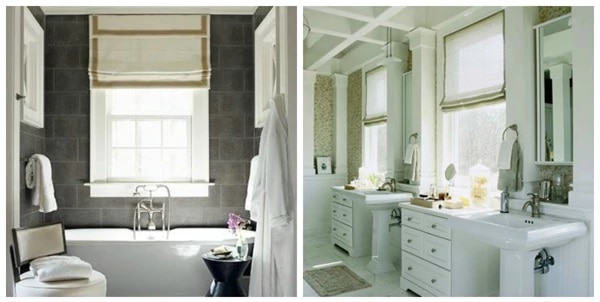 From modern to casual, traditional to contemporary, roman shades look at home in any home, so scroll through Blindsgalore's selection of roman shades.
Faux Wood
Faux wood blinds are one of the top bathroom window treatments because they are so versatile, giving you the elegance of real wood blinds while resisting the high moisture areas of bathrooms as faux wood window treatments will not warp, crack or mildew.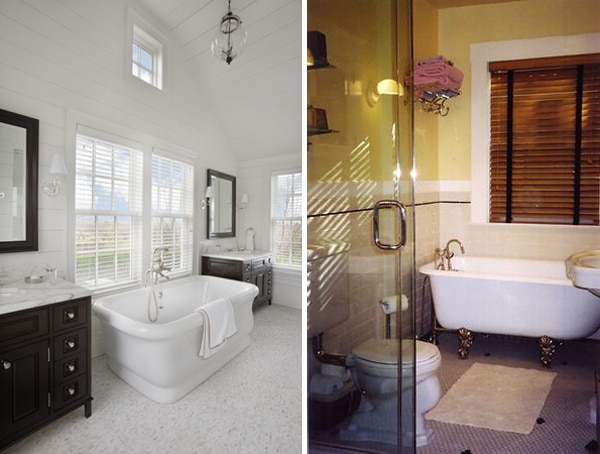 Faux wood blinds won't hassle you when it's time to clean and the classic, traditional look complements the pristine quality of this space.  If you are still yearning for a pop of color, try adding decorative cloth tapes to match your bathroom's mood.
Find Blindsgalore's selection of faux woods here.
Woven Woods
If your home has a casual or contemporary feeling, the natural look of woven wood shades will enhance your space by adding another layer of textural and visual interest. These shades let light softly diffuse in, but still give you a feeling of privacy. Woven woods are also available in a top down bottom up feature, giving you the ability to perfect the amount of light and privacy you want. For extra privacy, consider adding a blackout liner.
Woven woods are a "natural" for bathrooms.
Café Curtains
These quaint window treatments for bathrooms are a simple way to have both privacy and natural light. With café curtains, your view remains intact, but you do gain modest privacy. Café curtains are usually made with lightweight fabrics, so remember with these types of fabrics, the view into your bathroom will be blurred, but silhouettes will still be seen. Use café curtains on a second story or if your window is facing away from the street or your neighbor's prying eyes. Otherwise, think of sticking to roman shades or use a heavier drapery fabric for this mellow, breezy style.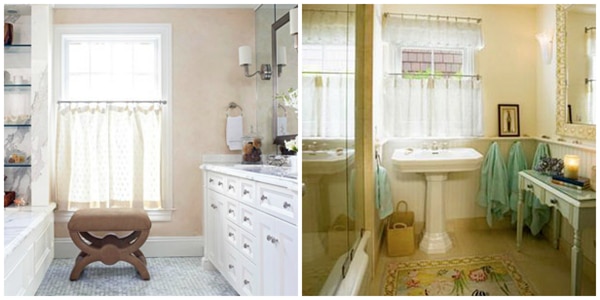 See Blindsgalore's selection of custom drapery.
Vinyl Shutters
Shutters are the ultimate in a traditional and clean look. They have a rustic feel and since they are vinyl, they won't warp or crack like wood.  Maybe I've seen too many images of big, beautiful Southern mansions, but shutters look opulent and always give the room a finished look. And why can't my bathroom look chic and well dressed too? If you'd like more natural light to seep through, use shutters, like café curtains, and install them solely on the lower portion of your window.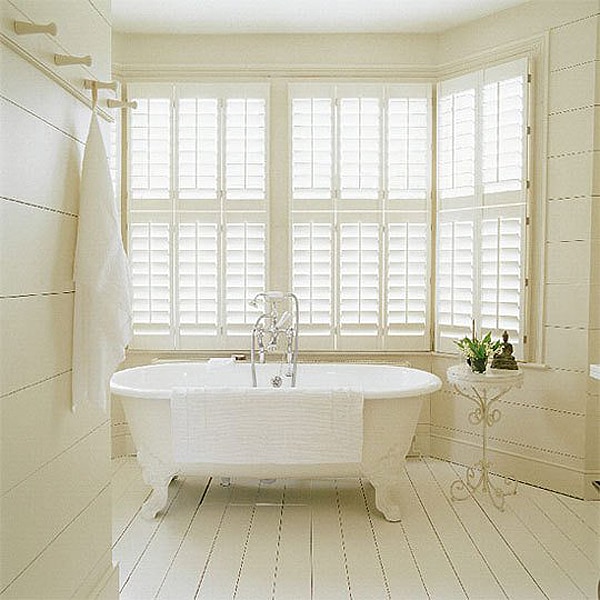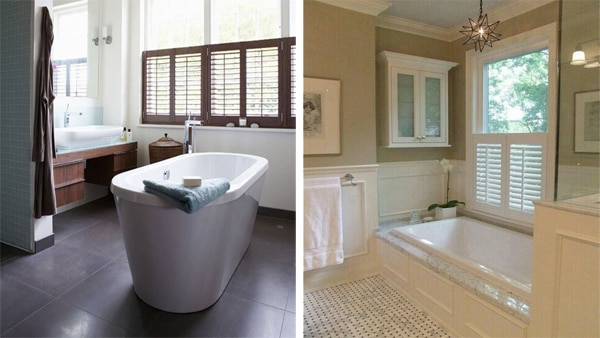 Have your cake and eat it too with natural light flowing through and knowing that shutters provide the supreme privacy that sheer fabrics lack.
See Blindsgalore's selection of vinyl shutters
Valances
Valances are a fun way to brighten up any space and are virtually available in any color and pattern, plus numerous styles. You are sure to find the perfect one that fits your bathrooms aesthetics. I love valances because they are a nice way to introduce color and style when you're not worried about privacy. If privacy is not a concern for you, opt for a pretty draped valance above a bathroom window. You will love how it adds softness to the room.
Shop Blindsgalore's selection of valances and cornices.
Mix and Match
Can't decide what type of window treatments for bathrooms to choose? No problem! Mix and match different bathroom window treatment styles to achieve a unique look. Try shutters with a pretty valance or drapery over faux wood blinds to soften up the space and add color.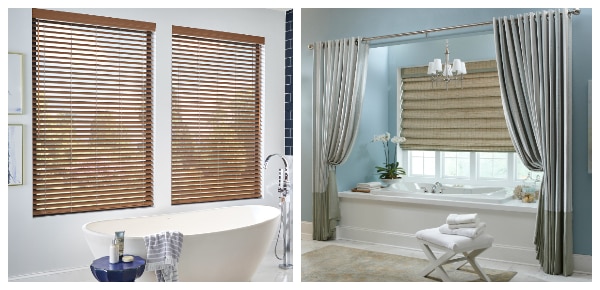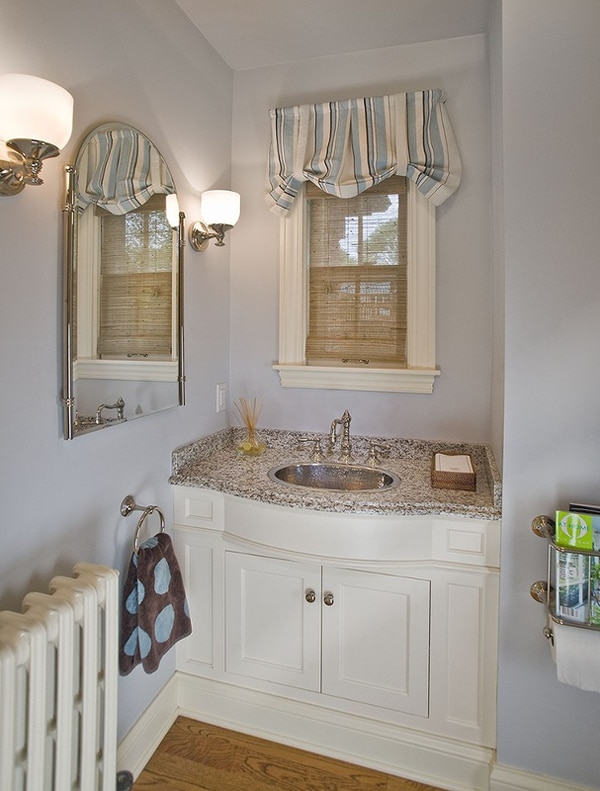 Small windows need love too!  This neutral woven wood is given a new attitude with the striped valance addition.
Bathrooms long to be noticed. Make over your bathroom now, whether it's a small powder room, guest bath, or the master bath suite of your dreams. Dress up those windows with these 7 specialty bathroom window treatment ideas. Banish the boring bathroom.