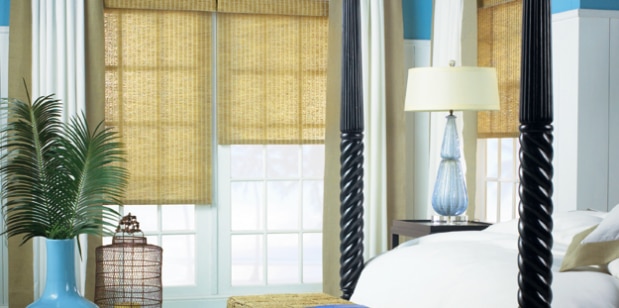 What kind of window treatments should I buy?
The best window treatments for you depends on your individual needs and wants. To keep it simple, we recommend thinking about any special features you may need first. If there is a must-have feature, like a blackout window treatment (for near-total darkness), select that feature from the main navigation bar on our home page and we'll display only the products with that feature as a starting place. If your needs are simpler and include only basic light control and privacy, select a room from our Rooms section and start from there. If you are unsure, start with the broadest set of products by selecting Family Room. From here, take advantage of our robust refinement features – work your way from top to bottom, select the options you would consider and clicking 'refine'. By doing this, you will narrow down the number of items down until you have a handful of really good, can't-go-wrong choices. Remember, you can also call us for help at (877) 702-5463.
Can I really install these myself?
Yes! If you can use a tape measure and a screwdriver, you can install window treatments. We offer detailed instructions on our web site, as well as videos to guide you through measurement and installation.
Why buy custom blinds instead of from the big-box stores?
Higher quality: Box store window treatments are often inferior quality to US made, high quality products from established brands. Well-made window treatments should last for many years.
Better fit: Box store window treatments are available in limited sizes. If you are working your way through your home, you may only be able to find window treatments for some windows, or worse, end up with ill-fitting window treatments. Custom window treatments fit properly in every window.
Consistent Availability: Box store window treatments are often sourced from overseas manufacturers that change over time. As a result, it may be impossible in the future to match the style of window treatments purchased today. Established, quality US manufacturers making custom products have a very stable product offering.
Safety: Box store window treatments may not adhere to U.S. safety standards. Every year there are numerous safety recalls for low quality blinds sold through big box stores. These products are involved in injuries, and even deaths from strangulation on cords.
Note: Window treatments with cords pose a risk in households where children or pets may be present, regardless of quality. Blindsgalore strongly recommends window treatments that do not have looped cords or are entirely cordless. Please see our safety page for details or call us at (877) 702-5463.
Why buy from Blindsgalore?
Blindsgalore.com has been in business for over 11 years; we do nothing but help customers with their window treatment needs, and we do it well.
– Our prices are among the very lowest, and we have moved to everyday low pricing, in contrast to constantly changing sales. As a result, our customers don't need to monitor their email for a sale or wonder if they're missing a better deal. We offer great prices without the second guessing and cut-rate service.
– Our web site is the result of continuous refinement, designed to make your shopping experience safe and easy. We want you to find window treatments that you will love for many years.
– Our customer service team are friendly, accessible, and most importantly, experts in window treatments.