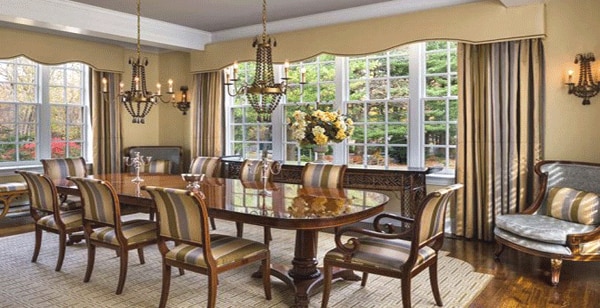 A window treatment cornice is essentially a horizontal box molding that is either a hard treatment made of carved wood or a soft treatment that is made of fabric. Cornices are a decorative addition to conceal window hardware and have been modernized for today's style for a fresher flair if the more formal types of cornices do not complement your particular decor. Cornices do not have to be elaborate as each uniquely shaped cornice has its own personality that adds aesthetic interest in any room and they have a lengthy history to prove it.  Long before the days of wrapping fabric around these boxes, cornices got their start as exterior architectural detailing.  In Ancient Greece, intricate cornice designs were used on many historic buildings as early as the Fifth Century B.C.  Not only were cornices used to support massive roofs, think Parthenon, but they were also used to throw rainwater off the sides of smaller buildings.  Through the ages, the cornice's decorative qualities made their way into the interiors of homes throughout Europe and America and adapted as elaborate molding or as window treatments.
Using cornices as window treatments began to gain popularity during the early part of the 18th century as a way to decoratively conceal the workings of shades and drapery.  Carved wood and ornate cornices became more widely popular during Georgian architecture thanks to furniture designers, Thomas Chippendale and Thomas Sheraton, and continued in various styles up until World War I, when people began to pare down their window treatments due to shortages of materials and cost.
During the mid 20th century, Mid-Century Modern and Minimalist design, with an attitude of "less is more," pulled away from anything ornate in favor of simplicity and streamlined shapes and lines.  In today's time, cornices have found their life again.  They look great coordinating with layered window treatments, paired with full drapery, or in bright colors and patterns.
Cornices are an amazing addition to your home's interior. Their functionality and beauty are what has kept them alive for hundreds of years.  Use cornices within your home to hide drapery hardware, enhance the height of your windows, hide any design flaws, add architectural interest, or to provide a splash of color.
Window cornices are used in 3 different styles: wood, upholstered, and lambrequin.
Wood cornices can be stained or painted to complement the other wood and colors within the room.  They may also have decorative and intricate carvings and can even be used as a shelf to display items.  Wood cornices give a formal, traditional feeling to the room.
Upholstered cornices are wooden cornices that are padded and covered with fabric.  This fabric can match the existing window treatments or you can add a complementary color or pattern.  These are a modern take on cornices and add softness to the room.  Plus, they are an easy DIY project and can be re-wrapped anytime you feel a room needs new life.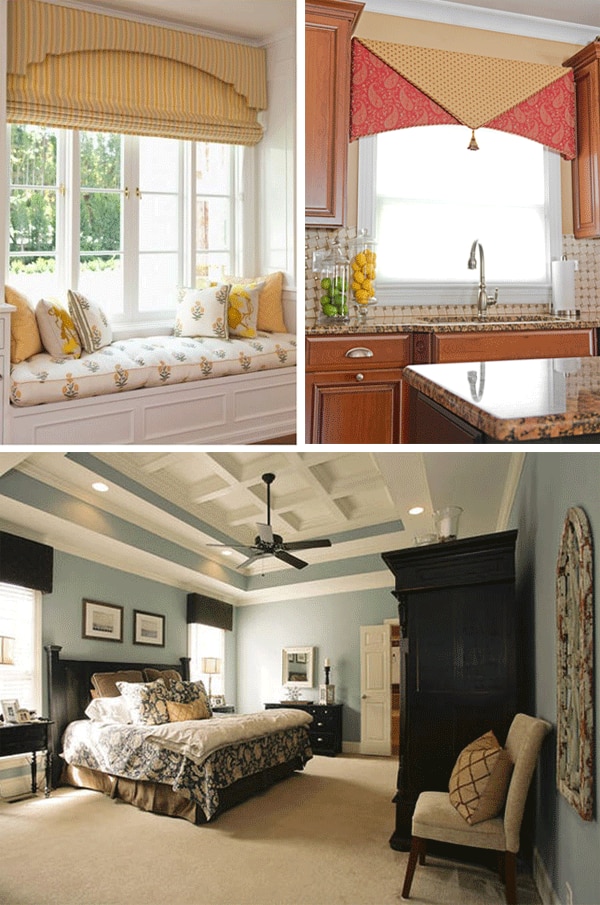 Lambrequins are cornices that extend down the sides of the window either partway or to the floor.  These were first used to decorate ornate poster beds in medieval times, but found a home centuries later, adorning windows by creating energy efficiency by blocking the exchange of air between the windows.
From ornate and traditional to sleek and modern, cornices complement any style. Try adding a cornice to your windows and see the difference.
For more design ideas explore "The Ultimate Guide to Window Treatments" for answers and advice.