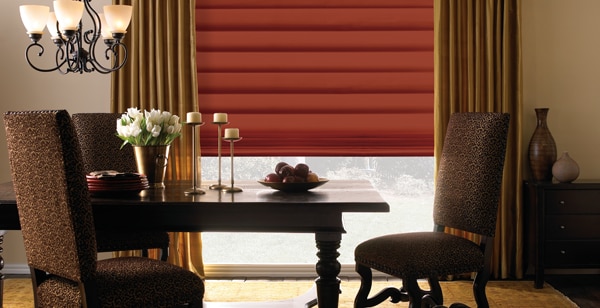 For the classic window covering look, nothing compares to custom fabric drapes and curtains. The simplicity of hanging drapery adds elegance and sophistication to your dining room, living room, or bedroom. Drapes hang from above the window down to the floor, hanging on either a rod or with pins and a pin knuckle for easy sliding. And because custom drapes are long and made of fabric, you can get them in just about any color you can imagine. Not only do they give your rooms a classy look, they can also be matched to your decor easily and precisely.
Pleats or No Pleats?
Pleated drapes are designed to create a consistent pleated look starting at the top where the gathers form. The drapes then hang in lines, giving a long, tall look to any room. With pins and a pin knuckle, you'll find that pleated drapes look perfect all the time. The shape and frequency of the pleats will be consistent, no matter whether the drapes are open or closed.
Drapes that don't have pleats will have a flat and straight look with wider folds when the drapes are pulled closed. Flat drapes are usually hung on a bar, either with large grommet holes or with simple fabric loops. Un-pleated custom drapes look great in dark colors, such as you might want in your bedroom or entertainment den.
Colors, Stripes and Solids
Custom drapes come in a wide assortment of colors, including stripes, solids, and even textures like linen and a crushed look that is very modern and stylish. A slight woven look or a very flat look are also possible. This means that you can match your colors as well as an appropriate texture to your rooms.
Pairs or Singles?
You can also get long, custom curtains in a pair, so that the two curtains move to opposite sides of your windows or doors, or you can get a single curtain that is always held to one side or the other. Either look will still give you the elegance of custom drapery.
Lining Options
Some drapes are enough on their own to block the light. But if you want something lightweight with a liner, you also have the option of pleated or not pleated liners, which will aid in darkening the room and keeping the ambient temperature even.