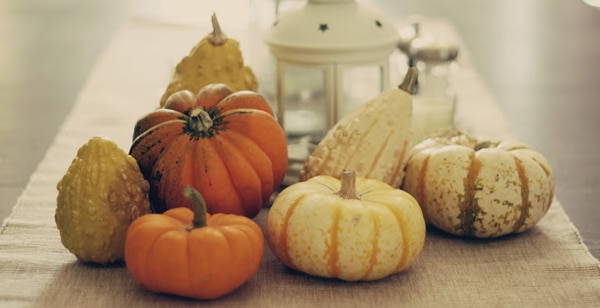 This time of year I get a one-two punch by being able to use natural, earth-grown items in my home décor that I can already buy at the grocery store or pumpkin patch. Without question, pumpkins get preferential treatment over other comestibles, but there are just so many ways to make a pumpkin the star (there's more than one way to carve a pumpkin). Here's what I'm thinking about this fall for my edible home décor.
1. Not Your Same Old Wreath
Did you know the wreath goes back to the Persian Empire? They were also used to crown victors in the Olympic Games, and those victors would then hang the wreaths for all to see. The use of evergreens, straws and other foliage used in wreath-making also stood for the symbol of life and its continuance from fall into the winter months. I love this take on the traditional wreath which gives it a distinctly autumn touch. For me, it symbolizes the harvest and reminds me of the all my favorite fall produce to be enjoyed. Apples, pomegranates, brussels sprouts, cranberries, figs, artichokes and of course pumpkins, here I come!
2. Pumpkin Luminarias
Some may say these pumpkins have a lacey effect, but immediately I think of the paper snowflake or starry designed candle bag holders that you often find lining long walkways in New Mexico, called luminarias. Traditionally, you won't be seeing real paper luminarias on the scene until mid-December, but I love that with these pumpkin versions, you can have the delicate light-streaming effect starting in the fall. Now I've just got to find a pumpkin-luminaria-whittler. Anyone? I'll provide the canvas (pumpkin), you provide the artistry.
I am always in awe of the new ideas out every fall for carved pumpkin ideas, as the designs get smarter and the detail gets more intricate—it is an art all its own. But these give Jack o' lantern a whole new meaning with an easy approach but such a chic outcome. Did you know "jack o' lantern" came from an Irish folktale about a man named Stingy Jack? The story is a long one, but in toto, he had a scuffle with the dark side and legend has it that he wanders around with his soul tucked inside of a lantern. Back in Ireland, potatoes and turnips were the first jack o' lanterns, and when the tradition was brought to the US, our native pumpkins started getting used instead.
A Coastal Touch
Well, I'll admit, I'm always a sucker for a coastal theme.
3. Chic Painted Pumpkins
And you thought chevron was only good on your sofa pillows.
Not only do I love the detail on the painted pumpkin, but also it's brought together by the entire still life going on here with the chair, stack of books, extra pumpkin, and window sill additions. Some might think these types of ensembles just get thrown together, but believe me, this is deliberate and it's all about mis-en-place. The only thing this still life is missing is a window shade. For this smart and understatedly grey setting against the marigold wall, I'm thinking a Bali Woven Wood in painted white.
4. Statement-Making Whites
White can get a bad rap for being too neutral, but I'm in the camp that it can be a serious statement-maker when done right. It really packs a punch here lining this stairwell. And besides, white is rarely just white anyway. Endless shades of off-white exist. I can't decide what I'd technically call these pumpkins—white, ivory, birch? Or check out our branded white diamond, pearl and whipped cream colors of our Blindsgalore Double Cellular Shade to see what you think.
5. Metallics Galore
Never underestimate the power of metallic spray paint. Enough said.