As a designer, I love one simple idea that makes a big impact and French Doors are at the top of that list. A French Door is a door made up of rectangular glass panels that extend to the full length of the door. French Doors can truly elevate your space by providing exquisite illumination and a sense of proportion and architectural interest. Each glass window panel is held together by mullions, which create the frames that give French Doors their unique form.  French Doors can complement all styles from country cottage to sleek modern. They help maximize daylight in your home and allow for more accessibility than a sliding door.  Think about it.  A 6' sliding door only really allows you 3' of walkway when opened whereas a French Door can be opened all the way, allowing for the full 6' of passable space.

French Doors originated in France as windows that allowed access to balconies and became integrated as doors for their superior openness to daylight.  Overtime, their beauty and functionality have led them to evolve for uses such as patio doors, front doors, and interior doors.  People become intimidated with choosing window treatments for French Doors because they are afraid the window covering will compete with the functionality of the door.  Will the door handle get in the way?  Where does the cord hang?  Will the window covering move when I open the door?  These simple solutions will make your French Doors look polished.

Make sure the blind or shade you use is shallow enough to fit behind the door handle.  Go cordless or use cord cleats to securely keep your cords tucked away and out of reach of children and pets.  Finally, install hold down brackets at the bottom of the door to keep your blinds from swinging every time the door is opened.  You can bypass these concerns by going the traditional route and choosing drapery, but there is more to styling a French Door than hanging a long curtain and calling it a night. Here are some fresh ideas for French Doors.
Modern Drape
Use one Roman shade instead of a large drapery panel to add a modern feel to the room.  You can still control light and privacy by raising and lowering the shade.  Plus, I love how Roman shades provide a casual ambiance, while still looking tailored.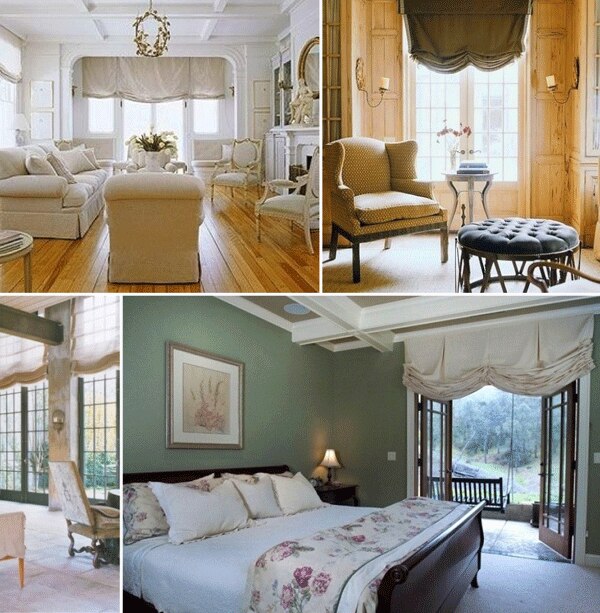 Individual Shades
Choose shades that fit individually over each door to keep your room looking neat and chic, whether it be roman, roller, or solar shades. For ultimate light control and tidiness, try a cordless top down bottom up shade.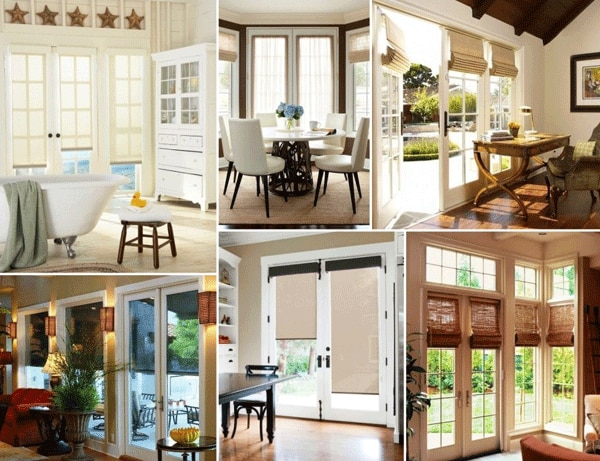 Layer It On
Sometimes combing two ideas creates one amazing result.  Consider layering your French Door window treatments with full length blackout drapes over individual light filtering shades.  Layering always adds visual interest and this technique allows for maximum light flow during the day with added privacy at night.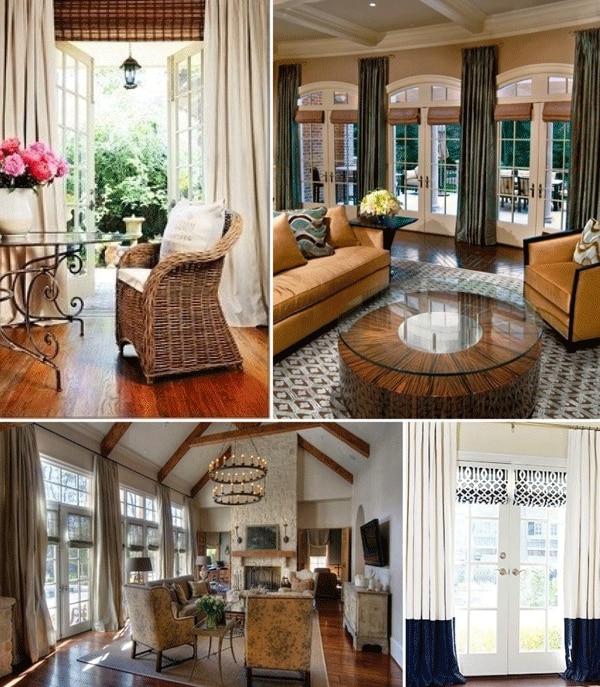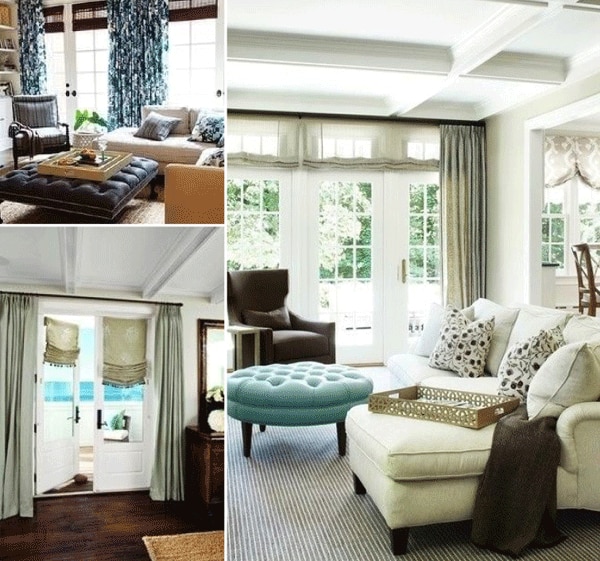 Playful Details
You can add extra interest and wow to your French Doors with playful details.  Showcase the architectural details of the room by hanging drapery from wood cornices that matches the crown molding.  Try choosing Roman shades with pretty ties and bows or piping along the border. When lowered, the border creates a fun window-within-a-window detail.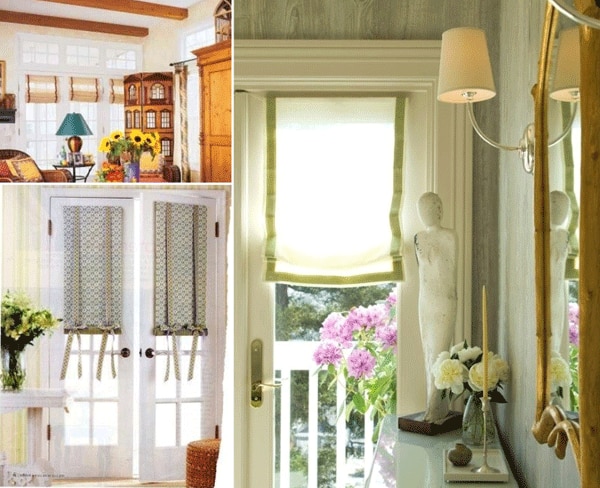 A French Door is a wonderful and stylish addition to your home.  Like windows, these doors don't want to be bare all day and night.  Don't let their hardware and functionality intimidate you from dressing them up in stylish shades and drapery. My easy solutions and design techniques will keep your French Doors looking fresh.