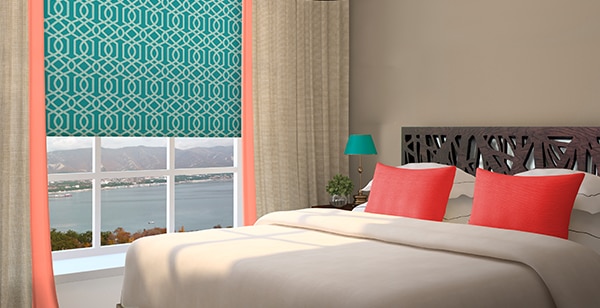 I come from a very artistic family so the seed to my color obsession was planted at a very early age. My childhood home was complete with a makeshift art studio that closely resembled a ransacked craft store. There were hundreds of tiny tubes of paint, an easel, a drafting table, blank and half painted canvases and paintbrushes everywhere! The site of my parents "creating" something was my "normal." Looking back, I know that a beautiful love affair began in my unwavering fascination with Punky Brewster, Rainbow Bright and Fruit Stripe Gum. I so hope that you remember that beautifully striped chewing gum.
When I see a wall dressed with hundreds of color swatches, it does something to me physically!
Most women have a shoe fetish, for me its color, and shoes and COLORFUL shoes of course.
With over a decade of design "practice" under my belt, I have learned that most people really do love a cheerful dose of color and pattern. It's the commitment to color and fear of making the wrong decision that paralyzes them. The emotional transformation that often occurs when my clients finally start to introduce color in to their lives is quite remarkable. The use of color has always generated a joyful emotion for me and over the years I have witnessed the same to be true for my clients. There is a DIY misconception that painting all your walls one of the crazy colors from that "wall of paint swatches" I mentioned earlier is how to create a colorful space but that is actually the largest visual risk you can take. There are so many ways to inject a happy dose of color and one of the best ways is with window coverings.
The lack of vibrant and up to date colors and patterns in the window covering industry had frustrated me for years. I had searched the net looking for simple ways to uniquely dress my client's windows only to realize that what I was looking for didn't exist in the market place. When I was presented with the opportunity to create my own line of window coverings, I knew I wanted them to encompass a combination of the timeless patterns and fun colors that I have coveted for years. Many of the colors and names were chosen because of memorable experiences and design inspiration in my own life.
Fun fact: the Star Crossed pattern was inspired by a favorite pillow in my personal home and the color "Topsail" got its name from a very special event that was shared with one of my Design Star friends.
So, as you look through the Simply Chic line and are excited by the vibrant colors and designs, please know there was a lot of thought that went in to the collection. I am hopeful that even if you are at baby step #1 and scared to death of "committing to color", you will check in from time to time and leave inspired. Pay close attention to how you FEEL when you see the fun patterns and colors, it's addicting.
Live Loud!
– Kel