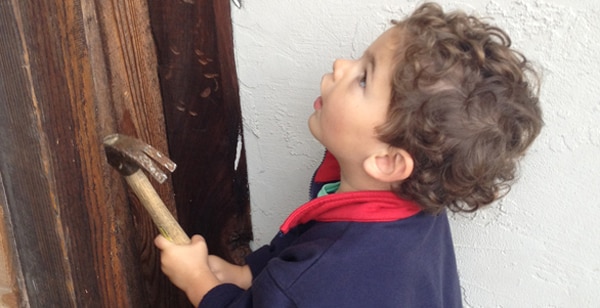 You know that one of my favorite DIY tools is my battery charged electric drill and I always keep it fully loaded with power and ready to go. I use it all the time and if you don't have one, make sure you put it on Santa's list. My list is endless for this go-to-tool. I use it to put together in a snap all those crazy bookcases, and furniture pieces or toys that come in endless pieces in a box. I use it to repair any loose hinges or broken parts that seem to occur daily in my house. Of course, it is an essential tool when putting up window blind brackets or installing your drapery hardware or shutters. I even use it for a collage or sculpture projects that require a sturdy base.
Will even knows how to use my electric drill and it is never too early to enlist help in all your projects around the house. Plus, a lesson in dexterity, coordination and spatial acuity increases your child's development in many ways.
I know you have a simple hammer and there is always something falling off somewhere that needs to be tacked back up.
Make your daily DIY projects part of the family duties and chores become more fun for everyone so you can have more time to wrap up presents, make gingerbread cookies, shop online or take that much deserved nap.
Every minute saved at this stressful time of the year is a true joy.