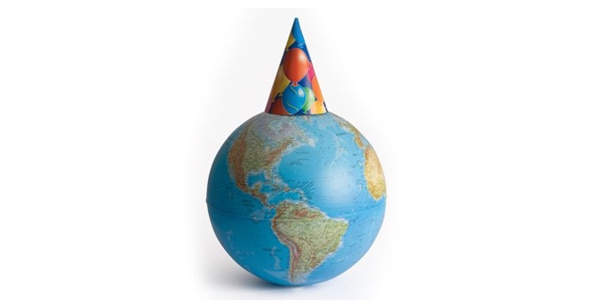 In our home, we celebrate "Birthmonths." Birthdays, of course, too, but we don't just stop at one day. You get the whole 1/12 of a year as your own. This month, I'm doing a mashup celebration of a Birthmonth and an early Mother's Day.  I am pleased to announce the best Birthmonth of all, for the mother of all mothers: Earth.
Every room needs an element of surprise, whimsy, eccentricity, unexpectedness—call it what you like, but we all agree you need an item in the room that makes your guests go, "Huh, cool."
My Huh, Cool item this month is literally a celebration of Mother Earth with geographical maps printed on window shades.
I mean really, how could you not want this of your home state in your kitchen, laundry room or back door?
And, world travelers, rejoice. You know that old map you have with the fraying edges and plastic pushpins on all the places you've been? Why not get one of these instead?
How about the living room?
And what about the kids room?
Pick out your favorite map and we can put it on a shade for you with our specialty Create Your Own Shade, no sweat. Happy B[earth] Day.