As the sun rises high in the sky and before the scorching rays reach your windows in full blast mode, now is the time to make those changes in your Window Treatments that you swore you would do last August. Don't forget that your bedroom is also angry at those streetlights at night that disturb peaceful sleep. I know our promises are so easily broken and forgotten, but I have a quick refresher course to help you through this maze. So many of you ask me what is the difference between all those terms relating to openness and opacity, Room Darkening and Light Filtering. Yes, there are a lot of factors to consider when light control is at the top of your list when choosing Window Coverings. Even though I love the sun streaming in the windows, brightening my home and energizing my spirit, particular windows do have special needs and unique solutions. Here is a simple way to break down these terms to solve light control.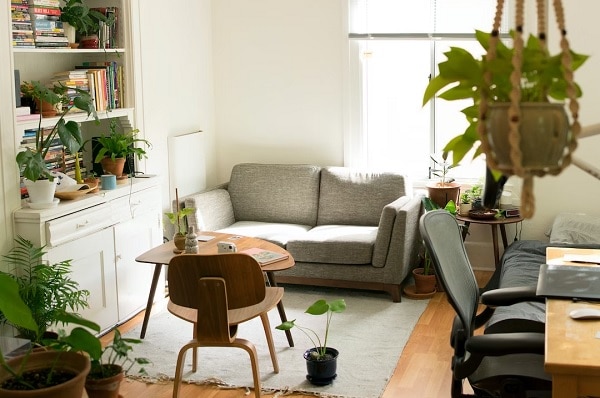 Openness
First, let's get a major confusion out of the way. The term "openness" only refers to Solar Screen fabric; therefore, only Solar Screen Window Treatments come in variable levels of openness. If your home is severely sunstruck with large windows, patio doors, skylights or bare windows, and you need to cool down your room, cut glare and protect your furniture and floors, Solar Screens are an obvious choice. You can select different "openness" levels, depending on how much view, therefore light, you desire. Openness refers to how much light is allowed through the fabric. A smaller openness percentage, 3%- 5%, means less light comes in which equals a darker room, which equals less view. A higher percentage of openness, 5%-20%, will give your room more light, more view. I usually recommend a 5% openness for those who want to see out, but reduce the heat and glare of the sun. To obtain even more sun with light screening, choose a 10-14% openness factor. Also, note that a plain weave fabric in a darker color will give you a better view than busy patterns which create more obstruction. Lighter colors in a plain weave will reflect the light and add some brightness to the room, as darker, plain weave fabrics will absorb some light, creating a slightly darker room. Remember that there is no perfect solution as there is a give and take with view/light and coolness/protection. You need to decide which balance works for you. Caution: Solar Shades DO NOT provide privacy at night, so you will need an additional window treatment if you don't like nosey neighbors.
Here is an easy visual to clarify openness.

Solar Window Treatments are sleek and minimal but can do the important job in regulating light and temperature levels. Since I live in sunny Southern California, Solars are perfect for me, but are modern, versatile and stylish anywhere.

Opacity
Opacity refers to levels of light filtering for fabrics on Roman Shades, Pleated Shades, Cellular Shades and Roller Shades and Draperies. Opacity qualities run from very open and light-sheer to semi sheer to light filtering-semi-opaque to opaque (Room Darkening) to Blackout. Let's review these categories.
Sheer Window Treatments allow the most light to filter in, but do reduce some glare with little privacy. However, your view is maintained and Sheers are popular for their softness, grace and casual appeal. Sheer Panels or Sheer Draperies can make your room float. Sheer Shades are modern and thin, constructed with soft fabric vanes that are available in different light filtering options to create the preferred brightness level. Sheer Shades add a designer touch with simplicity but casual elegance.
Find the perfect Sheer Shade at Blindsgalore

Semi-sheer window treatments diffuse light but still offer little privacy, especially at night. Semi-sheers are our least popular window treatment and really provide no benefit unless you love this decorative accent on your windows. As with any Window Treatment, you should clarify your most pressing need: view or privacy, then dial in in the specific light requirements.

Choose a semi-opaque Window Covering if you know you want privacy and require some bit of light to stream through the window. Your view will be very restricted but your room will not be dark. For the most privacy, choose a Double Cell Shade, light filtering shade. Pleated, Roman Shades and Drapery with liners are also good choices here. Semi-opaque Window Coverings are versatile with many light filtering choices.

Opaque and Room Darkening are used interchangeably and if you see the description, "Room Darkening," be aware that Room Darkening fabric does not block out ALL light, as light seeps around the gaps, about 1/2″ on each side. For inside mounts, the amount of the gap depends on the type of window treatment you select. Rollers have the most gaps. Romans, Pleated and Cellulars are more minimal with a 1/4″ gap on each side. To overcome some of the light seepage, go for an outside mount with lots of fabric overlap to "override" the window. Too many of you become disappointed, especially in the bedroom, when you choose Room Darkening, and the streetlights, car lights and moonlight annoy you at night. I cannot stress enough that Room Darkening is NOT a true Blackout Shade but will considerably darken your room.

I am adding Blackout as a category for a true Blackout Shade must have "something" really blocking all light – a mylar interior lining, an acrylic backing with a Blackout liner or a 3 ply vinyl material or an extra layer of an additional window darkening treatment. All of these extra blocking materials make these window treatments a real Blackout Shade that has a thick layer to create a dark and somber room. My favorite is the "Slumber Shade" for you light averse sleepers and vampires who cringe from any brightness.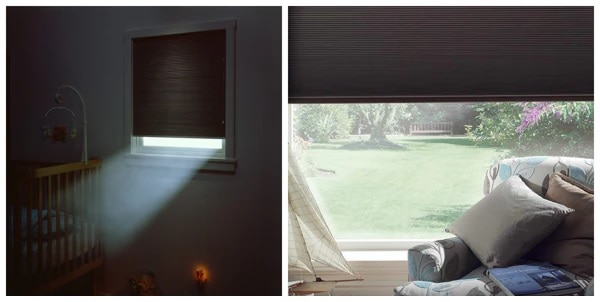 We have many other choices of Blackout Shades that do not meet the "true block out test" but are still appealing to those of us who do not want a thick, severe blackout option.
Find the perfect Blackout Shades at Blindsgalore.

The sun, heat, light and dark are our friend and enemy. I want you to be able to capture the best qualities so you can harness the light and make it shine or disappear as you choose for your living style. With so many styles and options, our design experts can guide you to your best and most beautiful window coverings.
Follow these steps to windows you will love! Night or Day!