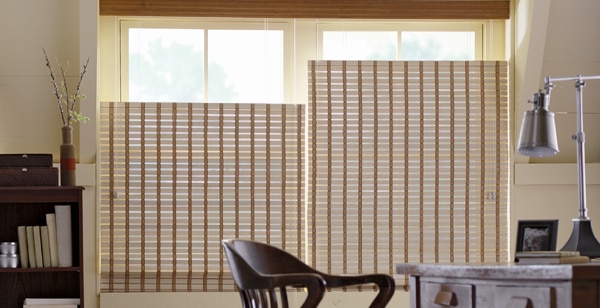 Small spaces can be very challenging to decorate, and many people really get stumped when it comes to window treatments. In warm climates, the choices are easier because the lighter fabrics and materials seem more compatible with small spaces. But in colder climates, insulating blinds and heavier window treatments are the norm, so how do you choose the right product for your small space? I just talked to a customer in Massachusetts and gave him these tips for his new window treatments:
First of all, don't get hung up on old decorating rules. People used to think that less is more, and that's a good guideline, but it doesn't mean you can't have drapery in a small room. You can—you just need to fool the eye a bit to make the room seem larger. For example, hanging your drapery rod higher than normal and closer to the ceiling will make a low ceiling seem taller and make your room feel larger.
If you need the insulation value of a cellular shade, choose a calming color that matches the surrounding window trim or a darker one that will recede and add depth to the room. Painting everything white isn't always the best option to make a room seem larger. Try painting an accent wall a dark color or a cool color to give the room some depth and choose similar tones for drapery and window blinds on that wall. You can also frame the window with non-operational drapery panels to add some extra dimension.
Sheer shades are a great way to have the visual effect of sheer shades with the functionality of a blind. These are great for small rooms because they bring softness to the room without adding the bulk of drapery. Plus, when the vanes are open, the view-through leads the eye out the window and visually opens up the space.
For a minimalist look or a modern room, roller shades are a great choice. They offer a thin profile and sleek look that's unobtrusive for a small window. Roller shades are available in a huge variety of fabrics, colors and textures to enhance your room, and with cordless operation for an even cleaner look free from distracting and dangerous cords.
For more ideas and inspiration, check out this article from House Beautiful. Happy decorating!