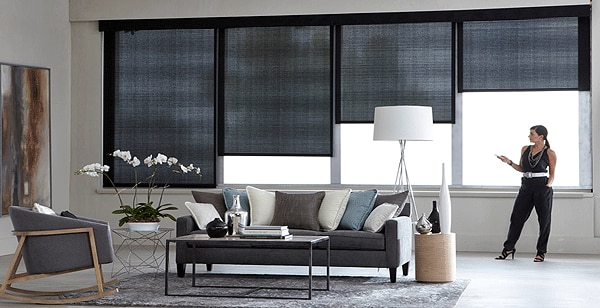 Technology pervades our lives which frees up time, makes us more efficient, smoothes out our days and even makes us safer and more in control. I am mad for technology and if you have not discovered motorized window treatments, expect to be surprised as to the ease and amazement when you add motorization to your window shades!  You will be mad for them too and you will never go back to clumsy, tangled cords.  Motorized shades are one of our most popular type of window treatments and are available in a variety of styles including Roman shades, cellulars, roller shades, woven woods and even wood blinds.  Motorized shades are easily operated by remote and their added convenience fit with every interior style whether it's casual, modern, or elegant.
Contemporary Look
No matter what your design style is, there's a motorized shade to fit your aesthetic.  Motorized shades give your home a clean, up-to-date look thanks to their cordless and sleek design.  Even with varying window sizes, these smart shades always neatly raise and lower your window treatment to the proper length, no more uneven or wrinkled shades.
With self driving cars on the verge of reality, we are living in the future, so why shouldn't your window treatments open and close at the push of a button?  Better yet, new timer and sensor features know the most efficient time of day for the shades to open, as when I am waking up, and to close, such as when the setting sun is heating up my living room.
Hard to Reach
Motorized shades are extremely valuable for tall windows in your home.  If you have ever desired window treatments on your impossibly high windows, but the ordeal of figuring out a system to raise and lower the shades has given you seconds thoughts, then consider the effortlessness of motorized shades.  Let your shades do the work for you and never again fear dragging out a rickety ladder or unsafely balancing on a chair.  What I love most about motorized shades is the ability to control each individual shade separately for the ultimate sun control.
Skylights
The ultimate hard to reach windows are skylights.  Skylights are marvelous at allowing your home to bask in the maximum amount of natural light, but there are points during the day when the sun is at its hottest or an unwanted glare is streaming through.  Who wants to struggle with an extension pole to draw skylight shades?  This is the technology age and for skylights, motorized window shades are a must.
Safety
Motorized window treatments offer you peace of mind and safety.  Since motorized shades eliminate cords, you never need to worry again about long, dangling cords near your bundles of joy or trying to juggle with cords while holding your sleeping baby   Plus, adding the timer feature allows your home to look occupied while you are out of town.
The ease, design, and safety of motorized window treatments are a simple luxury that looks spectacular in any home.  As with any modern invention, you'll wonder how you ever lived without them.  Now, aren't you mad that you haven't customized your window shades yet so you can really be mad about how you love everything that is now possible in designing the perfect window!