Blindsgalore offers some of the most innovative technology in window treatments. Imagine pushing a button or flipping a switch and marvel as your chic shades open or close,  granting privacy or allowing beams of light into your home. Whether you are in the process of renovating, or just looking for an update, you may want to consider the advantages of motorized window treatments. High-tech window coverings are convenient, allowing you to easily open and close your shades to create an ideal ambience. Never again will you spend time manually adjusting heavy or hard to reach blinds. If you desire the ease, safety, or cutting-edge technology of motorized window treatments, learn whether hard wired, battery, or solar powered best fit the needs of your home.
1. Battery Wand
A battery wand is a popular motorized choice which is simply a small wand that runs on 8-16 AA lithium ion batteries. Lithium ion batteries are required because they can withstand the sun's heat without melting. Battery wands are installed either above, beside, or behind the shade depending on the mounting.  One drawback is that the batteries will only last one year, so they must be changed whenever shades or blinds begin to run slowly. Simply remove the battery cap and the old batteries will fall out.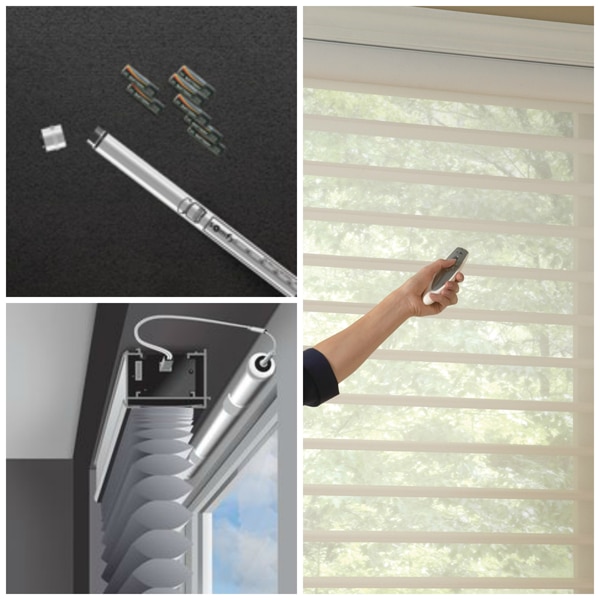 2. Solar Powered
Sun powered window treatments have a small solar panel with a rechargeable battery wand behind the window, charging with sunlight.  External lift cords are unnecessary because the shades can be raised and lowered and the blind slats tilt open and close with help from the sun's energy. No electrician is required, making solar powered window treatments a breeze to install.  After a year or two, you will know it is time to replace the re-chargeable solar battery, once your window covering begins to slow down.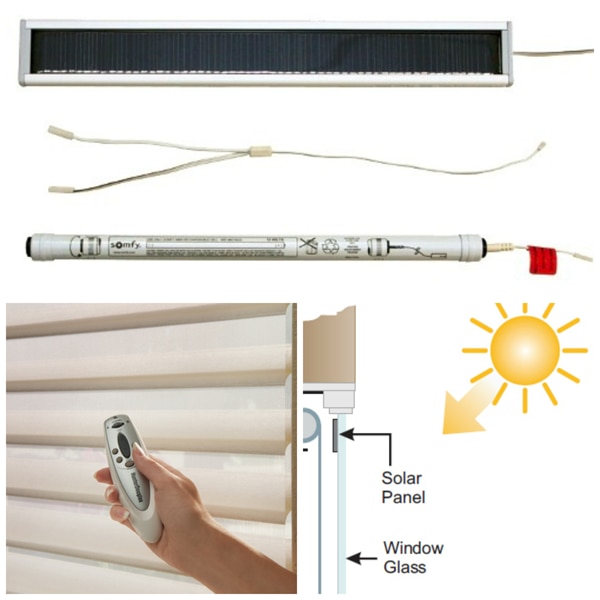 3. Hard Wired
New or renovated homes should highly consider the addition of hard wired blinds and shades, as you will need an electrician to help with installation. Window treatments have a 110 volt power cord that plugs directly in to an outlet. While these window treatments create some energy costs, they are easy to maintain because you'll never have to change batteries. Hard wired window treatments are also more powerful, making them ideal for heavy blinds.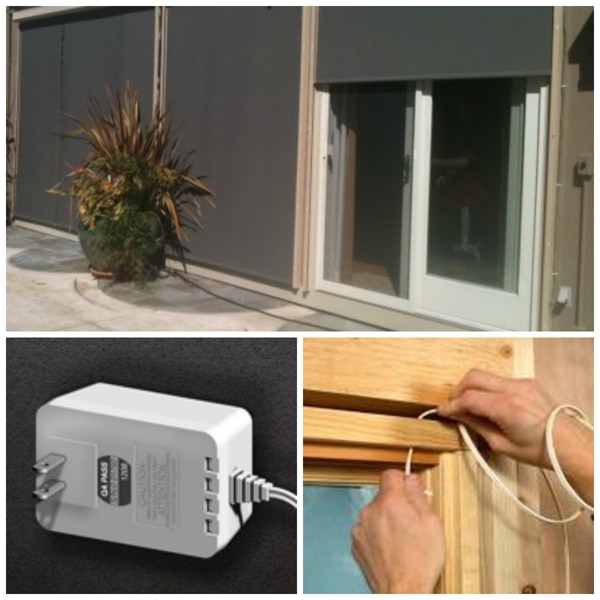 Whichever method you choose when motorizing your blinds, remember that remote controlled motorized window treatments work on radio frequency. Similar to your garage door opener, the remote will work up to 65 feet away. Select either a single or a 5 channel remote depending on your needs.  Five channel remotes will work independently for separate windows whereas single channel remotes control all shades at once. Your remote can be programmed for a favorite setting as well!
Other options for controlling your window coverings include wall switches, 24 hour timers, and sun sensors. Wall switches work just like your light switch, easily placing the window treatment in your preferred position. Whether you want sunlight to wake you up in the morning or you want privacy during the nighttime, timers are programmable to your lifestyle. Sun sensors can be set to close automatically when temperatures rise, lowering your energy costs with no extra effort.

What's Next?
Remember when we used to wait for what felt like decades for our internet to start up? Now, we carry the World Wide Web at our fingertips. Pretty soon, we will be wondering how we ever spent so much time and energy manually opening and closing our blinds. The future of window treatments is bright – eventually we will be able to control every blind and shade in our homes just as the "Nest" smart phone app controls many devices already in our homes. Get the benefits now of simply luxurious motorized window coverings and see how your life instantly lights up.