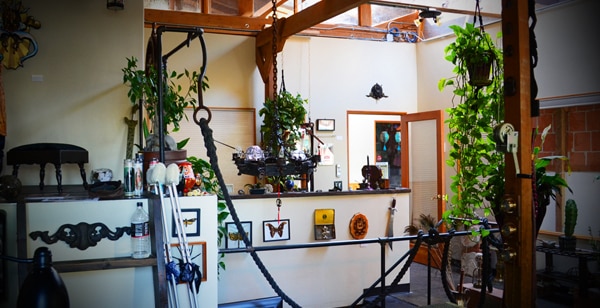 I love it when I can solve a problem with window coverings and when I get the chance to really be inventive and innovative with our BG products, I am very excited.
A few weeks ago, a friend of mine, Ryan, needed help with a perplexing problem at his Tattoo Shop here in San Diego. His Tattoo Shop and Art Gallery is full of windows, which is great for the light and for enticing customers to come in and browse his many exclusive designs and unique artistry.
However, when working on special clients, privacy is needed. Ryan didn't want to put up black-out shades but he did want to divide up his art space for private tattoo sessions. An easy solution would have been to just order an over-sized black-out shade, but to complement Ryan's unique profession and his passion for design, I suggested we use our "print-on-demand" program that allows our customers to print any design, or picture or photo or logo onto a window shade, and in his case, Ryan needed the black-out option.
Ryan and our in-house BG graphic team created an Indian-inspired motif that resonated his special style. We effortlessly uploaded the design in our special program and two weeks and a few screws later, the Tattoo Shop had an incredible and exclusive designer shade for Ryan's studio.
Ryan was astounded and completely satisfied.
You can see how versatile and exciting window treatments can be!