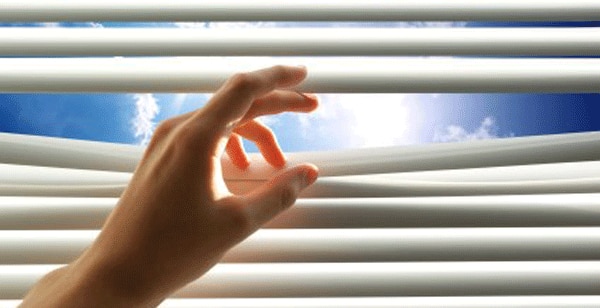 I know that you are just thinking about what to put over those glaring windows that need to be redone or renewed. You are plain tired of looking at the same old window treatments and you want something new, fresh, yet practical. However, you haven't even thought about what you might choose and, good grief, what is the difference between a blind and a shade? Sure, both a window blind and a window shade will cover your window and the words are often used interchangeably, but there are some key differences. In order to make the distinction easier and your windows happy, let's shine some light onto a few of these differences between blinds and shades.
Window Blinds
Window blinds are generally placed into the framework of a window and are mounted either horizontally or vertically. Window blinds are usually created out of a hard material like wood, faux wood, vinyl, aluminum, or even woven textured materials, which are laid across or down the window in individual louvers, or slats, that are pieced together to form the window covering. The individual louvers work together and are lowered or raised with a manual pull cord, into a stack, depending on how much of the window you would like to leave exposed.

These slats are tilted with a wand to adjust the amount of light you want to let in or block out. Don't worry, you won't need a class at Hogwarts to learn how to control the wand; it's just a simple twist of the wrist. The beauty of a window blind is that you have more freedom to create just the right amount of light and privacy you need throughout the day and for the changing seasons. The most popular window blinds are wood and faux wood blinds, vertical and panel track blinds, and the ever notable and economical mini blind. Yes, window blinds have come a long way from that clunky and clanky white metal blind that used to hang in windows all over the world. Window Blinds are simple and timeless, but just a thought for you cleanliness freaks – they do catch dust, pollen, and other floating critters. Window blinds are the workhorse of window treatments: steady, durable, and rugged!
Window Shades cover the window with a swath of soft material on a continuous roll that gathers at the top of the window and falls gracefully down when released. Window shades are generally placed atop the framework of the window, but with the many styles available, almost any window can be fitted with a shade. Cellular shades, one of the most popular window coverings, have revolutionized window shades for their ease, warmth, and low profile (fits in tightly to the window, leaving you lots of light and space when you want it; the shade practically disappears)!


Window shades come in a variety of woven, pleated, and patterned designs, adding a high level of personalization to complement any decor. Among the many styles of window shades are Roman shades, pleated shades, sheer shades, woven wood shades, and the ubiquitous roller shade which can be printed in special designs of your choice. In addition, outdoor shades and solar screen shades round out this category to add style, privacy, and sun protection for your windows. Window shades are also operated with a cord that moves upwards or downwards, but with no slats to adjust. If you like to keep your windows closed to the outside, shades might be the way to go and if you want to have some control over those high electrical bills, window shades can provide an extra layer of insulation. Different opacity levels are also available, depending on the desired level of darkness or lightness in the room. Window shades are always a smart choice as they offer so many design alternatives. Window shades are the racehorses of window treatments: sleek, beautiful, and classy!

This is just the beginning. Window blinds and shades are the basics, but curtains, drapery, drapery panels, and shutters complete the look. Browse through our incredible selection of window treatments and decide which style will take your home to the next level. Window treatments are so fun because you have the freedom to create the perfect window as you design it yourself. From fabric, to color, texture, length, trim, and tapes – the choice is yours! Now that you are no longer "blind" to the difference, you are on your way to loving your windows.