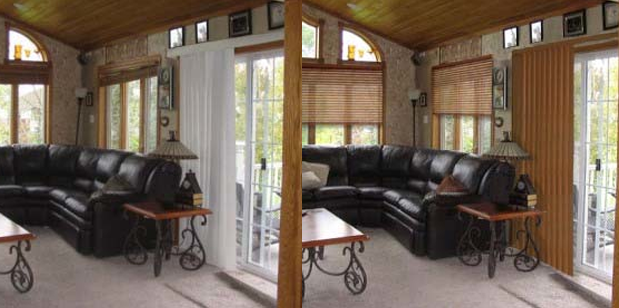 Cathy wrote: "We have a three-season porch with large windows that face east, but our biggest problem is our sliding door to the right – we can't figure out how to decorate that dumb door! I don't like what we have, but I think wood might be too heavy."
We often suggest panel track blinds for sliding doors, but this is a tight space that may look cramped with a large window treatment. Vertical cellular shades are a good choice for energy efficiency, but they would clash with the rustic theme of Cathy's porch. We agree with Cathy's concern that wood blinds could be too heavy, so we chose a caramel-colored grain for the sliding door and the smaller windows to lighten up the room's tone. Here's the well put together room with Levolor® Faux Wood Vertical Blind Visions and Levolor® 2″ Visions Faux Wood Horizontal Blinds:
The color really draws focus to the ceiling and lightens up the space, and Cathy loved the suggestion!