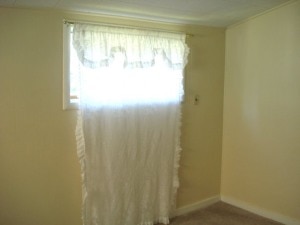 We get a lot of customers looking for specific advice on their window treatments. We love seeing the "before" photos and devising ways to make customers' rooms look their best!
Tami wrote: "These poor drapes, they are trying so hard, but the wrinkles and outdated lace pattern just don't cut it."
The difficult thing about this window is that it's so small. Such a tiny window needs to let as much light into the room as possible. Drapes can be used with a small window, but they should accent the opening as opposed to covering it up. We like to frame windows like these with small panels on either side, paired with a shade that can be pulled all the way up for the optimum view or let down for more privacy.
We can see why Tami initially went with a white drape to lighten up the room, but it's actually making the pale yellow walls look somewhat dirty. We chose a dark-colored, bold drape with complementing furnishings to bring out this corner's full potential. Here's how the space transformed with Levolor woven wood shades and Blindsgalore custom drapes:
The woven wood shades pair well with the dark drapes and give Tami a lot more privacy than the sheer curtain she was currently using. The wicker bench and plant give the corner a cozy, casual atmosphere as well. Tami loved the update, and enjoys the usefulness she can now get out of a corner that was once neglected.