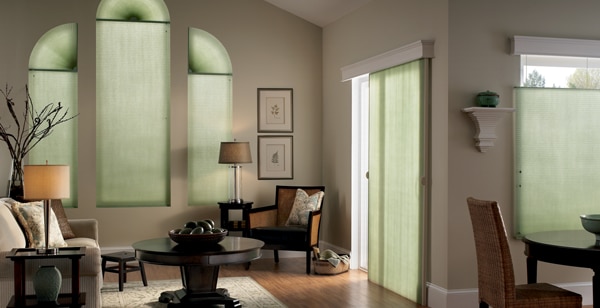 Many of today's window coverings are more than simple aesthetics—the shades, shutters, blinds, and films currently on the market offer homeowners a variety of options to block the sun, or to let the sun in, that will make a room look nice while making your house more energy efficient at the same time.
Many energy-efficient window coverings have insulating values that effectively double the insulating value of the window. An average house featuring windows outfitted with energy-efficient window coverings can save you money on your energy bill immediately. In addition to cutting energy costs, some window coverings also help insulate your home from outdoor sounds such as neighbors and traffic noises.
For example, if you would like to combine privacy and energy efficiency, honeycomb shades are a good choice. These shades feature a layered design that traps air in individual cells. Because inert air is a poor conductor of heat, a honeycomb shade creates an effective temperature-transfer barrier between the window and the room. They can also be opaque, which adds privacy to any window and they help insulate the room for sound as well.
Another example is plantation shutters. These shutters are fitted to the interior side of a window, and are usually chosen for their aesthetic appeal. However, plantation shutters are also energy-efficient. Plantation shutters act as effective insulators.  The shutters fit tightly in window frames.  As a result, they also block the transfer of heat through air movement or convection, creating a barrier between outside temperatures and your home's interior as well as adding privacy and reducing ambient sound from outdoors.
Homeowners usually think about drapes as interior decor statements. However, fabric is also an excellent option when you are looking to make your home more energy efficient.  Similar to shades and shutters, draperies are only efficient when they're closed. However, if they're used in conjunction with another window covering, such as a honeycomb shade or wood shutters, you can let sun in during daylight hours and effectively shut out colder air at night.One last consideration is that in urban and suburban areas, light pollution from streetlights, lighted signs, passing vehicles, or the neighbor's porch floodlight can keep people awake at night and may even alter circadian rhythms. Disruptions of human's circadian clock have been linked to insomnia, depression, cancer, and other health problems. To get a better night's sleep, consider outfitting bedroom windows with roller blinds, shades, or curtains that have a light-blocking blackout liner.