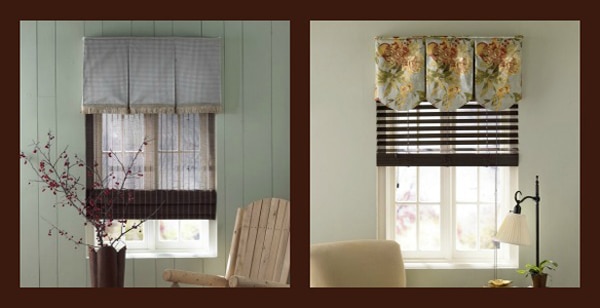 I am so excited about our new launch of Blindsgalore Valances and Cornice Boards!  Acting as accessories for your windows, these top treatments may be used alone or as the perfect finishing touch in conjunction with other blinds or shades.   Available in 9 styles and 57 different fabrics, there is a combination to suit any decor style.  See below for ideas on how to incorporate them into your home.
1.  Add some color to a white kitchen or a sea of cabinets.  The area rugs bring a casual elegance to this kitchen, but the addition of a red valance above that window would do wonders in tying the space together.   All of the color is on the floor, by adding a simple yet colorful valance, the room would feel more cohesive.
2.  Add softness to existing hard window coverings.  Add an upholstered cornice board to a window with existing wood or faux wood blinds to create a soft, cozier feel.  Our Blindsgalore Cornice Board: Tailored in Subltle Stripe Gold would pair beautifully with this bedding set in a guest or master bedroom.
3.  Add a little glamour to your dining room.  Our Blindsgalore Cornice Board: Shaped upholstered in Luster Mist fabric, which has just a touch of sheen would be amazing on a window in a dining room to coordinate with this chic rug.  Talk about a reason to throw a dinner party!
Adding a valance or cornice board is just another way to love your windows!