Valances are simply the top decoration to windows, made of fabric which glide across the upper part of a window. Most valances are made of a soft fabric that is draped, gathered or folded, covering the upper third of the window glass and in many cases, just barely swoop across the window. I like to think of valances as the whipped cream that gently spills over a luscious ice cream sundae or a chocolate soufflé cake, filling in any messes effortlessly and adding an extra layer of discriminating taste. Valances usually add a purely decorative touch. Valances do not offer any privacy but can hide any unattractive hardware or unfilled holes or blighted window trim. What valances do best is add softness, color and pattern, and when paired with other window treatments, can balance and create interest. But don't be afraid to just add a valance all by itself in a starring role, for a window that seems plain and lonely and needs be embellished.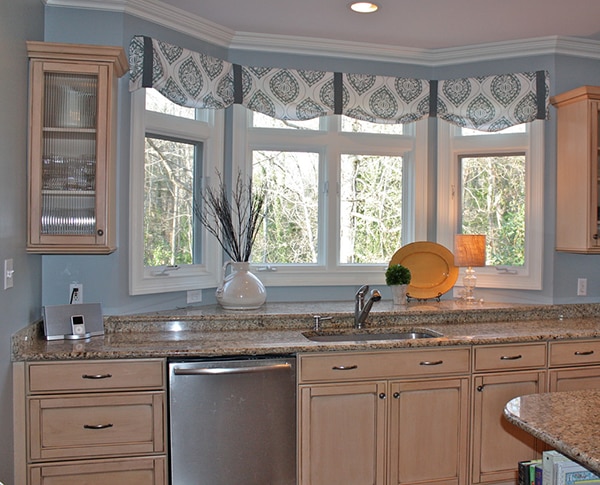 Valances can be casual and simple and made from just about anything or can be a formal, elaborate decor statement with folds, pleats and ruffles for extra ornamentation. Many designers lump valances into other top window treatments. A cornice is a wooden valance made from plywood and is often painted or stained or covered with fabric or wallpaper. Cornices add architectural detail to plain windows and rooms and are a more permanent window fixture. A swag is a loose piece of material that seems to be haphazardly thrown across a window over a rod or wound around a pole, showing off a romantic or cottage or shabby chic vibe. But, true valances are the object of my obsession, here, as I will share some tips and techniques if you are intrigued about an easy way to change the look and feel of your room.

Valance Decorating Tips
Proportion Matters
Think proportion when designing with valances. Don't be overzealous and make your valance too long that you cover 1/2 of the window, blocking all the lovely light or that is too short and you become a scrooge with the fabric. Valances should be 10 to 16 inches long which includes the top heading and any bottom trim. If you have an overabundance of material that is voluminous, you can go with a longer length. If you are installing an outside mount, the valance can be a little longer and for an inside mount, a shorter valance will be more pleasing. If your windows have panes of glass or mullions, don't let the bottom edge strike above the horizontal bar or you will have an unappealing design effect. If you are installing a valance above floor length draperies, be sure the valance is wide enough to account for the long, lean look you are trying to achieve. A valance should follow Goldilocks' motto: Not too big, not too little, just right!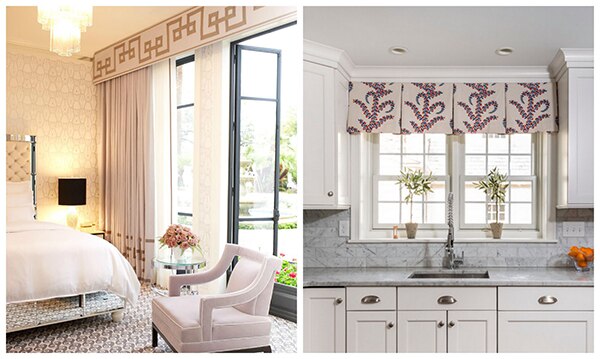 Valance Hardware
In valance installations, the hardware may be invisible as the hardware is purely functional and needs to be sturdy, but in many cases the hardware and the style of the valance need to coordinate and complement the effect you desire. Decorative rods are varied and contribute an added design choice and simple rods are especially pleasing for sheer and casual valance treatments. In some cases, the rod actually determines the shape of the valance and is crucial in creating an arched valance or any odd shaped design. Your choice is limitless when selecting hardware and you know the style can be traditional, baroque, classic eclectic, modern and everything in-between. Your style determines the hardware option.

Valance Decorations
Since valances are the dessert of window treatments, this small canvas on top of your window is only limited by your imagination. Valances can be pleated, smooth, ruffled, or gathered. The fabric can match other materials and accessories in your room or other window treatments. You can add another color or pattern for contrast or smooth out the color combos you already have or add a bold zing with a bold burst. You can add any decoration to the edges or the binding- a piece of romantic lace or a preppy braid. You can add tassels, bows, fabric flowers and ribbons or cords. Just make sure that your style enhances and complements your overall decor- a puffy, silky valance would look out of place in a tailored, traditional living room! Tying all the pieces together is essential.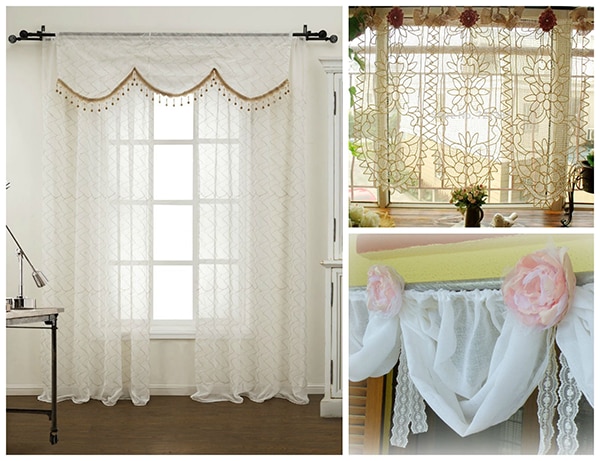 Valance Styles
Valances come in a myriad of styles and go by different names and you can even make up your own shape to match your whimsy, but I think there are four basic designs from which all other designs derive inspiration.
Pleated Valances
A pleated valance is just like a pleated skirt with tailored, crisp edges. The most common style is the box pleat which is the traditional skirt pleat, comprised of stitched pleats that lie flat against the mounting board. Other pleated styles are the triple pleat and the butterfly pleat which is pleated at the top and then falls softly into casual folds. Other pleats are available but the box pleat is the classic style.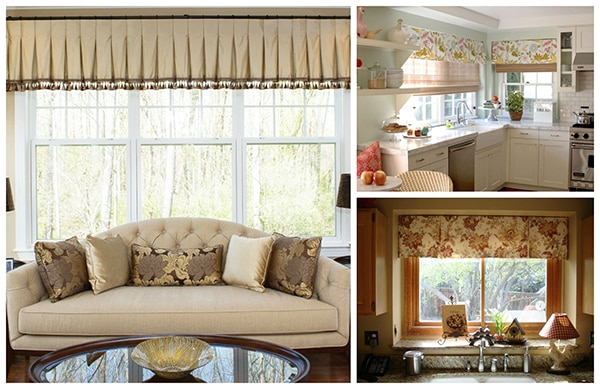 Tabbed Valances
A tabbed valance requires a drapery pole as the tabs march along the rod in intervals. A tabbed valance reminds me of the heraldry flags and banners soldiers carried during the Middle Ages. Tabbed valances can be airy and light and create added design with unusual rods and finials. The tabs can be made of lots of different materials and designed in a variety of widths. Drapery rings and café clips can also be used instead of a rod for a unique look. Tabbed valances are structured, smart and maybe a bit country and traditional. Of course, you can create your special flair.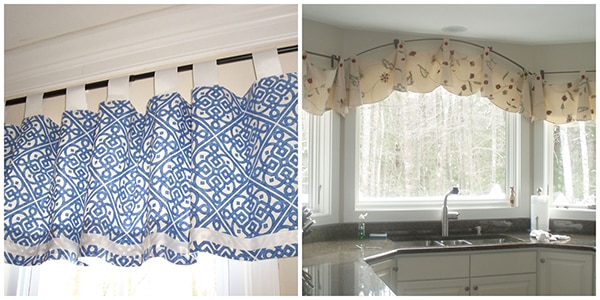 Balloon Valances
The balloon valance is like a big poufy skirt (think Marie Antoinette or Scarlet O'Hara) that billows out at the top of the window. This valance bestows an elegant and formal mood with many variations such as a cloud valance and an Austrian valance. These bouffant valances are highly sophisticated.

Gathered Valances
Gathered valances are simply made from longer pieces of material that are pushed together or gathered along a rod pocket to create soft little folds just like a gathered skirt. Gathered valances create fullness along the window and impart a country look-perky and cute.

Valances are full of surprises waiting for you to top off your windows like a favorite, fanciful frosting on a special cake! Valances offer just a confection of taste to your home!