Patio doors give rooms brilliant light but can also be a challenge as you love the brightness, the view, the vistas and the feeling of being outside, but you also thrive on privacy and the need for a quiet and dark place to sleep at night. Yes, you can have the best of both of these worlds and Vertical blinds are often the simplest and most traditional choice for Patio door window treatment ideas. Many modern materials and classy, trendy fabrics are now available for Vertical blinds, so don't even think about those plastic, flimsy, clattering and messy strips of metal when you think about Verticals. With these new, elegant and classic window treatments, your Patio doors will be layered in style.
Vinyl Vertical Blinds
Vinyl Verticals are so popular as they are sleek, affordable, guide smoothly across the track and offer lots of light as the vanes compress tightly when the blinds are opened. Just as easily when the blinds are closed, the vanes overlap tightly, keeping out the cold or the heat, giving you double duty in summer and winter. Vinyl Verticals come in a variety of textures, colors, weaves: linen and grass, to add dimension and contemporary styling to your Patio doors. You can even get the retro or disco look with the dynamic "mirrored" Vertical blind which makes an impressive decor statement.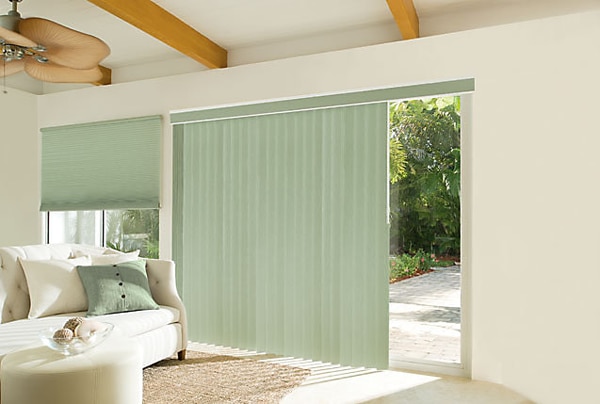 Fabric Vertical Blinds
Fabric Verticals are the ultimate in texture with plain organic, natural weaves or the fabric can be scrolled or stitched to enhance the pathway out your door. Many colors and patterns will give you a bold or a subdued look. Fabric Verticals are quiet and soft and the thickness of the material will add an extra layer of warmth or protection from the outside elements. The fabric vanes close up quietly and effortlessly and like all Vertical blinds, they add height to any room. Remember to order a valance for any of these Vertical treatments to hide the track system hardware completely and finish the designer look of your Patio doors.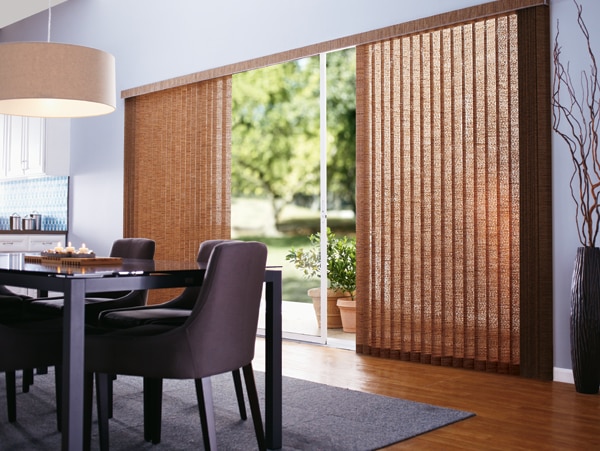 Faux Wood Vertical Blinds
Faux- Wood Vertical Blinds impart a classic, natural look that never goes out of style and is always on trend and will take you through many different decorating changes. Faux means "fake" in French and these blinds are made from synthetic polymers (PVC) and the grain in the faux-wood is stamped into the wood at production. Faux-Wood Vertical blinds come in a wide selection of realistic color stains such as white, oyster, natural, chestnut, or mahogany. Faux-woods are so easy to clean and offer a striking silhouette when closed and add structural detail to your room.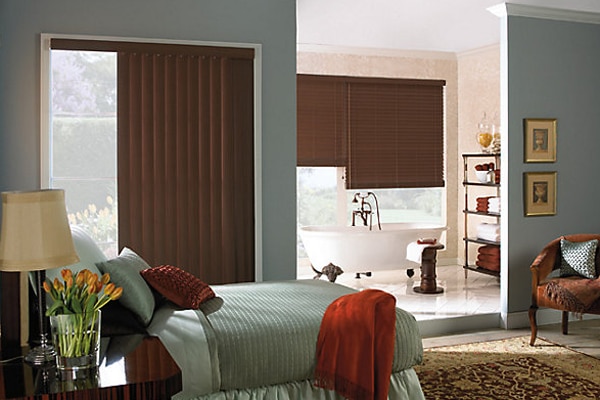 Real Wood Vertical Blinds
Yes, you can get real wood Vertical blinds and if you love the touch and feel of blinds made from the actual wood of trees, you will be surrounded in a beautiful woodsy patina. In a word, these window treatments are "magnificent". I do suggest that you only use wood blinds that are produced from North American hardwoods that are carefully harvested in a sustainable forest management program that selectively uses wood that can be regrown. Wood Vertical blinds are more costly because wood is more expensive than plastic or fabric material and also require staining or painting that adds to the production cost. Wood blinds can discolor and warp due to high heat and humidity, so if your patio door faces the afternoon sun, consider faux-woods. Of course, the high-end visual appeal of real wood reigns supreme.
Patio Doors are beautiful and make an impressive statement in your home and choosing Vertical Blinds as a Patio Window Treatment Idea will add another level of form to your style.
For other questions or tips about treating your windows, "The Ultimate Guide to Window Treatments," will amaze you with everything you need to know about windows.