Getting enough sleep is a luxury these days in our jam-packed life where everything needs to be in "express-mode". To keep sane, focused and balanced, precious sleep is a hard-won commodity that we crave. You know the drill to maintaining a regular sleep and awake pattern: avoid caffeine and vigorous exercise late in the day; go to bed at the same time each night; wind down with a book or a quiet activity and do not sleep with your laptop, iphone or ipad (yeah, I know you are mainlining information and texting in your dreams!). Yet one of the most important things you can do to get a good night's sleep is to make sure that your bedroom is an oasis of sleep.  Your room should be, above all things, very dark, quiet and comfortable.  However, most homes aren't equipped with the best shades to create that pitch-black bedroom, and even when buying brand new shades, we don't think about the darkness factor until it is too late and jarring traffic noise, bright street lights and late night annoying neighbors upset our sleep patterns.  Here are some window treatment ideas for bedrooms to lull you asleep.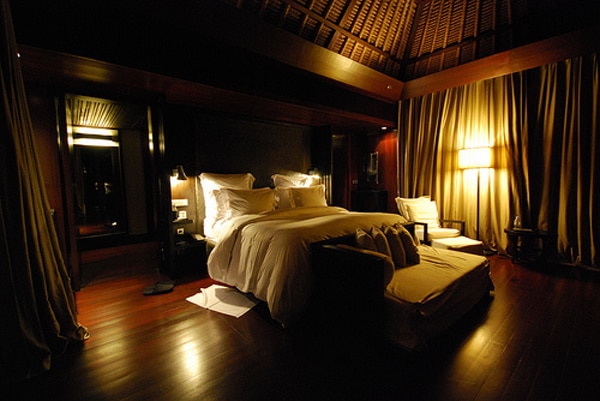 Blackout Shades
For the darkest room, choose Blackout Shades for total darkness.  Blackout shades are made or lined with an opaque fabric that does not let any light shine in through the window. These shades are made of a special mylar fabric or have a middle layer of mylar to obliterate annoying light.  My favorite blackout shade is the Slumber Shade which has tracks on each side and a brush bottom to create a truly light blocking seal. Slumber Shades guarantee that your bedroom space will not be engulfed with the "halo effect" that many other room darkening shades create.  For the ultimate dark room, Slumber Shades are the number one choice.  I already feel like hibernating under a cozy down comforter.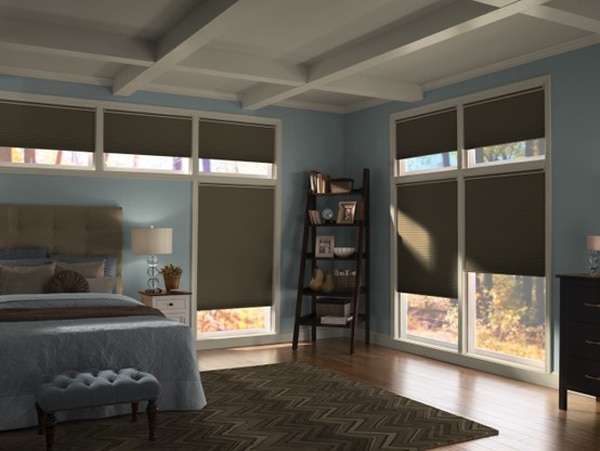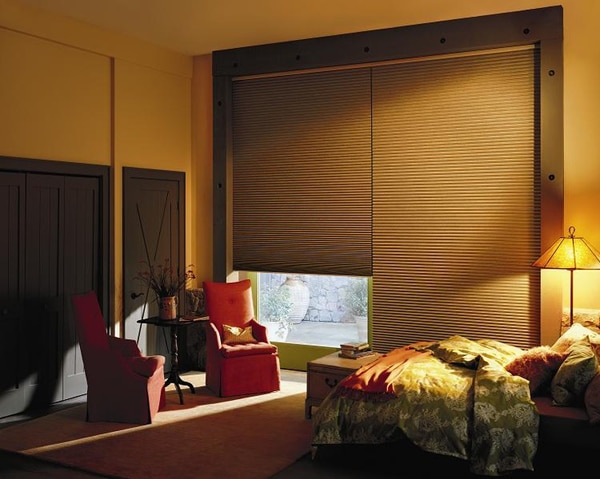 Blackout Roller Shades
If you need a more affordable blackout window treatment, choose a Blackout Roller Shade.  Rollers have a low profile and will fit closely into your window opening which will further block light and give your bedroom a clean and sleek look. Many colors and patterns are available to appeal to every decor style, plain or fancy, traditional or contemporary. Blackout Roller Shades are an easy and wallet friendly way to darken your room.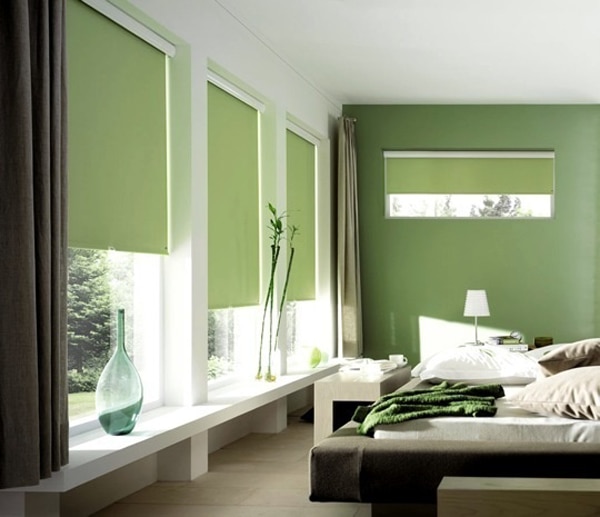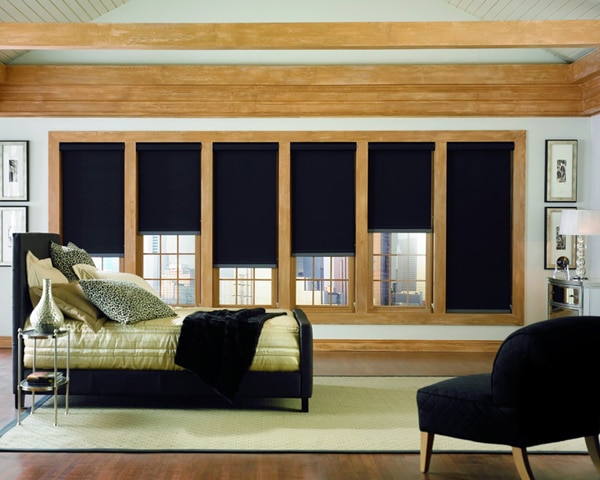 Pleated Blackout Shades
For those of you with doors in your bedrooms, Pleated Blackout Shades (no holes, for sure) are a "must have" to complete your deep sleep cave.  Too often, the window treatments on our bedroom doors are an afterthought, but these pleated blackout shades used on doors are a streamlined, economical and easy way to ensure a dark bedroom.

All of us who "go hard" at work or play or with children and "thrive deeply" on sound sleep, these creative window treatment ideas for a good night's sleep will soothe your frazzled days into calm, peaceful nights.  I feel like catching some Z's right now. If you are not too sleepy, learn about many more ideas in our "Ultimate Guide to Window Treatment Ideas".